Is This the Real Reason Valeant's Shares Are Skyrocketing?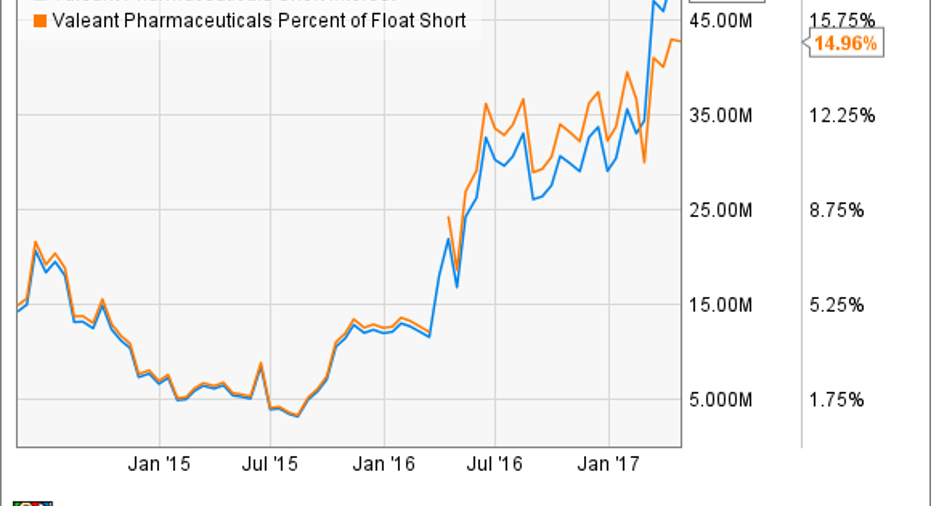 Despite reporting that sales continued to decline in the first quarter, Valeant Pharmaceuticals' (NYSE: VRX) share price is up 47% since the end of April.
What gives? Personally, I think shares are rallying because short-sellers are rushing to cover after realizing it's less likely that the company will default on its debt soon.
Wait, what's shorting again?
As a refresher: If you want to bet that a stock is going to decline, you can borrow shares from a brokerage and sell them, making you "short" shares in the company. Eventually, you'll have to buy shares to return the shares you borrowed to the broker, but hopefully (from the short-seller's perspective), you're doing that after the stock's fallen, so you can pocket a profit.
IMAGE SOURCE: GETTY IMAGES.
If you want to know how bearish people are about a company, look no further than the short interest. Short interest tells you exactly how many shares are sold short.
If you're interested in knowing if a company is so heavily shorted that good news could cause short sellers to cover their positions -- something called a short squeeze -- then consider the short interest ratio, which calculates the percentage of shares held short relative to the number of shares that are available for trading.
Valeant's short interest hits record highs
Valeant's been struggling to stabilize its sales ever since it shuttered its specialty pharmacy Philidor, and because sales have been falling, investor worries that Valeant could default on its $29 billion in debt have been increasing.
Coming into Valeant's first-quarter earnings report, a record 49 million shares were short, up from less than 3 million shares short in 2014. Overall, the company's short interest ratio was nearly 15% ahead of earnings -- also a record high.
VRX Short Interest data by YCharts.
A big short squeeze
Short-sellers flocked to cover their positions this week after Valeant's first-quarter financial results poked holes in the thinking that it could be nearing a default.
Specifically, the company increased its EBITDA outlook for the year to between $3.6 billion and $3.75 billion, up from previous forecasts of between $3.55 billion and $3.7 billion. That $500 million improvement could help keep the interest coverage ratio -- a ratio of EBITDA to interest expense, used by creditors to determine a company's financial health -- above required levels.
Earlier this year, Valeant renegotiated interest coverage levels down to 1.5; with the interest coverage ratio exiting the first quarter at 1.83, and increased EBITDA guidance, it doesn't seem as likely that a default is approaching.
Problems remain
Valeant's new guidance is a good thing, but it doesn't necessarily signal that this company is out of the woods.
Despite paying down more than $3 billion in debt during the past year, the company's interest expense actually increased to $471 million in the first quarter, $47 million more than a year ago, due to refinancing debt at higher interest rates. The increase in interest payments caused the interest coverage ratio to deteriorate; however, management's plans include paying down more debt as the year progresses, and that could finally get interest expense moving in the right direction.
It's less of a guarantee that the EBITDA improvement will continue.
Valeant's been unable to kick-start revenue, and this past quarter was no exception. Sales in the company's branded Rx segment dropped to $604 million from $665 million a year ago because of fewer prescriptions, and generic competition caused a 37% drop in sales in the past year at the company's U.S. diversified products business. Bausch & Lomb's performance wasn't much to cheer about, either. Its sales were essentially flat versus last year, because of currency headwinds and lower volume in the United States.
Although the Motley Fool recommends Valeant, I don't think it's worth starting a new position in it until sales start growing again. It seems to me, personally, that there are better places to invest your money right now than Valeant.
10 stocks we like better than Valeant PharmaceuticalsWhen investing geniuses David and Tom Gardner have a stock tip, it can pay to listen. After all, the newsletter they have run for over a decade, Motley Fool Stock Advisor, has tripled the market.*
David and Tom just revealed what they believe are the 10 best stocks for investors to buy right now... and Valeant Pharmaceuticals wasn't one of them! That's right -- they think these 10 stocks are even better buys.
Click here to learn about these picks!
*Stock Advisor returns as of May 1, 2017
Todd Campbell has no position in any stocks mentioned. His clients may have positions in the companies mentioned. The Motley Fool owns shares of and recommends Valeant Pharmaceuticals. The Motley Fool has a disclosure policy.