Is This Ironwood Pharmaceuticals' Biggest Threat?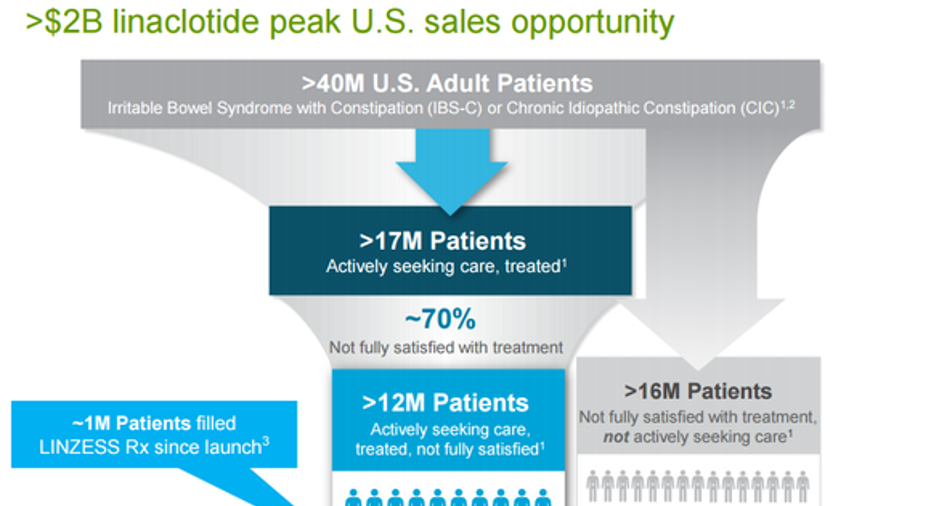 SOURCE: SYNERGY PHARMACEUTICALS.
Ironwood Pharmaceuticals has big plans to become a major player in biopharma, but sales of its constipation drug Linzess will need to keep growing if Ironwood is going to execute on those plans. Although Linzess sales have grown rapidly since the drug's launch in 2012, upstart Synergy Pharmaceuticals hopes to win FDA approval of its own constipation drug, plecanatide, soon. Can Ironwood Pharmaceuticals shrug off this pending threat?
First, a bit of backgroundLinzess is approved to treat chronic idiopathic constipation (CIC) and irritable bowel syndrome with constipation (IBS-C), indications that have Ironwood thinking that Linzess has billion dollar blockbuster potential.
An estimated 13 million Americans suffer from IBS-C, a chronic gastrointestinal disorder that can significantly affect day-to-day living, and as many as 35 million Americans may have symptoms associated with CIC, which is characterized as fewer than three bowel movements per week.
Because there aren't many treatment options available to these patients, Allergan entered into a deal with Ironwood back in 2007 to license certain rights to Linzess.
Specifically, Allergan and Ironwood split costs and profit associated with Linzess in the United States, and Allergan pays royalties to Ironwood on sales in Europe, Canada, and Mexico. Ironwood has also licensed rights to Linzess in Japan to Astellas Pharma and to AstraZeneca for certain other markets, including China.
Overall, sales of Linzess totaled $455 million last year, resulting in total revenue of $149.6 million to Ironwood from its various collaboration agreements, up 96% from 2014.
Mounting a threatLinzess' growth shows that there's a big market opportunity in these indications that Synergy Pharmaceuticals hopes it can capture.
Synergy's plecanatide's application for approval is based on results from two phase 3 studies. Both of these studies met their primary endpoint for efficacy, and importantly, both studies delivered solid safety, including rates of diarrhea occurrence that may be better than Linzess.
In the first trial, 3 mg and 6 mg doses of plecanatide were evaluated and diarrhea occurred in 5.9% and 5.5% of patients, respectively. In the second trial, diarrhea occurred in 3.2% of patients in the 3 mg cohort and 4.5% of patients in the 6 mg cohort.
Although investors shouldn't draw comparisons between drugs that haven't been studied in head-to-head trials, plecanatide's rates do appear to be better than the 20% rate of diarrhea occurrences in Linzess patients during its trials.
Not so fastWhile plecanatide delivered arguably strong trial results, there's no guarantee that the FDA will approve it, or that if it does, plecanatide will win away market share from Linzess.
Ironwood's deep-pocketed partners have well established marketing and sales teams that are closely tied in with prescribers. Synergy Pharmaceuticals has to build its own team from scratch and thus may struggle to gain traction for plecanatide out of the gate.
Also, Ironwood and Allergan reported phase 3 results for a low-dose formulation of Linzess in October that show this lower dose is still effective. If this lower dose also reduces diarrhea risks, then it could further insulate Linzess against the threat of plecanatide.
The companies are also developing a colonic release formulation of Linzess that could begin phase 3 trials next year. If successful, this formulation could offer patients an even more effective therapy that allows it to sidestep Synergy Pharmaceuticals, too.
Looking aheadAn approval of plecanatide will create some uncertainty for Linzess, and that means that investors will need to watch closely to see how plecanatide's launch progresses, and whether its launch translates into a slowing in sales for Linzess. For now, however, Ironwood appears unfazed. According to the company, Linzess peak sales potential remains $2 billion.
The article Is This Ironwood Pharmaceuticals' Biggest Threat? originally appeared on Fool.com.
Todd Campbellhas no position in any stocks mentioned. Todd owns E.B. Capital Markets, LLC. E.B. Capital's clients may have positions in the companies mentioned.The Motley Fool has no position in any of the stocks mentioned. Try any of our Foolish newsletter services free for 30 days. We Fools may not all hold the same opinions, but we all believe that considering a diverse range of insights makes us better investors. The Motley Fool has a disclosure policy.
Copyright 1995 - 2016 The Motley Fool, LLC. All rights reserved. The Motley Fool has a disclosure policy.