Is This How Facebook Monetizes 100 Million Hours of Video Views Per Day?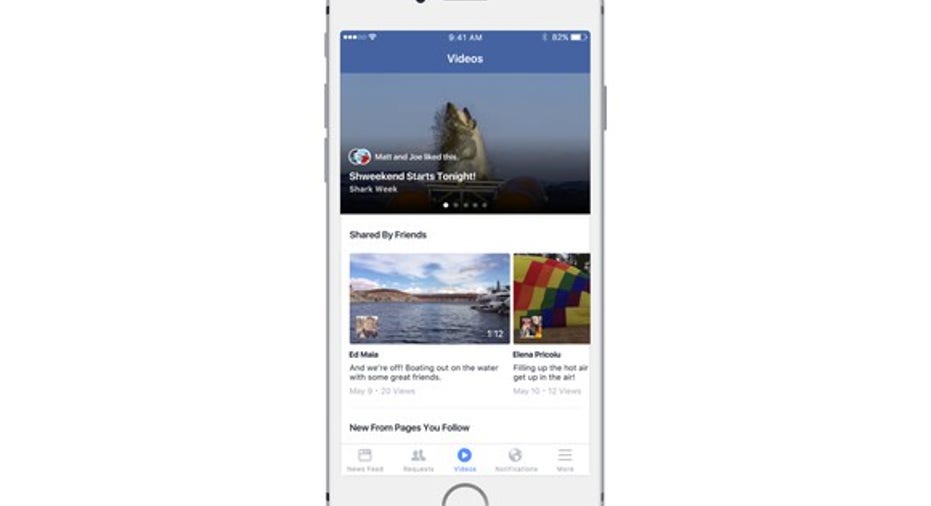 At the beginning of 2016, Facebook (NASDAQ: FB) CEO Mark Zuckerberg told analysts that Facebook users watched an average of 100 million hours of video on the platform every day. Throughout the year, Facebook continued to push video -- particularly live video -- investing millions of dollars in deals with celebrities, publishers, and creators.
Still, for all the time users spend watching video, Facebook has struggled to monetize any of it directly. Creators are hesitant to publish videos to Facebook as they could be sacrificing potential earnings from YouTube -- the video-sharing website operating underAlphabet's (NASDAQ: GOOG) (NASDAQ: GOOGL) Google.
Facebook's dedicated video section. Image source: Facebook.
Facebook's latest attempt, according to a report from Recode, is mid-roll ads that will play in longer videos (at least 90 seconds). Facebook will split revenue with creators 55-45 in favor of creators, the same split as YouTube.
Monetizing video is one of Facebook's biggest opportunities, and mid-roll video ads would represent its most promising effort yet.
Video advertising for everyone
Facebook has made several attempts to monetize video views directly. It tried post-roll video ads when it showed highlights of the NFL a couple of years ago. It tried inserting ads between videos in its dedicated video section on mobile, but many publishers were upset that revenue was split based on watchtime.
Last year, Facebook started letting publishers work directly with sponsors to monetize their videos, but Facebook didn't take a cut. It also started experimenting with mid-roll ads in live videos for specific publishers, splitting the ad revenue with them
Apparently, those mid-roll video ad tests were good enough to roll out the feature to more users. Recode says publishers will be able to insert ads into their pre-recorded videos as long as the videos are at least 90 seconds long. The ads must play after at least 20 seconds of organic video watch time.
The format is long enough for savvy creators to grab viewers' attention, set up a reason to stay tuned, and transition to the advertisement. While it doesn't provide the benefit of forcing users to watch ads like the pre-roll format on YouTube, creators could see a larger percentage of users actually sit through the complete ad on Facebook if they do a good job creating the video and enticing users to stay tuned. A recent survey from LaunchLeap found that just 29% of U.S. Millennials watch YouTube ads to completion.
An incremental opportunity
The important thing to note is that inserting ads mid-roll into videos represents an incremental opportunity for Facebook. CFO Dave Wehner warned analysts that ad revenue growth will "come down meaningfully" by the middle of this year due to ad load constraints. If the new ads work, it provides another avenue for Facebook to sneak ads into users' feeds.
YouTube generated an estimated $12 billion in revenue in 2016. Following Facebook's disclosure of 100 million hours of video watchtime per day, YouTube made a point of pointing out its users watch "hundreds of millions" of hours of video every day.
Even if Facebook users still watch less video than on YouTube, the Google subsidiary represents the potential for inserting ads into Facebook videos. For reference, Facebook generated $24.7 billion in revenue over the last 12 months.
One small negative
There is one small negative impact of mid-roll video ads. The new revenue sharing agreement would significantly reduce Facebook's operating margin on those ad units. So far, Facebook has largely benefited from what is essentially free content. It posted an operating margin of 45% in the third quarter, significantly higher than Alphabet's 25% operating margin.
There's also the possibility that mid-roll ads could cannibalize some of Facebook's stand-alone video ads. That would amplify the negative impact on Facebook's margins. On the other hand, it would mean more creators are opting to use mid-roll ads, which likely means higher-quality videos on Facebook and more user engagement. That ought to more than offset the negative impact on margins.
The growth of video on Facebook is great, and it has led to more user engagement. Unless Facebook can find a way to directly monetize those video views, however, that engagement isn't worth much. Mid-roll ads are the most promising effort yet, and they could lead to continued strong revenue growth at Facebook.
Find out why Facebook is one of the 10 best stocks to buy nowMotley Fool co-founders Tom and David Gardner have spent more than a decade beating the market. (In fact, the newsletter they run, Motley Fool Stock Advisor, has tripled the market!*)
Tom and David just revealed their ten top stock picks for investors to buy right now. Facebook is on the list -- but there are nine others you may be overlooking.
Click here to get access to the full list!
*Stock Advisor returns as of January 4, 2017
Suzanne Frey, an executive at Alphabet, is a member of The Motley Fool's board of directors. Adam Levy has no position in any stocks mentioned. The Motley Fool owns shares of and recommends Alphabet (A shares), Alphabet (C shares), and Facebook. The Motley Fool has a disclosure policy.