Is This Electric Racing Car a Hint That Honda Will Challenge Tesla Motors?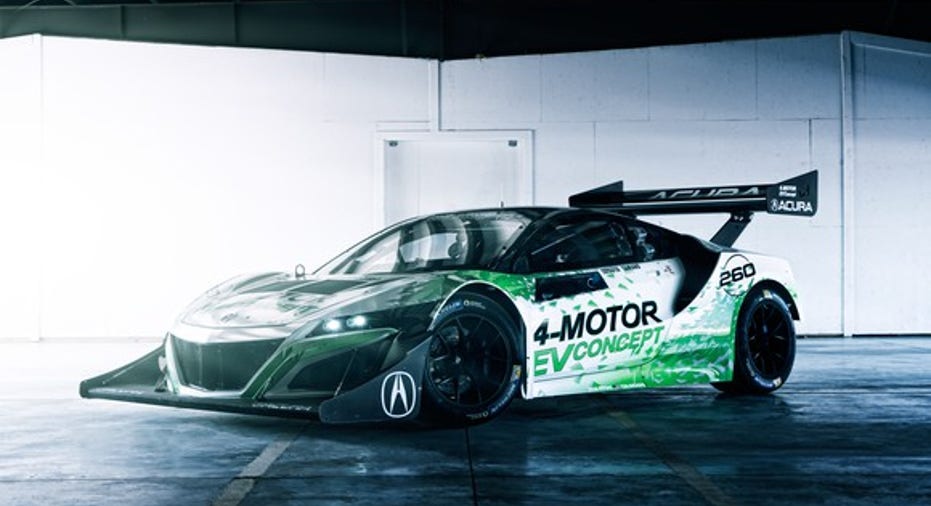 Honda's Acura EV Concept is a battery-electric race car that will compete in the Pike's Peak Hill Climb. It includes technology that Honda might be refining for upcoming electric cars. Image source: Honda.
Honda said on Monday that it will enter a battery-electric concept car into this year's Pike's Peak Hill Climb, a fiercely contested event in which racers compete for the fastest time up a steep and winding mountain road in Colorado.
The Acura EV Concept, as the car is called, is based on the hybrid Acura NSX supercar and builds on technology that Honda used in another experimental race car at last year's event. It's a strong hint that Honda may be planning its own entry into the upscale battery-electric car market currently dominated by Tesla Motors .
That's of interest to future-minded investors watching the automotive space. Here's why.
A four-motor electric race car that is based on production technology
When we think of big automakers that might step up to challenge Tesla with "premium electric vehicles" with entries of their own, we typically think of the German luxury brands, all three of which are known to be working on battery-electric models. We might also think of one or two others -- perhaps General Motors , which has moved to embrace advanced technologies more aggressively than most of its mass-market rivals.
Needless to say, Honda isn't exactly the first one to come to mind, and that perception has probably hurt it with future-minded investors.
Honda has dabbled with "green" technologies like fuel cells and produced well-regarded hybrids for years, but it hasn't (yet) made a big splash in the world of battery-electric cars, much less premium once.
The Acura EV Concept might be a sign that that's set to change. While Hondadidn't share much detail, it did note that the concept builds on the electrified part of the "sport hybrid" powertrain system that's part of the new Acura NSX sports car. Simply put, it uses a system of four electric motors, one for each wheel. That allows the car's computer to "vector torque" -- to fine-tune the power applied to each wheel on the fly.
Another view of the Acura EV Concept. Image source: Honda.
Done right, it should make for electrifying (so to speak) handling that goes far beyond what can be accomplished with traditional gas-powered drivetrains, and a step beyond anything that Tesla has so far attempted. It should be ideal for a for a tight, twisty race course like Pike's Peak -- and it might make for a very fun-to-drive premium sports-luxury car.
So will Honda build it or something like it?
That's unclear. But there are a growing number of clues that Honda is finally making an aggressive move toward battery-electric cars.
Honda CEO Takahiro Hachigo has had the top job for less than a year, but he's already taken big steps to reorient the company toward the emerging electric future. Honda hasn't yet announced detailed plans for specific electric vehicles. Hachigo, citing concerns about recharging and hydrogen-refueling infrastructure, has said that Honda will focus the bulk of its efforts on plug-in hybrids in the near term.
But Hachigo recently told Autocarmagazine that he expects that battery-electric and fuel-cell vehicles will together make up about 15% of the company's total global sales by 2030 and a majority by 2050.
That and the Acura EV Concept race car suggest that something is coming. And that in turn could reassure investors concerned that "disruption" will overtake the historically innovative Japanese automaker.
The article Is This Electric Racing Car a Hint That Honda Will Challenge Tesla Motors? originally appeared on Fool.com.
John Rosevear owns shares of General Motors. The Motley Fool owns shares of and recommends Tesla Motors. The Motley Fool recommends General Motors. Try any of our Foolish newsletter services free for 30 days. We Fools may not all hold the same opinions, but we all believe that considering a diverse range of insights makes us better investors. The Motley Fool has a disclosure policy.
Copyright 1995 - 2016 The Motley Fool, LLC. All rights reserved. The Motley Fool has a disclosure policy.