Is There Life in Union Pacific Corporation Stock in 2016?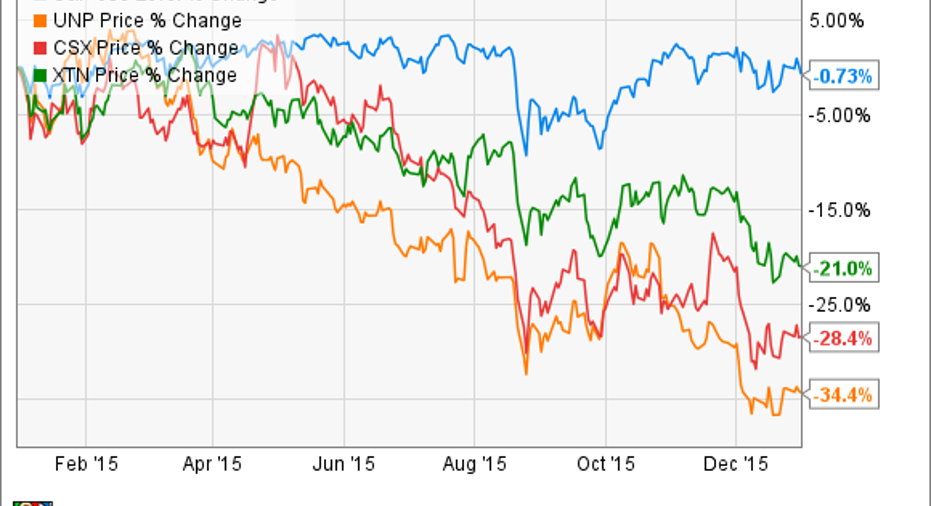 It's been a tough year for railroad stocks, and an even tougher fourth quarter. The transportation sector, represented by the SPDR S&P Transportation ETF, has been aggressively sold, and railroad companies such as Union Pacific Corporation and CSX Corp. have borne the brunt of it. Pressure from falling coal volumes and lower oil production along with weaker demand for soft commodities and faltering U.S. industrial production have hit the sector hard.That said, is there a case for buying Union Pacificin 2016?
The casefor railroad stocks in 2016I havethree arguments and investment themes.
First, energy prices could bottom out in 2016. Let's put it this way: If oil prices are higher through 2016, then the outlook for U.S. oil production will be better -- good news for railroads that transport crude -- and the concomitant increase in gasoline prices will make rail moreprice-competitive compared with trucking for intermodal transport.
Higher oil prices would also increase energy-related capital spending -- usually good for heavy transportation companies. In addition, if gas prices increase, it's likely that coal will be utilized more for energy production, leading to higher transport volumes.
Second, if agricultural commodities, particularly grains, increase, then export volume should pick up and farmers are likely to buy more fertilizer. Agriculture matters. For example, CSX Corp. estimates that 11% of its long-term volumes will come from agriculture, compared with 11% from coal.
Third is the idea that the rest of Union Pacific's end markets (automotives, construction, and so on) can help offset any ongoing weakness in coal, oil, and energy.
In summary, a combination of higher energy prices and/or grain prices and underlying growth in the rest of Union Pacific's end markets could lead to a recovery in the stock's prospects in 2016. But how do these arguments play out in the prospects for the stock?
Union Pacific's end marketsA breakout of the company's third-quarter revenue mix and volume growth gives a brief outline of each segment's importance and volume growth trends.
SOURCE: UNION PACIFIC CORPORATION PRESENTATIONS.
However, working on the arguments I've outlined, I decided to break out the volumes and volume growth thematically, starting with the individual elements heavily exposed to energy and hard commodity pricing. Clearly, the significant falls in energy and mining commodities have hit Union Pacific hard -- although East Coast railroad companies such as CSX have been hit harder because Appalachian coal is more expensive to produce.
DATA SOURCE: UNION PACIFIC CORPORATION PRESENTATIONS.
Moving on to the agricultural theme, you can see the declines in grain and fertilizer volumes, but grain-products growth isn't as tied to grain pricing as much as the other two activities.
DATASOURCE: UNION PACIFIC CORPORATION PRESENTATIONS.
Moving on to the rest of Union Pacific's business, it's interesting that, including grain products, growth fromend markets responsible for50% of Union Pacific's revenuewas in positive territoryin the third quarter.
The big disappointment came from international (i.e. intermodal), although the numbers are distorted by a strong Q3 in 2014, as cargo owners pulled forward activity in anticipation of a port labor dispute. Other areas are more positive, with automotive, construction, and plastics seemingly on good trends in the United States.
DATASOURCE: UNION PACIFIC CORPORATION PRESENTATIONS.
It looks like revenue from streams not directly relating to energy prices is potentially strong enough to offset ongoing weakness in coal, oil, and mining commodities. However, risingagricultural prices, if they occur,are unlikely to significantly help Union Pacific in 2016. So let's focus on a few specific scenarios for 2016.
What does it mean for Union Pacific stock in 2016?The strongly bullish case relies on an increase in oil, and particularly gas, prices (coal will be more competitive, and rail freight, too), coupled with a turnaround in industrial growth prospects. However, the U.S. enters 2016 with industrial production in negative territory, and history suggests that these things take at least a few quarters to turn around.
The weakly bullish case relies on a stabilization in energy prices and a pickup in industrial growth. Again, it's clear that any turnaround in the industrial sector could take a few quarters, so in this scenario it's only in the second half of the year that things could start to look brighter.
The bearish case sees ongoing weakness in oil and gas prices and a protracted slowdown in industrial production.
All told, the stock is likely to face challenging conditions in the next few quarters, and unless gas prices move strongly higher, the stock won't become attractive until investors can confirm that U.S. industrial production will start to improve in the second half.
The article Is There Life in Union Pacific Corporation Stock in 2016? originally appeared on Fool.com.
Lee Samaha has no position in any stocks mentioned. The Motley Fool recommends CSX. Try any of our Foolish newsletter services free for 30 days. We Fools may not all hold the same opinions, but we all believe that considering a diverse range of insights makes us better investors. The Motley Fool has a disclosure policy.
Copyright 1995 - 2016 The Motley Fool, LLC. All rights reserved. The Motley Fool has a disclosure policy.