Is There Any Growth Left for Manitowoc's Stock in 2017?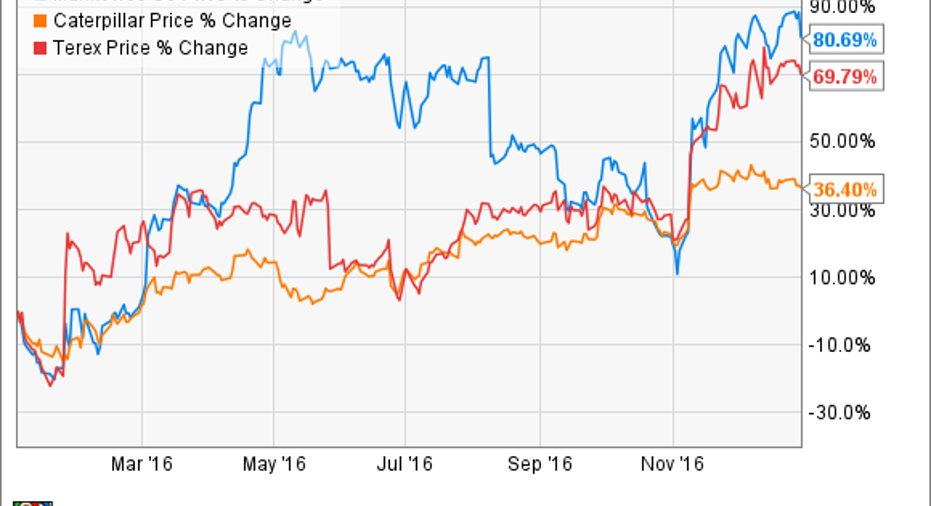 Donald Trump's win in the presidential election proved to be the perfect catalyst for cyclical industrials. From cranes specialist Manitowoc Company (NYSE: MTW) to the broader construction play Terex (NYSE: TEX) to industry heavyweight Caterpillar Inc. (NYSE: CAT), construction equipment stocks jumped double digits after Nov. 8, 2016, to end the year with gains not seen in several years. Manitowoc, however, turned out to be the best of the lot.
In fact, Manitowoc shares jumped a staggering 48% between Nov. 8 and Dec. 30, and have continued to run higher so far this year. However, I don't see how the stock can keep the momentum going in 2017, judging by the massive challenges facing the company.
Why the stock surged in 2016
Investors may recall that the parent company Manitowoc split into two early last year. While its cranes business -- the one we're discussing here -- retained the parent's name, its foodservice equipment business now trades as Manitowoc Foodservice. Not surprisingly, Trump's rhetoric about infrastructure spending sent the cranes stock surging, as evidenced in the chart above.
Image source: Getty Images.
In addition, going by Manitowoc's surge in the middle of last year, it looks like the stock's post-split low-single-digit price may have also attracted investors. A stock's absolute price, however, should have no bearing on your investment decisions. What matters is whether the company is fundamentally strong with solid growth catalysts on the horizon. To that end, Manitowoc's 2016 operating performance and outlook leave much to be desired. Here are the highlights:
Revenue of $1.6 billion versus $1.87 billion in 2015
Net loss of $376 million versus a profit of $65.5 million in 2015
Backlog of $323.8 million as ofDec. 31, 2016, versus $513 million asof Dec. 31, 2015
If you think it can't get any worse, Manitowoc expects its revenue to decline another 8% to 10% in 2017. So what's ailing the company?
Why it was a terrible year for Manitowoc
To begin with, Manitowoc is essentially a cranes manufacturer, unlike Caterpillar or Terex, which deal in a wide variety of construction equipment. This narrow focus limitsnot only Manitowoc's growth prospects but also its margins. Even Caterpillar has managed to earn better margins than Manitowoc despite huge exposure to the beleaguered mining industry.
MTW Operating Margin (TTM) data by YCharts.
See that drop in Manitowoc's 2016 margin? While asset impairment and restructuring charges hit the company's profits, declining sales were largely to blame for its poor margins. Moreover, Manitowoc reported low demand for cranes from North America and the Middle East, which is why its backlog deteriorated. Most important, foodservice was traditionally the higher-margin business for the pre-split Manitowoc, which means the stand-alone cranes company of today has a daunting task at hand to navigate business cycles and grow its margins to win back investors' trust.
That's not to say management isn't making any efforts, though. Manitowoc relocated three plants and downsized its workforce by almost 22% last year while launching at least eight new products in a bid to boost sales. However, it remains to be seen when these efforts will show up on the company's bottom line. Going by Manitowoc's guidance and Caterpillar's views, 2017 doesn't look too promising, though.
Bet on Manitowoc at your own risk for 2017
There's no denying that an uptick in infrastructure projects will bode well for Manitowoc, but what Trump plans to do and how is anyone's guess.
What if I tell you that Manitowoc gets almost 90% of its sales from North America and EMEA, the two regions that Caterpillar is particularly cautious about going forward? Here's what Caterpillar said in its last earnings release:
What if I further tell you that Caterpillar doesn't expect to see any benefits from Trump's potential infrastructure boost until at least 2018? As the world's largest construction equipment manufacturer, Caterpillar knows the industry well. If you ask me, Manitowoc's challenges far exceed its opportunities for now, making the stock a risky bet at current prices.
10 stocks we like better than ManitowocWhen investing geniuses David and Tom Gardner have a stock tip, it can pay to listen. After all, the newsletter they have run for over a decade, Motley Fool Stock Advisor, has tripled the market.*
David and Tom just revealed what they believe are the 10 best stocks for investors to buy right now... and Manitowoc wasn't one of them! That's right -- they think these 10 stocks are even better buys.
Click here to learn about these picks!
*Stock Advisor returns as of February 6, 2017
Neha Chamaria has no position in any stocks mentioned. The Motley Fool recommends Terex. The Motley Fool has a disclosure policy.