Is There Any Growth Left for International Paper Stock in 2017?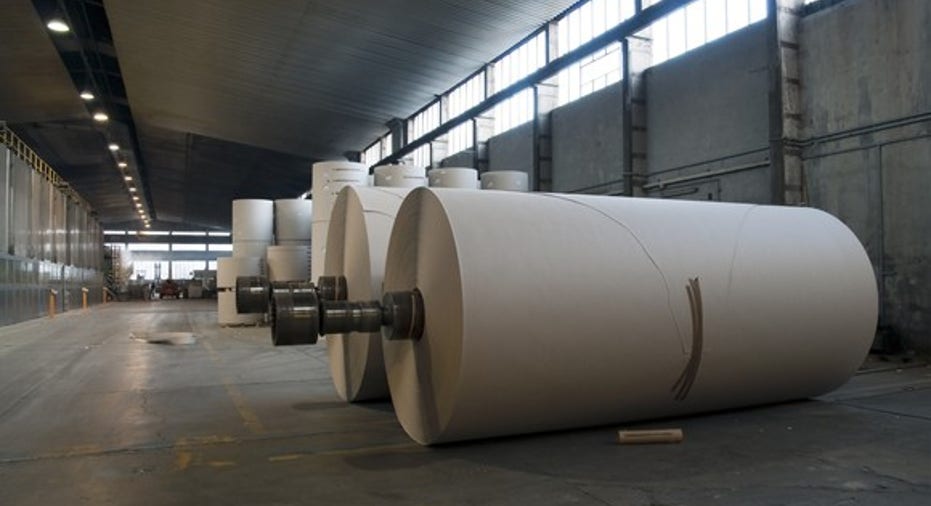 Boring stocks can be great stocks, too. That was definitely the case for leading pulp and paper supplier International Paper (NYSE: IP) last year, which showered investors total returns of 47% -- several times greater than the gains delivered by the S&P 500. Then again, the incredible run-up in stock price followed an epic collapse at the end of 2015; yet another reminder to investors that volatility and uncertainty are mainstays in the inherently low-margin paper industry.
In all fairness, while selling corrugated packaging and specialty paper products isn't that exciting, International Paper has done its best to combat headwinds and return value to shareholders, as evidenced by a 3.5% dividend yield and consistently strong operating cash flow. With the stock now within hollering distance of all-time highs, is there any growth left in 2017?
Image source: Getty Images.
Looking in the rear-view mirror
Last year presented several challenges. All four operating segments -- industrial packaging, global cellulose fibers, printing papers, and consumer packaging -- exited 2016 posting operating profits below those set in the final quarter of 2015. The reason was simple: lower average selling prices and higher costs of products sold.
Consider these highlighted financial metrics from the full-year 2016 compared to the previous year:
Data source: International Paper. YOY = year over year.
How do the results in the table above justify a 47% increase in stock price? They don't. But analysts and investors were encouraged by progress toward long-term goals and steady cash flow from operations, rather than worried about changes in near-term operations.
Cash flow from operations came in at $2.48 billion last year. While that's slightly below the $2.58 billion and $3.08 billion from the previous two years, respectively, International Paper had a net cash burn of just $17 million in 2016. The pulp and paper leader would have actually generated cash if it didn't increase the dividend by 7%, but the net difference isn't significant for a $20 billion company. Furthermore, much of the dividend increase was offset by a reduction in annual interest expense after refinancing debt.
Investors are betting that strategic moves completed in 2015 and 2016 -- such as selling unprofitable businesses, swallowing up asset impairment charges, and purchasing Weyerhaeuser's pulp operations for $2.2 billion -- will prove beneficial in the long run. Indeed, chairman and CEO Mark Sutton provided encouragement to shareholders on a conference call earlier this month:
All of this begs the question: Can International Paper stock continue its incredible run this year?
Looking ahead
In addition to maximizing margins, which is out of the company's control to some extent, the most significant event of 2017 will be the integration of Weyerhaeuser's pulp business. The $2.2 billion transaction -- which drops to $1.9 billion when tax benefits are included -- saw International Paper take control of five pulp mills, two converting facilities, and a healthy portfolio of intellectual property and research and development facilities.
Here's the exciting part related to near-term value creation: Four of the five pulp mills reside in the American Southeast, which doubles International Paper's footprint in the region. That's not particularly riveting, but hear me out. The acquisition positions the company to take advantage of fluff pulp and softwood pulp inherent to the region. Both types of pulp are well-suited for consumer applications -- diapers, personal hygiene, tissue products -- that are higher-margin and generally considered recession-proof. Moreover, the pulp mills will be able to sell directly to consumer paper product mills in the Southeast, which is home to some of the industry's newest infrastructure in the United States.
After spending $85 million to integrate the assets and 1,900 employees, International Paper expects to realize annual synergies of $175 million by 2018 and achieve returns greater than its cost of capital. Enabling the production of diapers and hygiene products may sound like a boring business to be in, but dividend-loving investors shouldn't overlook the acquisition's short- and long-term significance.
Indeed, analysts expect the company's profitability to rise. International Paper stock trades at less than 14 times future earnings estimates -- a steep discount compared to a trailing earnings ratio of 23. Optimism among analysts certainly played a significant role in pushing the stock higher in 2016, which could hint that shares aren't done rising yet.
IP PE Ratio (TTM) data by YCharts.
What does it mean for investors?
Recent strategic moves by management, including asset sales and the major acquisition of Weyerhaeuser's pulp business, should encourage investors that International Paper is well-positioned to continue returning value to shareholders. Will the stock continue forging ahead in 2017? Well, 2016 will be a difficult act to follow. While I don't think investors should necessarily expect an encore performance, especially considering the pulp and paper industry is accompanied by low margins, I do think the stock will continue rising in the long term.
10 stocks we like better than International PaperWhen investing geniuses David and Tom Gardner have a stock tip, it can pay to listen. After all, the newsletter they have run for over a decade, Motley Fool Stock Advisor, has tripled the market.*
David and Tom just revealed what they believe are the 10 best stocks for investors to buy right now... and International Paper wasn't one of them! That's right -- they think these 10 stocks are even better buys.
Click here to learn about these picks!
*Stock Advisor returns as of February 6, 2017
Maxx Chatsko has no position in any stocks mentioned. The Motley Fool has no position in any of the stocks mentioned. The Motley Fool has a disclosure policy.