Is the Worst Over for PotashCorp and The Mosaic Company?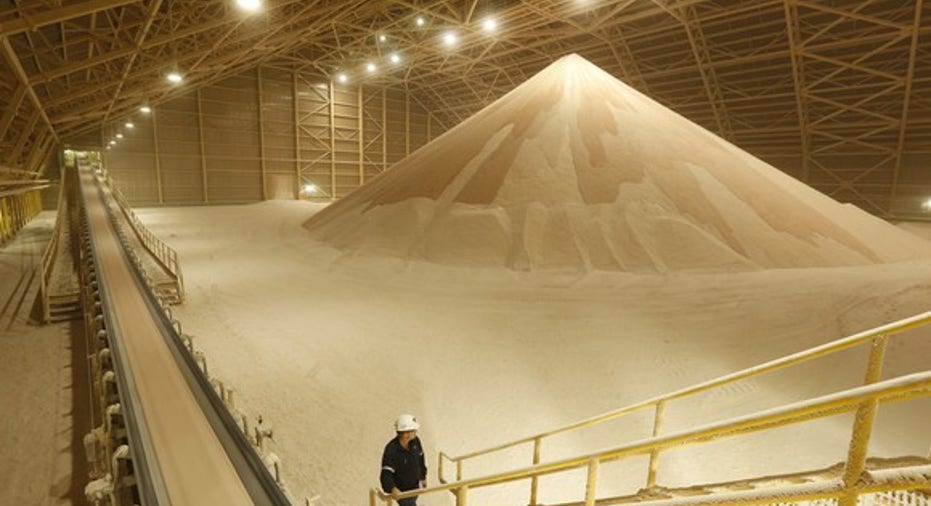 Image source: PotashCorp.
This may be the best news investors in Potash Corporation andThe Mosaic Company have heard in a long time. In a major development that could mark a turnaround for these companies, Belarus revealed that it is open to an alliance with Russia-based potash company Uralkali, three years after the Belaruskali-Uralkali cartel split. Belarus president Alexander Lukashenko didn't mince words during an event where he made the following startling revelation:
Those words could hold the key to PotashCorp's and Mosaic's futures, and even reverse their misfortunes.
The split that rocked the potash industry
Before I delve into the significance of Lukashenko's words, it's important to know why the potash industry has suffered in recent years.
The global potash industry was largely controlled by two producer groups: the Belarusian Potash Company, comprised of Uralkali and Belaruskali, and Canpotex, comprised of PotashCorp, Mosaic, and Agrium. The two groups controlled nearly 70% of the global potash supply, which helped prop up potash prices. In 2009, potash spot prices shot up to record highs of nearly $900 per tonne.
While the recession hit potash prices soon after, the industry dynamics changed dramatically after 2013, when Uralkali abruptly ended its agreement with Belaruskali to pursue a volume-over-price strategy in a desperate bid to gain a bigger piece of the pie. The split disrupted the potash marketplace, sending prices of the nutrient tumbling to multiyear lows. Today, potash is going for only about $260 per tonne in the spot market.
World potash prices. Image source: PotashCorp's Market Overview Report, May 2016.
Every effort by PotashCorp and Mosaic to halt the slide in potash prices has gone to waste, simply because the shakeout put the ball in the buyers' court even as manufacturers like Belaruskali scrambled to beat others in the race to gain market share by signing export contracts with key consuming nations China and India at shockingly low prices. Uralkali and Canpotex had no option but to follow suit. The result: Potash consumers were laughing their way to the bank with cheap contracts while potash producers were left with sliding top and bottom lines. Both PotashCorp and Mosaic have seen their profits halve since 2013.
POT Revenue (TTM) data by YCharts.
What PotashCorp and Mosaic need right now
Given the backdrop, it isn't difficult to understand why a patch-up between the Belarusian and Russian potash producers could boost PotashCorp's and Mosaic's fortunes, especially since Uralkali is the world's largest potash producer by production and has a strong command over industry supply. Judging by Lukashenko's words, Belarus is keen to join hands with Uralkali once again to control production volumes and improve the demand-supply situation in the industry. That could provide a much-needed floor to potash prices.
While Uralkali hasn't said anything to that effect yet, its interest in a reunion wouldn't be surprising, either, given that its profits also took a hit as potash prices plummeted. Moreover, PotashCorp's aggressive recent moves to gain market share, such as its failed $8.8 billion bid to acquire German rival K+S, pose a major threat to Uralkali's leadership position. Combined, these factors may compel Uralkali to rethink its strategy.
For PotashCorp and Mosaic, the alliance could only mean one thing: the bottoming of potash prices, and an end to the fall in their sales and profits. That's exactly what investors in the beleaguered companies need to see right now.
The article Is the Worst Over for PotashCorp and The Mosaic Company? originally appeared on Fool.com.
Neha Chamaria has no position in any stocks mentioned. The Motley Fool has no position in any of the stocks mentioned. Try any of our Foolish newsletter services free for 30 days. We Fools may not all hold the same opinions, but we all believe that considering a diverse range of insights makes us better investors. The Motley Fool has a disclosure policy.
Copyright 1995 - 2016 The Motley Fool, LLC. All rights reserved. The Motley Fool has a disclosure policy.