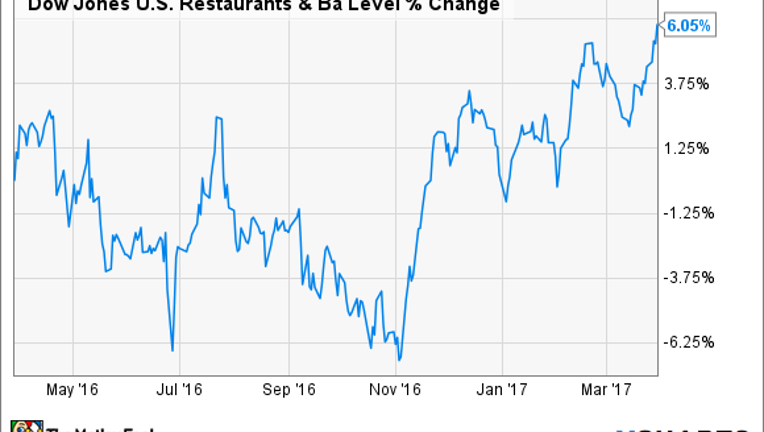 Last fall, the U.S. restaurant industry hit a wall of worry it has so far been unable to climb. Foot traffic went into retreat, and profits at many chains followed suit. Six months into the so-called "restaurant recession," the news has yet to show that the industry is on the mend.
A deeper look into the numbers
Total sales at restaurants have enjoyed strong growth ever since the Great Recession, and 2016 was no exception. Driven by a combination of increasingly confident consumers and steady growth in new restaurant locations, Americans' hunger for meals outside of the home has been impressive. Menu prices have also been on the rise, helping boost the figuresfurther. Spending was up nearly 6% in 2016 compared to the previous year.
Chart by author. Data source: U.S. Census Bureau's Monthly Retail Sales Report.
2017 is off to a similar start, with total sales up 2.4% compared with the first couple of months last year. While those positive figures are a good signthe economy is still growing, they can also be deceiving. Overall sales are up, but foot traffic at individual restaurant locations is shrinking at the fastest rate andover the longest periodsince 2009.
During the third and fourth quarters of 2016, same-store sales (which accounts for traffic and average ticket size) declined 1.1% and 2.4%, respectively, according to TDn2K's monthly restaurant report. Comparable sales were flat and down 3.7% in January and February, respectively, to kick off 2017.
A number of issues like falling prices at the grocery store and the rising cost of necessities like rent and healthcare have been blamed for keeping people at home rather than dining out. But that isn't the main culprit, because nationwide sales are still on the rise. The numbers point to one key item being the primary problem: too many new restaurant openings fighting over limited growth in eating-out budgets.
This is a common problem when an industry experiences strong demand growth. Supply is increased to keep up with growing appetites, and if that appetite suddenly slows down, suppliers can find themselves running off of a cliff. The global oil industry found itself in a similar situation back in 2014, and it seems U.S. restaurants are experiencing it now.
A restaurant industry boom and bust
With the industry cannibalizing itself thanks to over-optimisticexpansion, it looks like the "recession" isn't over yet. Despite this fact, many young national chains are still pushing the envelope with new openings. Fast-casual brands in particular continue to develop locations at aggressive rates, furthering the pain the industry is feeling overall. Here are a few notable examples:
Chart by author. Data sources: Shake Shack, Zoe's Kitchen, and Chipotle fourth-quarter 2016 earnings reports.
There might be light at the end of the tunnel, though, as business is expected to improve in the year ahead. Rising wages and continued improvement in employment could help put a floor under traffic declines. After all, when households get a raise, one of theitems in the family budget that gets a quick boost is eating out.
Image source: Zoe's Kitchen.
Restaurants could also get a bump in profitability in 2017as strong wage and benefits increases paid to employeesin the last year could begin to abate. While wages aren't going down, they are expected to grow at a slower rate than last year. Other benefits paid, like healthcare insurance premiums, have already been accounted for in many restaurant chain business models, so the impact there is also expected to slow. .
As a result of that improved outlook, restaurant stocks overall have rebounded.
Dow Jones US Restaurant and Bars Index. Data by YCharts.
General consensus is that foot traffic at fast-food and casual sit-down chains will suffer at the expense of the growing fast-casual space this year, a trend that has been in force for several years now. U.S. consumers want convenience, but not at the expense of food quality. Fast-casual is a sector to watch.
10 stocks we like better than Chipotle Mexican GrillWhen investing geniuses David and Tom Gardner have a stock tip, it can pay to listen. After all, the newsletter they have run for over a decade, Motley Fool Stock Advisor, has tripled the market.*
David and Tom just revealed what they believe are the 10 best stocks for investors to buy right now...and Chipotle Mexican Grill wasn't one of them! That's right -- they think these 10 stocks are even better buys.
Click here to learn about these picks!
*Stock Advisor returns as of February 6, 2017.
Nicholas Rossolillo owns shares of Zoe's Kitchen. The Motley Fool owns shares of and recommends Chipotle Mexican Grill and Zoe's Kitchen. The Motley Fool is short Shake Shack. The Motley Fool has a disclosure policy.