Is the Agricultural Machinery Sector Headed for Trouble in 2016?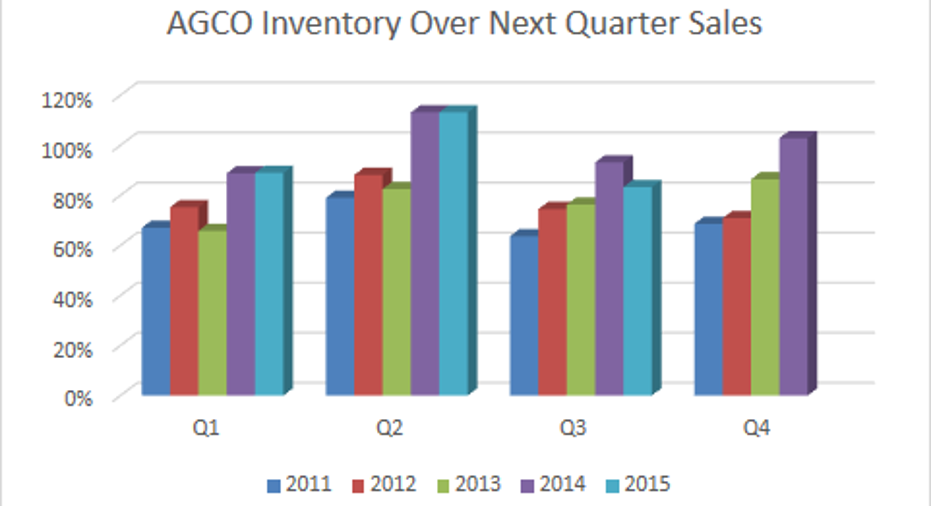 Titan Machinery, Inc.'s third-quarter results delivered the latest tale of woe for the agricultural machinery sector, and the market promptly reacted by sending the stock down nearly 25% in the days following the earnings report. Titan's troubles matter to the sectorbecause it sells and rents agricultural and industrial equipment toCNH Industrial . As CNH goes, so do rivals Deere & Company and AGCO Corporation . That said, let's take a look at Titan's earnings and the outlook for the rest of the sector.
Titan's third-quarter 2016 revenue came in significantly below analyst estimates, with revenue declining 30% and equipment sales down a whopping 37%. Moreover, its updated full-year guidance reflected a weakening in its end markets. For perspective, here are the adjustments in its full-year 2016 guidance from the second to the third quarter.
SOURCE: TITAN MACHINERY, INC PRESENTATIONS.
Clearly, U.S. conditions are getting worse forTitan's agricultural and construction end markets. Indeed, net sales for CNH Industrial (manufacturer of Case and New Holland tractors and combines sold by Titan) were down 33.6% in its third quarter.
However, Titan's weakness isn't just about equipment sales. The companygenerated nearly 65% of its gross profit from parts and services in the first nine months, and on the earnings call Titan CEO David Meyer disappointed investors by disclosing "lower than anticipated revenue contribution from our parts and service businesses." He continued: "Farmers throughout our key market experienced very favorable harvest conditions, which resulted in a relatively fast harvest requiring minimal equipment repairs."
Moreover, the spillover from agriculture and weak energy prices also hit its construction sales. Meyer said, "Our third-quarter sales are also affected by lower construction sales, resulting from lower oil prices and reduced demand for construction equipment from agricultural customers." Titan's commentary on the construction sector echoes that of Caterpillar in its third quarter, whereby management highlighted how weakness in energy-related construction spending had offset strength in U.S. residential and nonresidential construction spending.
In short, construction and agricultural machinery equipment sales prospects are weakening, and Titan's weak parts and services revenue could indicate an unwillingness of farmers to repair equipment or have the need to do so -- both bad news for equipment sellers.
PricingIf there was one positive to take from the recent spate of results, it comes with pricing. It stands to reason that when sales are collapsing and companies are having issues reducing inventory, pricing is likely to come under severe pressure. However, it hasn't happened yet.
For example, CNH's operating profit from agricultural equipment declined $296 million from $433 million in last year's third quarter to just $137 million in the same period in 2015. However, $369 million of the decline was due to volume and mix. CNH saw a $7 million contribution from pricing, with cost-cutting and foreign exchange movements accounting for the rest.
Moreover, on Titan's earnings call, Meyer answered a question from William Blair analyst Larry De Maria referencing Deere's assumption of increasing pricing by 2% in its fiscal 2016. "First of all," Meyer said, "on pricing, I think for our business, you will see that type of discipline from the OEMs. I think it's good because it helps keep the value of used equipment up."
InventoryIt's obviously a good thing if machinery manufacturers are price-disciplined, because their inventory positions are coming under pressure. For example, Meyer admitted that its inventory position -- recall that Titan is a CNH new-equipment dealer -- wasn't as good as management had expected in the third quarter, largely because of lower sales. Will this put pressure on CNH sales in future quarters?
Moreover, on one measure, Deere and AGCO are both seeing somewhat of an inventory build. Here's a look at Deere's inventory-to-next-quarter-sales ratio -- a lower number isbetter. The figures for Deere in 2015 are getting worse compared to previous years.
SOURCE: DEERE & COMPANY PRESENTATIONS. Q4 FIGURE USES ANALYST ESTIMATES FOR Q1 2016.
The same pattern emerges with AGCO Corporation in 2015.
SOURCE: AGCO CORPORATION PRESENTATIONS.
The takeawayTitan's sales outlook suggests conditions are getting worse in the near term, so you can expect more inventory pressure to come in 2015 for Deere, AGCO, and CNH Industrial. An increase in energy prices would help Caterpillar and the construction sales of Deere, CNH, and Titan, but it's not agriculture that counts for the latter three.
In short, if agricultural machinery sales keep deteriorating in 2016, then pricing -- which has held up well so far -- is surely likely to come under pressure for all these companies. Near-term risk is rising inthe sector.
The article Is the Agricultural Machinery Sector Headed for Trouble in 2016? originally appeared on Fool.com.
Lee Samaha has no position in any stocks mentioned. The Motley Fool has no position in any of the stocks mentioned. Try any of our Foolish newsletter services free for 30 days. We Fools may not all hold the same opinions, but we all believe that considering a diverse range of insights makes us better investors. The Motley Fool has a disclosure policy.
Copyright 1995 - 2015 The Motley Fool, LLC. All rights reserved. The Motley Fool has a disclosure policy.