Is Sprint Corp. (S) a Buy?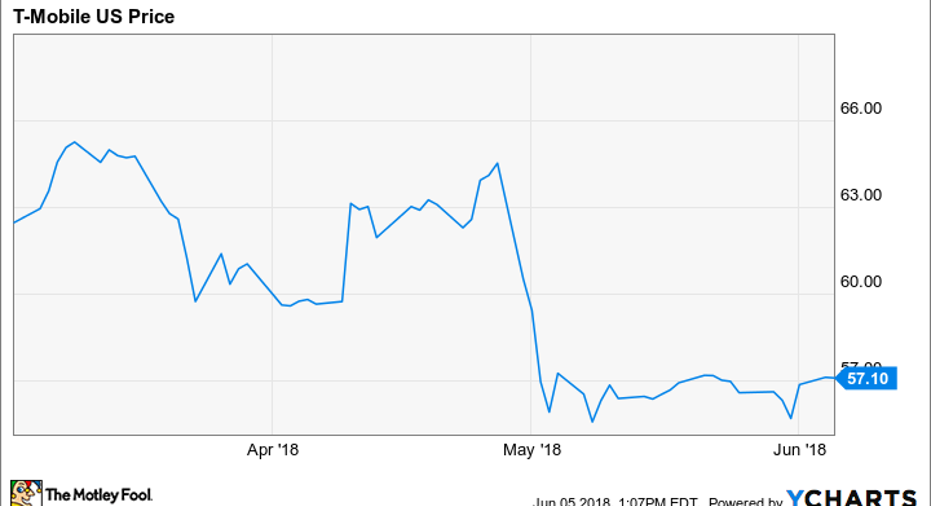 Sprint (NYSE: S) has an agreed-upon merger deal with T-Mobile (NASDAQ: TMUS): Under the terms, its shareholders will receive 0.10256 T-Mobile shares for each Sprint share they own.
At the time that agreement was solidified, T-Mobile was trading at $64.52, and the transaction valued Sprint at $59 billion, or $6.62 per share. But since the stock-swap ratio was fixed, the value of the deal has gone down, as both companies are trading below their pre-announcement share prices.
In light of this, there are two reasons why it might make sense to buy Sprint shares. The first is if you believe T-Mobile shares will climb if federal regulators approve the deal. The second is if you believe that antitrust regulators will block the merger, and that somehow Sprint will be better off for it.
What's happening now?
Since the merger plan was announced on April 29, the two companies have been making their case for its approval. Sprint and T-Mobile have to convince federal regulators that they can't effectively compete with Verizon (NYSE: VZ) and AT&T (NYSE: T) without merging, and that letting them join forces will be beneficial to consumers
T-Mobile CEO John Legere, who is an excellent salesman, began laying out that argument in the press release announcing the deal. Essentially, he's trying to make it clear that the cellular market is no longer limited to AT&T, Verizon, T-Mobile, and Sprint, while also emphasizing that scale has become even more important.
"This combination will create a fierce competitor with the network scale to deliver more for consumers and businesses in the form of lower prices, more innovation, and a second-to-none network experience -- and do it all so much faster than either company could on its own," he said. "As industry lines blur and we enter the 5G era, consumers and businesses need a company with the disruptive culture and capabilities to force positive change on their behalf."
Legere would be the CEO of the combined company, while T-Mobile COO Mike Sievert would serve as president and COO. No decision has been made as to whether the Sprint brand name will be retained.
Should you buy Sprint stock?
If you're considering purchasing shares in Sprint because you believe the merger will be approved, and you expect T-Mobile shares will regain their lost value, it probably makes more sense to just buy T-Mobile. Legere's company will fare better than its potential partner if the union is shot down, because the company was already growing quickly.
Sprint, by contrast, really needs the deal. If regulators say no, its solo prospects are fairly bleak. The company has reversed its pattern of subscriber losses, but to do so, it made use of heavy discounting, a strategy that's not sustainable. It might find alternate suitors from the cable or satellite space, but if new buyers come calling, Sprint won't be dealing from a position of strength.
Right now, with the merger uncertain, I see little upside in owning Sprint stock. T-Mobile may recover after an approval, and it will likely eventually recover even if the deal is shot down. Sprint won't be as lucky if its acquisition is blocked -- at the very least, it will have a much more difficult path than its rival/potential partner.
10 stocks we like better than SprintWhen investing geniuses David and Tom Gardner have a stock tip, it can pay to listen. After all, the newsletter they have run for over a decade, Motley Fool Stock Advisor, has quadrupled the market.*
David and Tom just revealed what they believe are the 10 best stocks for investors to buy right now... and Sprint wasn't one of them! That's right -- they think these 10 stocks are even better buys.
Click here to learn about these picks!
*Stock Advisor returns as of June 4, 2018
Daniel B. Kline has no position in any of the stocks mentioned. The Motley Fool owns shares of Verizon Communications. The Motley Fool recommends T-Mobile US. The Motley Fool has a disclosure policy.