Is Snapchat a Threat to Facebook? 2 Charts Offer Conflicting Answers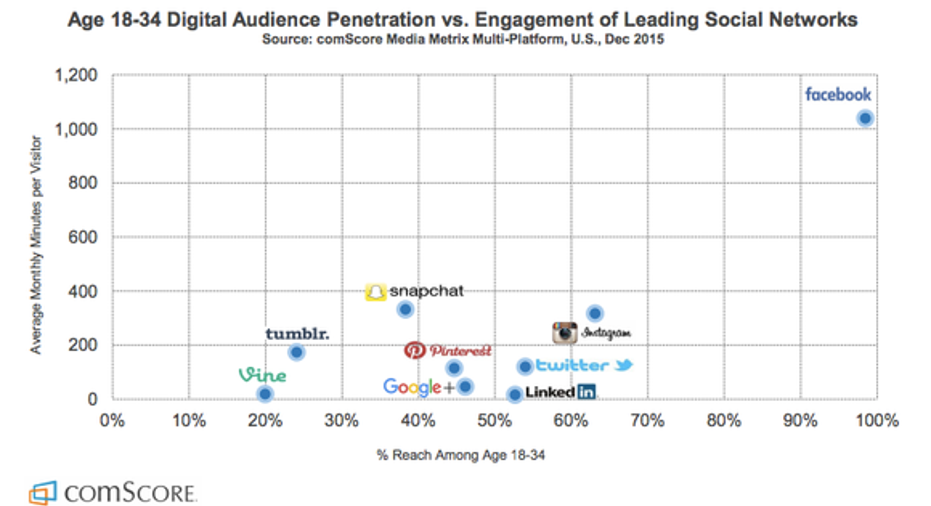 In the ratified strata of billion-dollar tech companies, vanishing video upstart Snapchatand social media kingpin Facebook enjoy a David and Goliath relationship of sorts.
Facebook has acquired nearly every one of its potential competitors in recent years. Snapchat's breakneck growth and gaudy valuationcould indicate that it is the lone remaining social media unicorn that could plausibly threaten the $300 billionsocial media powerhouse.
Determining just how real a threat Snapchat presents to Facebook isn't as clear-cut as one might think, as two recent pieces of conflicting data help to emphasize.
Snapchat surgingLast week, research firm comScore released its 2016 Cross-Platform Future In Focus report. Though fascinating in its entirety, the portions of the report discussing the evolving social media landscape in the U.S. proved especially interesting. Of particular note was the chart below that depicts Snapchat's surging adoption among all age groups in the U.S.
Source: comScore.
As you can see, Snapchat's well-documented strength among millennials continues to grow unabated. More interestingly, Snapchat's usage has more than quadrupled among those aged 24-35 and those 35 or older in the past two years. Speaking further to the platform's youthful skew, roughly 76% of Snapchat's users are age 35 or younger, though this shouldn't come as a surprise for a product that's only 4 years old.
Though Snapchat will likely remain significantly more popular among younger users, this trend of broader adoption appears likely to continue for a few reasons. Here, Facebook's own journey can prove instructive. Facebook was launched as an exclusive social network on college campuses to great effect. However, to continue its heady growth rate, it gradually opened the platform to additional sets of users. Anyone can currently sign up for a Snapchat account. The company will increasingly need to find ways to cater to larger groups of users in order to justify today's lofty valuations.
Not so fastHowever, this only tells part of the story. Though Facebook's user base tends to skew older than any other social media platform cited in comScore's report, users across all age groups spend by far the most time on Facebook.
Source: comScore.
The chart above demonstrates Snapchat's popularity ranking second overall to Facebook in terms of engagement. However, the massive chasm between Snapchat and Facebook, that is visually depicted here, may suggest that it would be extremely difficult to dislodge Facebook from its core user base in the U.S.
Facebook is certainly a mighty adversary. The firm remains far larger than Snapchat in virtually every regard. Counting Instagram's more than 400 million users,Facebook's total social media audience likely exceeds an astounding 2 billion people. And that's not counting the nearly 2 billion users of Facebook Messenger and WhatsApp.
Conflicting evidenceSo what's the takeaway for social media investors interested in Facebook, Snapchat, Twitter, or some other name in this space?
Rather than offering a clean takeaway, the evidence presented above represents a more nuanced snapshot in time. By nearly any measure, Facebook has never been more powerful than it is today. However, Snapchat's unquenchable rise -- particularly among the young -- and its apparent desire to remain independent suggest it could eventually challenge Facebook's dominance.
At the same time, though, Snapchat must make meaningful strides in essentially every regard to make good on its upstart status. The firm enjoys over 100 million daily active users (it doesn't disclose the more commonly used monthly active user statistic cited above for Facebook). The firm must also find a way to build a scalable, sustainable, long-term business model around its hugely popular product. So, while Snapchat's long-term threat to Facebook continues to gradually rise, the world's largest social network also appears amply prepared to withstand what could become its most significant challenger yet.
The article Is Snapchat a Threat to Facebook? 2 Charts Offer Conflicting Answers originally appeared on Fool.com.
Andrew Tonner has no position in any stocks mentioned. The Motley Fool owns shares of and recommends Facebook and Twitter. Try any of our Foolish newsletter services free for 30 days. We Fools may not all hold the same opinions, but we all believe that considering a diverse range of insights makes us better investors. The Motley Fool has a disclosure policy.
Copyright 1995 - 2016 The Motley Fool, LLC. All rights reserved. The Motley Fool has a disclosure policy.