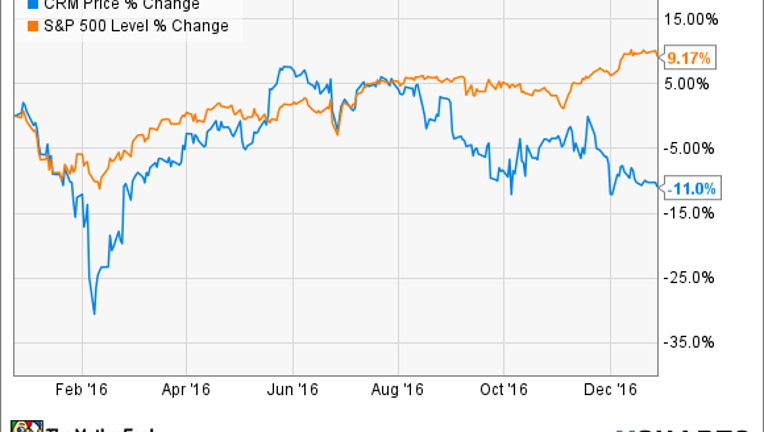 Much of the stock market has rallied following the presidential election, but software company salesforce.com (NYSE: CRM) has declined nearly 10%. It's been an up-and-down type of year for shareholders, but 2017 may bring better times.
Data by YCharts.
2016 in review
Salesforce's recent activity has been around artificial intelligence. Image source: Salesforce.
Salesforce continued the strong revenue growth run it has had for years now in 2016. Through the last reported quarter, total money coming in increased 25.5% as a growing number of enterprises have come to rely on the software giant for their customer relationship management needs.
The company has been using those strong increases to plow money into further investments for the future. Research and development spending is on track to exceed $1 billion this year, and the company has also been purchasing other software companies it can plug into its ecosystem of business solutions.
Specifically, Salesforce has spent at least $4.5 billion on 10 acquisitions during the year. Here is a summary of the buying spree in chronological order:
Table by author. Information source: Crunchbase.
The big purchase was Demandware, for $2.8 billion, which is now part of Salesforce's Commerce Cloud platform for retailers. Besides that purchase, one of the big themes for the company has been artificial intelligence. In addition to its in-house development of Salesforce Einstein (the AI component of Salesforce's platform), seven of the 10 buyouts this year were plugged into the company's expanding AI capabilities.
Image source: Salesforce.
The expansion efforts have kept profitability muted, and that has helped keep a cap on the stock this past year. The company dipped slightly into the red during the last quarter, which has contributed to the most recent decline. However, the company expects 2017 to be a landmark year.
An exciting year ahead?
On the last quarterly call, CEO Marc Benioff was excited to announce that his company expects its first $10 billion revenue during the upcoming year. If it materializes, that would be a 21% increase over what the current year is expected to bring in.
Those figures, should they transpire, would amount to yet another slowdown in annual revenue growth. Double-digit growth is nothing to balk at, though, especially for a company as large as Salesforce.
Chart by author. Data source: Salesforce quarterly earnings reports.
The company will release more details on its outlook during its fourth-quarter call, likely due out in February. But considering the year the stock just had in spite of business growth, the company's acquisitions setting it up for further expansion, and management's outlook, 2017 looks like it will be a good year for Salesforce.
10 stocks we like better than Salesforce.com When investing geniuses David and Tom Gardner have a stock tip, it can pay to listen. After all, the newsletter they have run for over a decade, Motley Fool Stock Advisor, has tripled the market.*
David and Tom just revealed what they believe are the 10 best stocks for investors to buy right now... and Salesforce.com wasn't one of them! That's right -- they think these 10 stocks are even better buys.
Click here to learn about these picks!
*Stock Advisor returns as of Nov. 7, 2016
Nicholas Rossolillo has no position in any stocks mentioned. The Motley Fool recommends Salesforce.com. Try any of our Foolish newsletter services free for 30 days. We Fools may not all hold the same opinions, but we all believe that considering a diverse range of insights makes us better investors. The Motley Fool has a disclosure policy.