Is Ritchie Bros. Auctioneers Incorporated Stock a Buy Right Now?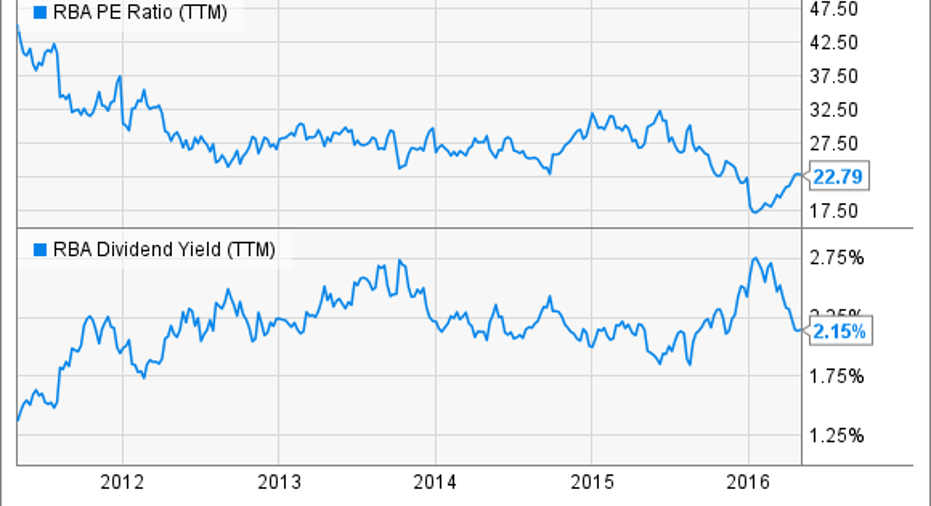 Image source: Ritchie Bros. Auctioneers.
Ritchie Bros. Auctioneers stock has had a nice run since mid-January, advancing over 30%. With the heavy-equipment auctioneer just announcing record auction sales in the first quarter, it looks like 2016 could turn out to be another good year for the company. But after that swift share-price advance, is it a buy right now?
A good year aheadWith the global economy in something of a funk, Ritchie Bros. has had a good business environment in which to operate. Essentially, weakness in any industry that uses heavy equipment will probably lead to more things for the company to sell off to the highest bidder. Add in some acquisitions along the way, and Ritchie Bros. is definitely in a good place to grow its business in 2016.
That said, with a stock advance of nearly 25% in just a few months, it looks as if investors may have already priced in a robust year.
Solid businessRitchie Bros. is one of the largest players in the business of selling heavy equipment at auction. It quite literally has locations around the world. It's highly likely that there will always be something for the company to sell, even if volumes slow from the recent heady pace. The robust market today is being helped out by China's slowdown, a still recovering U.S. housing market, and general weakness throughout Europe.
Then and now. Image source: Ritchie Bros.
But even if a broad global uptick slows Ritchie Bros. down some because potential sellers might decide to hold on to their gear longer, the auctioneer has also been making use of acquisitions to grow its global reach. For example, in February it closed on a deal to buy Mascus International Holding, an online service that provides solutions to heavy-equipment dealerships, among other things. Indeed, it's likely that a difficult auction market would allow industry giant Ritchie Bros. to be even more acquisitive, supporting future growth. That said, the Mascus deal is important for another reason: It highlights the company's focus on the Internet.
Roughly half of all of the sales Ritchie Bros. makes come from bidders who aren't from the region in which an auction is taking place. These bidders are using Ritchie Bros.' website. The takeaway here is that the auction house is holding truly global auctions, not local ones. So even if there's a reduction in equipment or one region is slow, it will still be selling into a very large market. That should provide some protection from competition and from a weak market environment.
So there are some big-picture things to like about Ritchie Bros.' business. Add in low debt levels, and it looks as if Ritchie Bros. would not only survive an industry slowdown, but also come out of it a much stronger company.
A fair value, but not a good oneA good company isn't necessarily a good investment. A lot depends on price. After the recent advance, Ritchie Bros. is a lot more expensive than it was at the start of the year. But it doesn't yet look overpriced. For example, the price-to-earnings ratio is roughly 25% below its five-year average. The yield is also about in line with recent history. So in some ways, the stock still looks like a good deal.
RBA P/E Ratio (TTM) data by YCharts
However, not all of the company's metrics paint as compelling a picture. For example, price to sales and price to book value are both a little ahead of the trailing average. So from this perspective, Ritchie Bros. stock looks less like a good deal.
If you mix the two, it's probably safest to view the auctioneer as selling at a fair price today, but not a good one -- certainly not as good as it was in mid-January, when the stock was more than 30% cheaper. But it's not exactly overpriced, either.
In other words, I wouldn't call it a screaming buy. But if you have a long time horizon, a fair value for a growing Ritchie Bros. might be well worth the price of admission. For example, with a return on equity of roughly 19% last year, you might decide that a trailing P/E of around 23 or so isn't too bad a price. The forward P/E is a bit higher at about 24.5, but still not outlandish. After all, the company has clearly done a good job of putting its shareholders' money to work. But it still isn't trading at a bargain basement price.
The eye of the beholderSo in the end, a lot is going to come down to you. If you're looking for a good company at a dirt cheap price, Ritchie Bros. isn't likely to be something you'll want to buy. But if you want to own a well-run company with solid growth prospects at a fair price, than Ritchie Bros. could, indeed, be a buy right now.
The article Is Ritchie Bros. Auctioneers Incorporated Stock a Buy Right Now? originally appeared on Fool.com.
Reuben Brewer has no position in any stocks mentioned. The Motley Fool has no position in any of the stocks mentioned. Try any of our Foolish newsletter services free for 30 days. We Fools may not all hold the same opinions, but we all believe that considering a diverse range of insights makes us better investors. The Motley Fool has a disclosure policy.
Copyright 1995 - 2016 The Motley Fool, LLC. All rights reserved. The Motley Fool has a disclosure policy.