Is Regeneron (Finally) Getting Back on Track?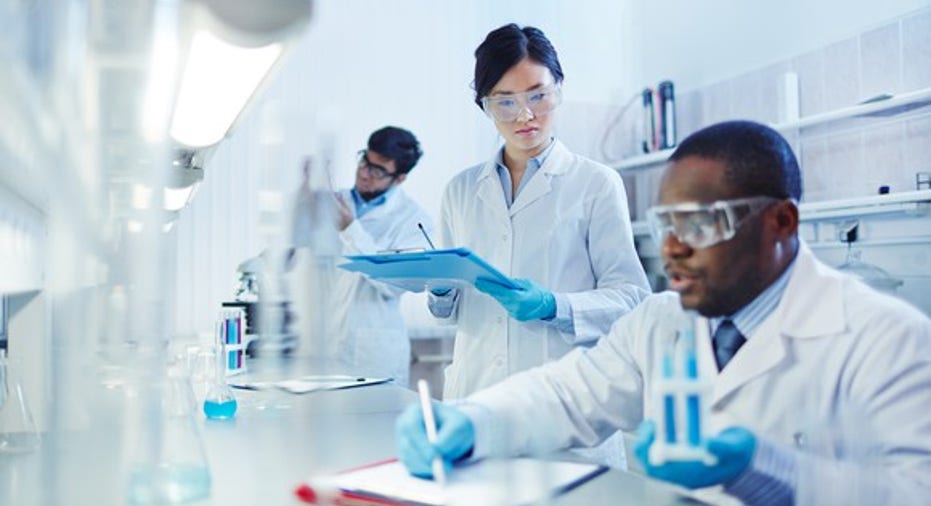 Regeneron Pharmaceuticals (NASDAQ: REGN)and collaboration partner Sanofi (NYSE: SNY)recently won Food and Drug Administration (FDA) approval for their eczema drug, Dupixent, and this week, the FDA accepted the two companies' application for approval of sarilumab, or Kevzara, a rheumatoid arthritis drug that's already gotten a regulatory green light in Canada. Can these two drugs get Regeneron's shares back to their winning ways? Given these drugs target multibillion-dollar indications, I think the answer is yes.
Erasing eczema
Dupixent inhibits interleukin-4 and interleukin-13, two anti-inflammatory proteins that can lead to eczema, a condition that causes itchy skin lesions and other symptoms that can take a big toll on patients' quality of life.
Image source: Getty Images.
Currently, eczema treatment consists oftopical corticosteroids used to treat flares, however, those treatments can require frequent applications, cause unwanted side effects (such as the loss of skin elasticity), and too frequently, they inadequately control severe cases of eczema.
In patients who don't respond well to topical corticosteroids, Dupixent may be a better option. Dupixent is a subcutaneous injection that's taken every two weeks, and in trials, nearly 40% ofDupixent patients achieved clear or near-clear skin, and over 50% of patients achieved a 75% or better improvement in disease severity scores. For comparison, only 10% of patients achieved clear to near-clear skin and just 15% of patients achieved a 75% improvement in disease score in the control arm of its study. In trials, Dupixent also relieved itch better thantopical corticosteroids.
Overall, an estimated 1 million people with eczema in the U.S. could benefit from new therapies like Dupixent, and witha market that big, plus a $37,000-per-year price tag, it won't take many prescriptions to turn this drug into a moneymaker.
Reshaping rheumatoid arthritis treatment
Regeneron and Sanofi were dealt a blow last fall when the FDA rejected their rheumatoid arthritis drug, Kevzara. However, the rejection wasn't based on Kevzara's efficacy or its safety. Instead, it was due to concerns regulators had about a Sanofi manufacturing facility.
Because Dupixent is handled at the same facility as Kevara, and it got a FDA green light, it appears those concerns have been addressed. If so, the FDA could move quickly to approve Kevzara. According to Sanofi, the FDA is reviewing Kevzara again, anda go/no-go decision is expected on May 22.
Interestingly, that timeline matches up nicely with the timeline for potential approval in Europe. A key European advisory group has recommended EU approval, and an official EU decision is anticipated soon.
If Kevzara wins over regulators, it could quickly become a top-selling drug. In trials, it was more effective at the 24-week mark than the $14 billion per year Humira, with similar safety.
Given that as many as 1% of the global population suffers from rheumatoid arthritis, an approval could provide Regeneron and Sanofi with a second new source of significant revenue growth this year, depending on Kevzara's price.
Looking ahead
Regeneron has been relying on sales of its blockbuster eye drug Eylea to fund its research and development efforts so that it can diversify its revenue, and finally, we might be at the point where we see those efforts pay off.
One big question remaining for Regeneron, however, is the fate of Praluent, Regeneron and Sanofi's cholesterol-busting medicine.
Praluent won approval in 2015, but it's struggled to gain significant momentum because of payer pushback on its price, and an ongoing patent dispute withAmgen(NASDAQ: AMGN)could force it off the market.
So far, Amgen's won a patent decision against the two companies, but Regeneron and Sanofi are appealing that decision, and it's possible that they can still ink a royalty agreement with Amgen that keeps Praluent on the market.
Undeniably, uncertainty regarding Praluent's fate creates risk for investors, but I think most of that risk is priced into shares. If it is, then any positive resolution could cause a rally in Regeneron's share price. Since we should find out Praluent's fate later this year, and Dupixent and Kevzara's market opportunity could be big, I think Regeneron's stock could get back to its winning ways.
10 stocks we like better than Regeneron PharmaceuticalsWhen investing geniuses David and Tom Gardner have a stock tip, it can pay to listen. After all, the newsletter they have run for over a decade, Motley Fool Stock Advisor, has tripled the market.*
David and Tom just revealed what they believe are the 10 best stocks for investors to buy right now and Regeneron Pharmaceuticals wasn't one of them! That's right -- they think these 10 stocks are even better buys.
Click here to learn about these picks!
*Stock Advisor returns as of April 3, 2017
Todd Campbell has no position in any stocks mentioned.His clients may have positions in the companies mentioned.The Motley Fool has no position in any of the stocks mentioned. The Motley Fool has a disclosure policy.