Is Qualcomm's Biggest Rival Running Out of Steam?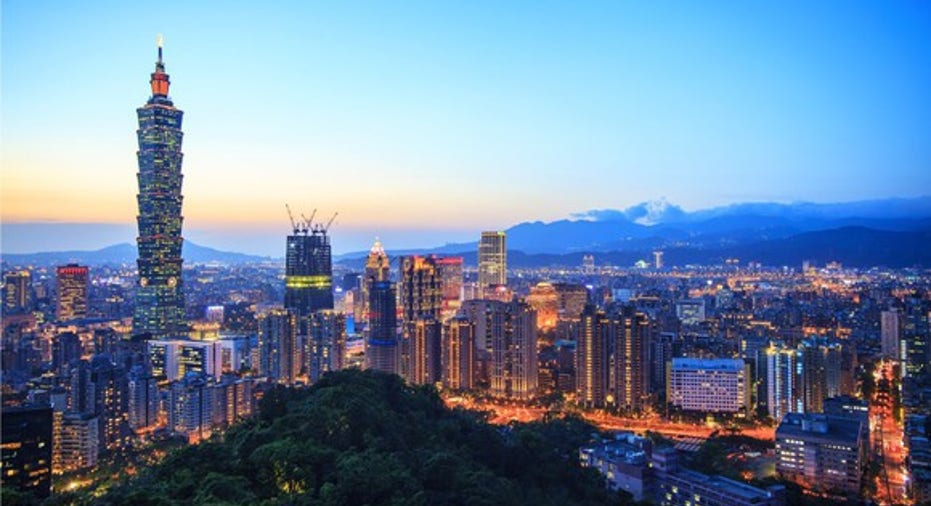 Qualcomm , the biggest mobile chip maker in the world, has been ceding market share to Taiwanese rival MediaTek over the past few years. In the smartphone application processor market, Qualcomm's market share fell from 52% in 2014 to 42% in 2015, according to Strategy Analytics. During that same period, MediaTek's share rose from 14% to 19%.
MediaTek lured OEMs away from Qualcomm with cheaper chips. Although MediaTek couldn't match the speed of Qualcomm's top-tier Snapdragons in premium devices, its low- to mid-range chips were appealing to smaller smartphone makers with paper-thin margins.
Image source: MediaTek.
Qualcomm bears generally believe that MediaTek's growth, combined with the rise of first-party chips from Apple , Samsung, and Huawei, will eventually sink the chipmaking business, which generates most of its revenue. However, Qualcomm bulls should note that MediaTek isn't as mighty as it's often portrayed and that a dramatic political shift in Taiwan could dull its competitive edge.
How is MediaTek really doing?
MediaTek shares fell nearly 50% over the past 12 months due to sluggish smartphone sales. Approximately 60% of the company's revenue comes from smartphone chips. An earthquake in southern Taiwan in February also disrupted shipments from its top contract manufacturer TSMC and weakened its March sales.
MediaTek's sales fell 9.4% annually last quarter toNT$55.9 billion ($1.7 billion), which was in line with its own guidance. However, its operating margin fell from 16% a year ago to 8%, due to higher expenses across the board, and net income plunged 38% to NT$4.4 billion ($136 million). However, MediaTek remains more profitable than Qualcomm's chipmaking division, which had an operating margin of just 5% last quarter.
For the rest ofthe year, analysts expect MediaTek to post double-digit sales growth fueled by rising demand for 4G smartphone chips in China. But MediaTek's margins are also expected to keep contracting due to tough competition from Qualcomm and China Spreadtrum Communications.
Caught in the political crossfire
MediaTek's greatest weakness is the fact that it's a Taiwanese company that relies heavily on the Chinese market. The pro-unification KMT party, which controlled the presidency for the past eight years, heavily promoted cross-strait business ties with the mainland. But the pro-independence DPP party took control earlier this year, resulting in a bitter chill between the two adversaries.
Taipei, Taiwan. Image source: Getty Images.
MediaTek knows that to expand and match Qualcomm's scale, it needs more direct investments from mainland China. China's state-controlled Tsinghua Unigroup has been tryingto buy a stake in MediaTek, but that investment was blocked by the Taiwanese government on grounds of national security and IP protection. Tsinghua CEO Zhao Weiguo has stated that if cross-strait investment rules were relaxed, he wanted to discuss a merger between MediaTek and Chinese fabless chipmakers Spreadtrum and RDA Microelectronics to counter Qualcomm.
Tsinghua previously offered to buy 25% stakes in three chip test and packaging firms in Taiwan -- ChipMOS Technologies, Silicon Precision Industries, and Powertech Technology -- but those investments were all blocked for similar reasons. Taiwanese regulators notably allowed TSMC to build a new $3 billion plant in China, but only on the condition that the chips produced there remained several generations older than those produced onthe island.
Why that impasse helps Qualcomm
To understand why MediaTek's struggles help Qualcomm, we should remember that while the chipmaking business (QCT) generates most of the company's revenue, most of its profits come from its high-margin patent licensing (QTL) business.
Last quarter, Qualcomm's QTL unit had an operating margin of 87% and generated a whopping 98% of its pre-tax earnings. This means that the QTL unit can offset losses that the QCT unit takes, enabling Qualcomm to produce chips at lower margins to widen its moat against MediaTek. MediaTek also can't produce similar-quality chips as Qualcomm's on the same margins, since Qualcomm's bigger operations enable it to utilize economies of scale. That scale is especially valuable in the Internet of Things market, where cheap chips are sold at paper-thin margins.
The only way MediaTek can compete against Qualcomm's business model is to become bigger with investments from mainland China or give in to mergers with Chinese chipmakers. But aslong as Taiwan's government calls Chinese investments "Trojan horses," that probably won't happen.
Qualcomm's not out of the woods yet
MediaTek's slowdown and the regulatory hurdles it faces might help Qualcomm, but the chipmaker still faces plenty of other near-term challenges. The QCT business continues to lose share to first-party chips, and its recent loss of some of Apple's iPhone modem orders to Intel could exacerbate that decline. Meanwhile, the QTL business remains under pressure from defiant OEMs and regulators, which claim that Qualcomm's fees are too high.
Nonetheless, Qualcomm investors should realize that MediaTek isn't as dangerous as some analysts claim. The same pressures that are hurting Qualcomm's QCT business are likewise hurting MediaTek, but Qualcomm has more room to sacrifice its margins to preserve market share.
The article Is Qualcomm's Biggest Rival Running Out of Steam? originally appeared on Fool.com.
Leo Sun owns shares of QCOM. The Motley Fool owns shares of and recommends AAPL and QCOM. The Motley Fool has the following options: long January 2018 $90 calls on AAPL and short January 2018 $95 calls on AAPL. The Motley Fool recommends INTC. Try any of our Foolish newsletter services free for 30 days. We Fools may not all hold the same opinions, but we all believe that considering a diverse range of insights makes us better investors. The Motley Fool has a disclosure policy.
Copyright 1995 - 2016 The Motley Fool, LLC. All rights reserved. The Motley Fool has a disclosure policy.