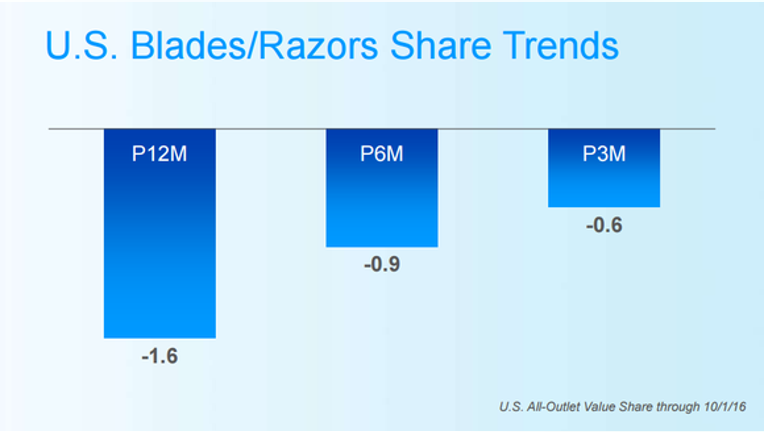 Procter & Gamble (NYSE: PG) lost market share in each of its five core product categories last year, with its grooming division faring the worst.
Yet management is optimistic that the tide could finally be turning. Grooming sales kicked off fiscal 2017 on an encouraging note, posting 3% higher volume and an overall 3% organic sales gain. Market share trends are improving in the U.S., which has cut its losses in half lately.
P3M = past three months. Image source: P&G investor presentation.
Returning the grooming segment to solid growth won't be easy as competitors flood the value side of the category and e-commerce rivals like Unilever's (NYSE: UL) Dollar Shave Club snatch away customers. But P&G has a good shot at generating better results in this department.
The grooming segment is home to a few successful global brands including Braun, Venus, and Fusion, with Gillette leading them all. Thanks to that franchise, P&G is the world's leading seller of shaving products, with a 65% share of the blades and razors segment. Traditionally this is also one of the company's most profitable niches. Grooming accounted for just 11% of sales last year but generated 15% of net earnings.
Image source: Getty Images.
Cheap disposable products and private-label brands are challenging Gillette's value offerings. And online competitors like Dollar Shave Club have won customers in an important segment of shoppers.
These challenges combined to produce significant market share losses over the last two years. "We need to do more work on the lower end of the portfolio," a P&G executive told investors in August. "We also need to be more present in the direct-to-consumer e-commerce channels."
P&G's management laid out their plan to return to growth in a recent presentation to Wall Street analysts. Broadly speaking, they hope to apply their successes in international markets to challenges in the U.S., which means innovating new products and supporting them with advertising and sampling programs.
For the coming year, that includes enhancements to the premium Fusion lineup and Mach 3 products, along with new disposable technology that should fare better against value-based rivals on both price and performance.
Image source: P&G investor presentation.
P&G will put significant marketing muscle behind these products. Not only is it boosting advertising, but the consumer goods titan is pouring resources into an ambitious sampling program that should see over 80% of young men receive a free razor trial on their 18th birthday.
As for the online offering, the Gillette subscription service has its hands full in fending off Unilever's competitively priced product, but executives are encouraged by the recent uptick in growth they've seen.
The grooming division posted a 1.1% market share decline last year following a 0.2% uptick in fiscal 2015. Back then, surging volumes in developing markets more than offset the slight declines P&G endured in rich economies like the U.S.
For a return to growth in 2017, the company will need solid sales gains on the international side of the business again. The most important metric to watch over the next few quarters will be market share in the U.S., though. If P&G can end, or even significantly lessen, volume declines through its innovation, advertising, and sampling initiatives, then it might post a quick growth rebound in one of its most profitable product segments.
10 stocks we like better than Procter and Gamble When investing geniuses David and Tom Gardner have a stock tip, it can pay to listen. After all, the newsletter they have run for over a decade, Motley Fool Stock Advisor, has tripled the market.*
David and Tom just revealed what they believe are the 10 best stocks for investors to buy right now... and Procter and Gamble wasn't one of them! That's right -- they think these 10 stocks are even better buys.
Click here to learn about these picks!
*Stock Advisor returns as of November 7, 2016
Demitrios Kalogeropoulos has no position in any stocks mentioned. The Motley Fool recommends Unilever. Try any of our Foolish newsletter services free for 30 days. We Fools may not all hold the same opinions, but we all believe that considering a diverse range of insights makes us better investors. The Motley Fool has a disclosure policy.