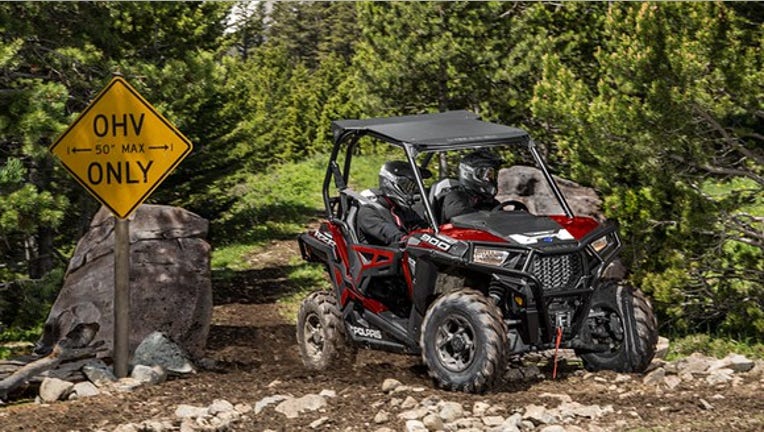 The families of two women who were killed last year while riding in a Polaris Industries (NYSE: PII) off-road vehicle recently announced that they have filed wrongful-death lawsuits against the powersports-vehicle maker. They contend that the design of the side-by-side vehicle is defective and was the cause of the riders' deaths.
Fortunately, only three deaths have recently been associated with Polaris' off-road vehicles, though hundreds more people have been injured. But it raises the question: are Polaris' ORVs -- and in particular, its popular RZR model -- the powersports industry's version of the infamousFord (NYSE: F) Pinto?
Image source: Polaris Industries.
Ugly history of an ugly car
Ford manufactured the Pinto station wagon between 1971 and 1980, but reports that the cars were bursting into flames after being involved in low-speed rear-end crashesbegan filing in to the National Highway Traffic Safety Administration almost right from the beginning.
Production of the Pinto reportedly peaked at 544,000 cars in 1974, the same year the Center for Auto Safety petitioned the NHTSA to issue a recall following three deaths caused by rear-end collisions, but the agency didn't act until 1977.Ford ended up recalling 1.5 million Pintos (and 30,000 of its counterpart Mercury Bobcats).
By 1978, production had tumbled to less than 189,000 cars, and Ford ceased making them two years later, having built just 68,000 Pintos in that last year.
Ultimately, the NHTSA determined that 27 people died as a result of rear-end explosions involving the Pinto,a relatively small number considering the more than 3 million Pintos Ford sold.
Many of the hundred or so lawsuits filed against the company were settled privately, so we'll never know the true cost to the automaker. However, its reputation was left in tatters for a long time after an internal memo revealed that the company felt it would be cheaper to pay liability claims associated with the Pinto rather than issue a recall and fix the problem.
There are a number of distinct parallels between the Pinto and Polaris' ORVs and its RZR -- but also some very significant differences. These could be the deciding factors in whether Polaris Industries has a similar PR disaster on its hands that could wind up ending production of the side-by-side the way it did Ford's wagon.
A portent of problems to come
The first hints of problems with the Polaris RZR arose in October 2015, when the powersports-vehicle maker announced a recall of all 53,000 of its 2015 RZR 900 and 1000 vehicles because of reports of possible pinched fuel-tank vent lines, leading to fuel leaks that could cause a fire.A Youth RZR 170 model had also been recalled in July 2015 for a fire hazard.
Later that year, a 15-year-old girl who had suffered third-degree burns over 60% of her body following an accident that July while riding in a RZR 900 subsequently succumbed to her injuries.
In the case of the two women who died and for which their families are suing, they were riding in a Ranger 800 that tipped over, poured gasoline on them, and burst into flames. The women were unable to unbuckle their seat belts in time to get away from the vehicle.
Image source: Polaris Industries.
A rising rate of recalls
As with the Pinto, very few vehicles out of the hundreds of thousands Polaris has sold have actually been involved in such fire hazards, yet the repeated and extended nature of the problem reveals a very deep problem at the powersports-vehicle manufacturer.
Between 2015 and 2017, Polaris issued 16 recalls for RZRs, Rangers, Sportsmans, Turbos, and Generals, as well as its Slingshot three-wheeled motorcycles and even its Indian motorcycles, and almost all for what the company termed "thermal hazards."
Of those 16 recalls, seven of them, or almost half the total, have been for various models of the RZR, and sometimes some models needed to berecalled more than once, as with the RZR 900 and 1000, which were most recently recalled this past March.
Some key differences
Unlike Ford, however, Polaris has been very responsive to the problems.Whereas the carmaker tried to conceal the problem with the Pinto, the Polaris recalls have been very public in nature, with even the issuance ofstop sale/stop ride notices, which tell dealers not to sell the vehicles and alert owners not to ride them until the problems are corrected. Moreover, Polaris has committed substantial sums of money to resolving the problem and dedicating personnel to rooting out and correcting issues, which might have the unfortunate effect of actually leading to more recalls.
Yet that doesn't change the fact that there is a perception building up about the quality and safety of the RZR that could damage it down the road, perhaps, like the Pinto, leading to it being cancelled.Certainly, competitors see an opportunity to gain an advantage here, and as the innovation at rivals catches up to and in some instances exceeds that of the RZR, it will lose market share.
One of the biggest advantages Polaris has over Ford right now is that despite all the troubles the powersports-vehicle maker has had with the utility vehicle,the RZR still has more than double the market share of all its competitors combined. While it has lost a few points recently, it remains far ahead of the rest of the industry.
Of course, that can change in an instant, particularly if additional riders end up being killed. Sales of the popular off-road vehicle are falling, and though Polaris Industries doesn't break out specific numbers, it said that ORV sales dropped by mid-single-digit percentage rates in the first quarter,which followed a 9% drop last year.
While an overall industry slowdown in sales clouds the impact the recalls are having, there's little doubt those recalls are playing a part. While Polaris' RZR may not yet be akin to the Ford Pinto, it could quickly see its reputation consumed, just as happened with the ill-fated car.
10 stocks we like better than Polaris IndustriesWhen investing geniuses David and Tom Gardner have a stock tip, it can pay to listen. After all, the newsletter they have run for over a decade, Motley Fool Stock Advisor, has tripled the market.*
David and Tom just revealed what they believe are the 10 best stocks for investors to buy right now... and Polaris Industries wasn't one of them! That's right -- they think these 10 stocks are even better buys.
Click here to learn about these picks!
*Stock Advisor returns as of April 3, 2017
Rich Duprey has no position in any stocks mentioned. The Motley Fool owns shares of and recommends Ford and Polaris Industries. The Motley Fool has a disclosure policy.