Is Plug Power Surging Ahead in the Fuel-Cell Market?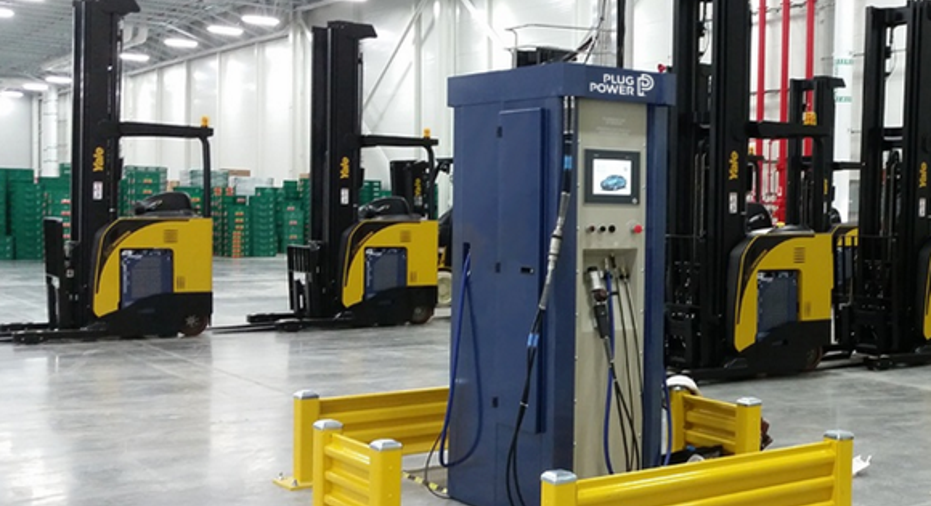 Image source: Plug Power corporate website.
Although electric vehicles often race away with the headlines when it comes to alternative power, hydrogen fuel-cell systems -- which are also attempting to steer us away from traditional fuel sources -- are catching up fast. Granted, its technology won't appear in our driveways, but Plug Power is working to drive the material handling equipment (i.e., forklifts) and stationary backup power markets farther down the road of energy innovation. When evaluating companies, it's important to identify their strengths, determining whether they have sustainable competitive advantages or transitory upper hands. Let's take a look to see how Plug Power measures up.Sticky sweetOne competitive advantage the company retains is the high switching costs for customers who have chosen Plug Power to help them transition from traditional fuel systems to hydrogen fuel cell systems. Once a customer is locked in to Plug Power's GenKey infrastructure, it would be costly to transition to yet another system -- hydrogen fuel cell or otherwise.
Image source: Plug Power corporate website.
Transitioning is no easy task, so to help facilitate the process, the company offers the GenKey solution. According to the company's website, GenKey offers customers "a complete range of turnkey services to streamline the entire hydrogen and fuel cell-adoption process." Included in the solution are:
A GenDrive or GenSure hydrogen fuel-cell system.
GenFuel hydrogen infrastructure and fuel.
GenCare aftermarket customer service and support.
The solution has been available for about two years. Beginning in early 2014, Plug Power had nine GenKey sites in North America. By early 2016, Plug Power had commissioned 29 GenKey sites. The company lauds the solution's benefits as "customers have a single-source vendor to enable a smooth transition away from traditional power sources to hydrogen fuel cell power solutions."Winning the popularity contestAnother competitive advantage is the widespread recognition the company has in the industry. In fact, there aren't many companies offering turnkey solutions like GenKey. And in terms of the stand-alone GenDrive fuel-cell units, Plug Power claims to have substantial market share. According to its website, it has 10,000 GenDrive units deployed -- 90% of the market share for fuel cells in the material handling industry.Having deployed 500 GenDrive units at various Wal-Martlocations, Plug Power grew its relationship with the company in 2014, when it inked its first GenKey contract. Over the past two years, Wal-Mart has validated the one-stop solution, deploying GenKey at 10 distribution warehouse sites -- nine in the U.S. and one in Canada.Plug Power's popularity extends beyond Wal-Mart and the GenKey solution, for the company also offers its fuel cell units -- absent of the complete GenKey solution -- to material handlers.Two companies in the food industry,Kroger and Sysco, have deployed the GenDrive fuel-cell units at four and seven locations, respectively. Several manufacturers have also chosen to power their forklifts with GenDrive units; Coca-Cola has units at two locations, while Procter & Gamble has units deployed at four.
Basically, a better batteryPlug Power contends that the quality of its GenDrive units transcends that of other fuel cell units; moreover, it asserts that its product is a better choice than lead-acid batteries in general. The company seems to be right.
Comparing Class I, II, and III material handling equipment; battery per lift annualized costs exceed that of fuel cells. Data source: National Renewable Energy Laboratory.
According to a report from the National Renewable Energy Laboratory, the value proposition is clear. Most notably, whereas labor costs for battery charging/hydrogen fueling, battery/fuel cell maintenance, and the cost of infrastructure warehouse space amount to $9,900 for battery equipment, the cost for fuel-cell equipment is only $3,500.Plug Power confirms the cost savings. According to its website, changing batteries requires 15 minutes per shift; hydrogen refueling requires two minutes. In a three-shift operation, that amounts to 156 hours of lost productivity annually. In addition, the transition to hydrogen fuel cell infrastructure means companies can gain 7% of distribution-center space by removing battery-changing rooms.The takeawayProviding hydrogen fuel cells to the material handling market, Plug Power is in charge when it comes to hydrogen fuel-cell competitors. It also retains benefits over traditional lead-acid batteries. As the fuel-cell market leader, Plug Power appears to hold some competitive advantages; however, they are tenuous. The sustainability of the advantages is doubtful at best. Should a larger company decide to enter the market, it would surely unplug any advantages Plug Power retains. And as alternative power continues to make inroads in various markets, it's likely that Plug Power will face formidable competition in the future.
The article Is Plug Power Surging Ahead in the Fuel-Cell Market? originally appeared on Fool.com.
Scott Levine has no position in any stocks mentioned. The Motley Fool owns shares of and recommends Coca-Cola. The Motley Fool recommends Procter & Gamble. Try any of our Foolish newsletter services free for 30 days. We Fools may not all hold the same opinions, but we all believe that considering a diverse range of insights makes us better investors. The Motley Fool has a disclosure policy.
Copyright 1995 - 2016 The Motley Fool, LLC. All rights reserved. The Motley Fool has a disclosure policy.