Is NVIDIA Corporation Running Out of Steam or Taking a Breather?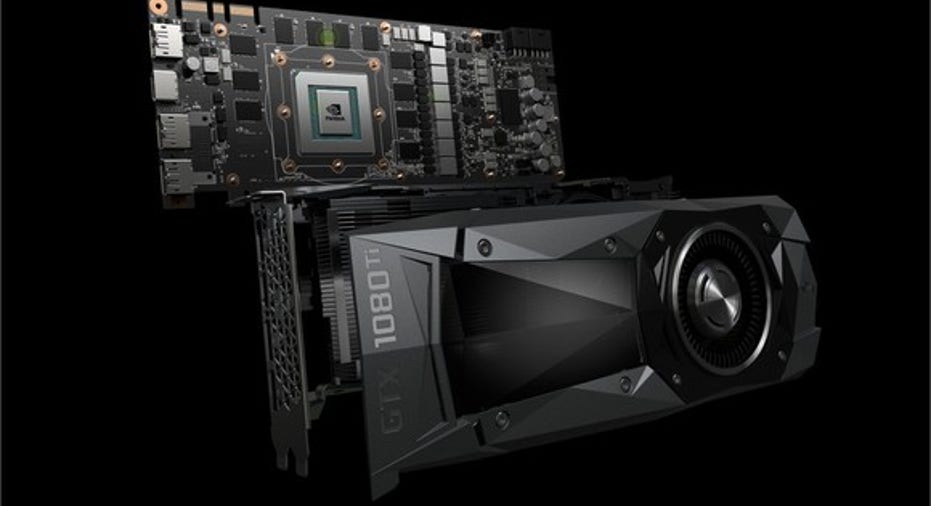 NVIDIA (NASDAQ: NVDA) was one of the hottest stocks in 2016, surging 220% throughout the year and crushing the NASDAQ's 20% gain. But that rally abruptly petered out in 2017, and the stock has declined 3% year-to-date.
Does that weak start indicate that NVIDIA could be running out of steam? Or is the stock merely taking a breather before fresh catalysts propel it to new highs? Let's take a closer look at the bearish and bullish cases to find out.
NVIDIA's DRIVE PX 2 powered Roborace vehicle. Image source: NVIDIA.
Why NVIDIA might be running out of steam
A common bearish argument against NVIDIA is that the stock simply got ahead of itself. NVIDIA's current P/E of 40 marks a multi-year high and doesn't compare favorably to analyst expectations for 10% non-GAAP earnings growth this year. That's a significant slowdown from its83% growth in fiscal 2017. NVIDIA's revenue is only expected to rise 16% this year, compared to 38% growth in 2017.
Several factors are causing this slowdown. First, the expiration of NVIDIA's graphics cross-licensing deal with Intel (NASDAQ: INTC) this month will reduce itsrevenues by $66 million per quarter. While that impact might seem small relative to the $2.2 billion in revenues it generated last quarter, it was "free" revenue which went directly to NVIDIA's bottom line and accounted for 9% of its non-GAAP net income.
NVIDIA also faces fresh competition in its high-growth gaming GPU and automotive CPU markets this year. AMD (NASDAQ: AMD) will launch its next-gen Vega GPUs withinthe next three months, which could put a lot of pressure on NVIDIA's current-gen Pascal-based GeForce cards.
NVIDIA's high-end GTX 1080 Ti GPU. Image source: NVIDIA.
Meanwhile, Qualcomm (NASDAQ: QCOM) and Intelare both aggressively scaling up their automotive chip businesses. Qualcomm will likely close its acquisition of NXP Semiconductors, making it the largest automotive chipmaker in the world. Intel recently announced that it will acquire Mobileye, whichsupplies 90% of the world's top automakers with collision detection systems. Both Qualcomm and Intel believe that these purchases will bolster their presence in connected and driverless cars -- which could threaten NVIDIA's early lead with Tegra processors.
Intel has also taken notice of NVIDIA's progress in data centers, where it's been pairing its Tesla GPUs with non-Intel CPUs for machine-learning purposes. To strike back, Intel recently launched its new "Knights Landing" Xeon Phi processor, which reportedly outperformed the Tesla GPUs inseveral scientific benchmarks.
Why NVIDIA might be taking a breather
NVIDIA faces more challenges this year than it did before, but the company has kept its core businesses healthy with a steady stream of fresh partnerships. In the driverless car market, NVIDIA partnered with Baidu to develop a driverless platform lastAugust, partnered with Bosch to create a next-gen driving supercomputer calledXavier in early 2017, and unveiled a proof-of-concept autonomous truck withPaccarin March.
In the data center market, NVIDIA launched a new hyperscale GPU accelerator blueprint with Microsoftin March, which is aimed at strengthening its cloud-based AI computing capabilities. NVIDIA also pushed back against AMD in the console market by supplying Nintendo (NASDAQOTH: NTDOY) with the Tegra X1 SoC for its newSwitch console. Initial demand forthe Switch seems strong, which indicates that the console could become a new pillar of growth for the Tegra line alongside connected cars.
The Nintendo Switch. Image source: Nintendo.
As for gaming GPUs, NVIDIA plans to counter AMD's Vega withits next-gen Volta GPUs. The Volta probably won't arrive until early 2018, but hardcore gamers might skip the Vega in favor of this next-gen chipset. All these factors indicate that its core growth businesses of gaming GPUs, data center GPUs, and Tegra CPUs should all continue growing for the foreseeable future.
The verdict: NVIDIA is just taking a breather
NVIDIA faces a lot more headwinds than it did before, but it's still making solid progress across the gaming, AI, and connected car markets. Its P/E of 40 admittedly looks high, but investors should also note that the stock also trades at37 times 2018 earnings, 31 times 2019 earnings, and 24 times 2020 earnings -- so that multiple will eventually cool off to more reasonable levels.
Investors shouldn't expect NVIDIA to repeat its massive gains from last year, but they also shouldn't believe the stock will fall off a cliff. I believe that the stock will trade sideways over the next few quarters, until the company proves that new challenges from AMD, Intel, and Qualcomm won't throttle its long-term growth.
Find out why Nvidia is one of the 10 best stocks to buy now
Motley Fool co-founders Tom and David Gardner have spent more than a decade beating the market. (In fact, the newsletter they run, Motley Fool Stock Advisor, has tripled the market!*)
Tom and David just revealed their ten top stock picks for investors to buy right now. Nvidia is on the list -- but there are nine others you may be overlooking.
Click here to get access to the full list!
*Stock Advisor returns as of February 6, 2017
Teresa Kersten is an employee of LinkedIn and is a member of The Motley Fool's board of directors. LinkedIn is owned by Microsoft. Leo Sun owns shares of Baidu and Qualcomm. The Motley Fool owns shares of and recommends BIDU, Nvidia, PCAR, and Qualcomm. The Motley Fool recommends Intel and NXP Semiconductors. The Motley Fool has a disclosure policy.