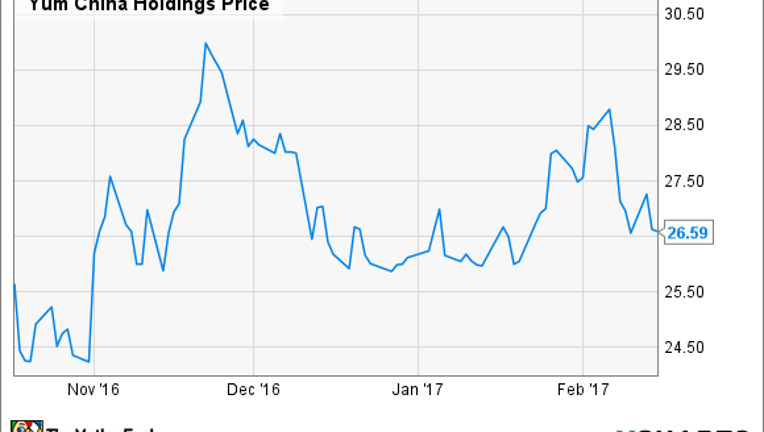 Yum China (NYSE: YUMC) was recently spun off by Yum! Brands (NYSE: YUM) in an effort to refocus both companies' operations. Yum China is the largest fast-food company in Asia, with more than 7,500 locations in China, but it is aspiring to expand even further. But with competitors chipping away at its lead, the company has its work cut out for it.
Image source: Yum China.
The situation in China
China's middle class is booming. A decade and a half ago, Chinese households were still very poor. Fast-forward to today, though, and the country's urban-concentrated middle class is approaching 50% of the total population. In another few years, estimates are that over half of the urban population will be middle class.
As incomes rise, so does spending on eating out. Yum! Brands opened its first Kentucky Fried Chicken in China back in 1987. Today, after the separation of the Chinese business into its own entity, there are over 7,500 KFCs, Pizza Huts, and other local Chinese brands owned by the new Yum China. The company also launched its first Taco Bell in Shanghai last year.
However, competition is breathing down Yum's neck. China is chock-full of Western fast-food chains like McDonald's, Burger King, and Subway, and a slew of local chains are successfully playing catch-up as well. McDonald's also recently followed Yum! Brands' lead in selling off its Chinese business to franchisors to try to boost growth in the region.
Top 5 fast-food chains in China
| Company | Number of Locations | Style of Food |
| --- | --- | --- |
| Yum China | 7,500+ (as of end of 2016) | KFC, Pizza Hut, and Taco Bell |
| Hua Lai Shi | 4,000 (as of end of 2013) | Western-style fast food |
| McDonald's | 2,600+ (as of end of 2016) | The same golden arches with a local flair |
| Dico's | 2,160 (as of end of 2013) | Western-style fast food |
| Shanghai Shihao Catering | 2,000 (as of end of 2013) | Chinese-style fast food |
Data source: China Daily, Yum China, and McDonald's.
A growing number of competitors isn't Yum China's only worry. Consumer trends have been on the move as well. Much like here in the States, Chinese diners are becoming more health-conscious and are opting to pay up for nicer meals. A trend toward Chinese-style dining has also been underway. Same-store sales struggled in the lastyear and had swung to 0% anda1% decline in the two quarters leading up to the spinoff.
Now independent from the sprawling global operations of Yum! Brands, Yum China is fighting back against the competition.
Image source: McDonald's.
The biggest dog eats first
In an October investor presentation, Yum China highlighted its unique position to take advantage of the country's growing wealth. The Chinese continue to move to cities, and as that happens, the number of transportation hubs is expected to double in the next five years and 1,250 shopping malls are expected to be built, according to the company. The company is targeting the transportation hubs and looking to put one to two stores in top-ranking malls.
Those new openings are now under way. Last year, the company opened 575 new restaurants, and 56 cities were entered for the first time. While same-store sales were a drag on full-year performance (KFC was up 3% and Pizza Hut was down 7%), the aggressive rate of new builds still led to 5% sales growth when excluding the negative impact of currency exchange rates.
It looks like Yum China is bulldozing its way to growth, but the same-store sales figure started to improve in the fourth quarter. KFC was up 1% and Pizza Hut was down only 3% during the last quarter. Now better set up to adapt to local trends, Yum China has been revamping menus. With many Chinese showing a growing disinterest in Western-style fast food, offerings have been refocused on local flavors and dishes. Digital marketing has been boosted, including new ad campaigns with Chinese celebrities and endorsers, and after its first quarter as an independent company, the efforts appear to be working.
Is the price right?
Investors were unhappy with the drop in revenue from currency exchange and persistent same-store declines reported for the last quarter. After the report, the stock subsequently gave up almost 10% in value and isn't too far above its debut pricing on Nov. 1. Price-to-earnings based on next year'sprofit estimate sits at 17.8 -- not exactly a value, but not anover-the-top valuation either.
Data by YCharts.
At this point, the track record for Yum China all on its own is too short for my taste. However, armed with nearly $900 million in cash and very little debt, the company looks well-suited to handle its ambitious expansion efforts.
10 stocks we like better than Yum! BrandsWhen investing geniuses David and Tom Gardner have a stock tip, it can pay to listen. After all, the newsletter they have run for over a decade, Motley Fool Stock Advisor, has tripled the market.*
David and Tom just revealed what they believe are the 10 best stocks for investors to buy right now... and Yum! Brands wasn't one of them! That's right -- they think these 10 stocks are even better buys.
Click here to learn about these picks!
*Stock Advisor returns as of February 6, 2017
Nicholas Rossolillo has no position in any stocks mentioned. The Motley Fool has no position in any of the stocks mentioned. The Motley Fool has a disclosure policy.