Is Norwegian Cruise Lines a Buy?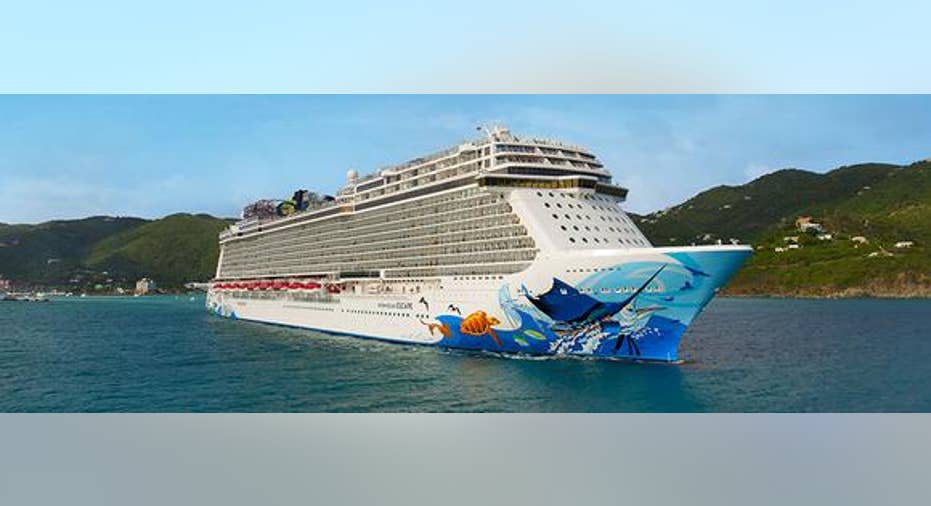 Image source: Norwegian Cruise Lines.
Despite a drop earlier in the year, shares of Norwegian Cruise Line Holdings are sporting a 70% return since the summer of 2014. In that same time period, the broader stock market has had a less than stellar performance. What factors have contributed to the stock's advance, and will it continue?
Norwegian Cruise Lines stock has advanced due to increases in revenue and profit. For 2015, the company reported a 39% increase in revenue and 27% increase in profit over 2014. The reason for the increases was attributed to the addition of one new ship during the year, a higher average number of passengers per cruise, and lower fuel costs.
The company owns and operates 23 ships, which pales in comparison to larger rival's Royal Caribbean's 44 ships and Carnival Corporation's 99 ships. Here is a comparison of the three companies:
| Metric | Norwegian Cruise Lines | Royal Caribbean | Carnival Corporation |
| --- | --- | --- | --- |
| Enterprise Value | $18.5 billion | $25.9 billion | $46.7 billion |
| Revenue (trailing twelve months) | $4.4 billion | $8.3 billion | $15.7 billion |
| Price to Earnings (trailing twelve months) | 28.81 | 26.77 | 22.68 |
| Net Profit Margin (trailing twelve months) | 9.83% | 8.02% | 11.18% |
| Dividend Yield | N/A | 1.86% | 2.35% |
Data source: Yahoo! Finance.
Norwegian is significantly smaller than its peers, but is in line with net profit. Important to note from this chart is the lack of a dividend, which means the company is retaining all of those profits rather than paying them out to shareholders, and the higher price to earnings ratio, indicating a higher premium on growth over the last year. It is also interesting that, based on one year revenue, Norwegian was generating an average of $200 million from each of its 22 ships in operation during 2015, versus just under $190 million and $160 million for Royal Caribbean and Carnival, respectively.
Future growth expectationsDoes the cruise line have enough growth left in the tank to float higher stock prices? Here are some positive expectations. First, the company just acquired a new cruise liner this month, and has a second one on the way later in the year. Management expects three more ships to be acquired through 2019, bringing the fleet count up to 27.
Second, fuel prices remain subdued. This enabled the company to increase profit margins during 2015. Assuming fuel stays low through the year, this would also be a support for 2016 revenue and profit.
There are also some potential headwinds in the coming year. A reduction in passengers due to deteriorating economic conditions or uncertainty is a possibility. An increase in energy prices could also cut into profit. This possibility is a two-edged sword, as an increase in fuel reduces the amount of disposable income families have which could reduce the number of people taking vacations.
Considering these possibilities, what are expectations from management and analysts in the years to come?
| Metric | Expectation |
| --- | --- |
| One-Year Price to Earnings | 10.89 |
| Five-Year Price to Earnings | 14.12 |
| One-Year Earnings Growth | 30.60% |
| Five-Year Earnings Growth | 33.01% |
| One-Year PEG Ratio | 0.36 |
| Five-Year PEG Ratio | 0.43 |
Data source: Yahoo! Finance.
Despite the potential headwinds, management has guided earnings higher in the year to come. Analysts also expect earnings to continue on a steep upward trajectory in the next five year period. As a result, the one- and five-year PEG ratio for Norwegian is well under one, typically indicating the stock is undervalued when considering growth potential. This compares to a PEG ratio of 0.60 for Royal Caribbean and 0.92 for Carnival Corporation.
There are ample risks involved with those forecasts, and I would be surprised to see profits grow at cruise line companies at 30% a year for five years in a row. Norwegian Cruise Lines, however, appears to be a bargain relative to its peers. With a solid pipeline in the works for business growth, and a stock that is discounted to future growth potential, I think the company is still a buy.
The article Is Norwegian Cruise Lines a Buy? originally appeared on Fool.com.
Nicholas Rossolillo has no position in any stocks mentioned. The Motley Fool has no position in any of the stocks mentioned. Try any of our Foolish newsletter services free for 30 days. We Fools may not all hold the same opinions, but we all believe that considering a diverse range of insights makes us better investors. The Motley Fool has a disclosure policy.
Copyright 1995 - 2016 The Motley Fool, LLC. All rights reserved. The Motley Fool has a disclosure policy.