Is Mylan Being Really Smart -- Or Really Arrogant?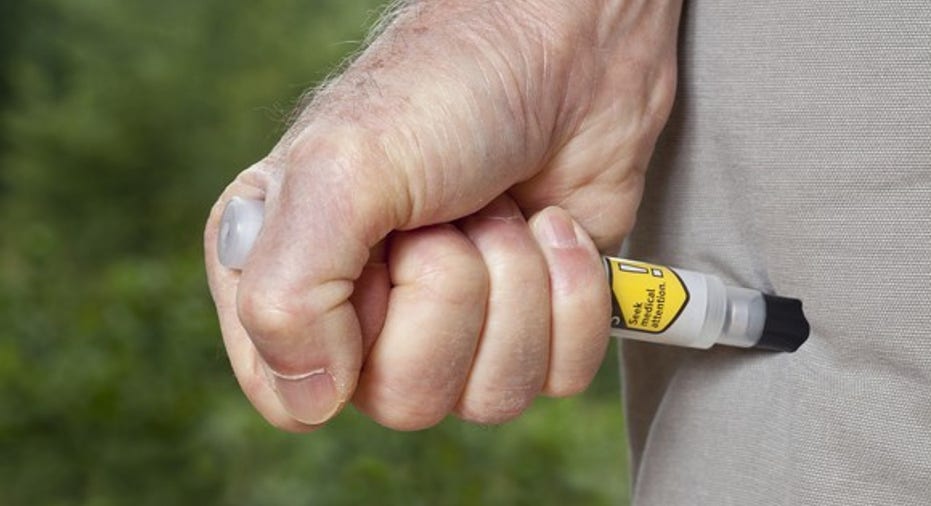 Mylan (NASDAQ: MYL) has been at the center of a public relations disaster this year. The drugmaker came under intense pressure for increasing the price of its EpiPen auto-injector by close to 500% during the past decade. Then came allegations that Mylan overcharged Medicare.
The latest incident in the saga was the company's refusal to testify at a Senate hearing. Perhaps snubbing the Senate made sense. But is Mylan being really smart -- or just really arrogant?
Image source: Getty Images.
No, thanks
Sen. Chuck Grassley, chairman of the U.S. Senate Committee on the Judiciary, requested that a representative from Mylan appear to testify at a hearing scheduled for Nov. 30. Mylan's attorney responded to Sen. Grassley in a letter stating that the company "respectfully declines the invitation to testify."
Mylan's response pointed to the hearing's title ("Oversight of the EpiPen Crisis and Settlement: Where is the Federal Government in Looking Out for Taxpayers and Patients?") as a reason for not attending. The hearing title referred to the company's announcement on Oct. 7 that it would pay a $465 million settlement to the U.S. Department of Justice (DOJ) and other government agencies over the Medicare EpiPen pricing allegations. Mylan said that because this was a pending matter, the company wouldn't participate in the hearing.
The letter also mentioned that the government agencies involved in the settlement had refused to testify also because "it was a pending matter." In its letter to Sen. Grassley, the DOJ stated that the agency wouldn't testify because it had "not agreed to any settlement with any potential party."
So Mylan has publicly announced that it had reached a settlement deal (even giving detailed terms), but the DOJ says that it hasn't agreed to anything. Maybe Mylan was being smart not to testify. However, if the company prematurely announced a deal that hadn't really been settled yet, that was a very dumb move.
PR crisis handling 101
According to the IESE Business School, the best way to handle a public relations crisis (which Mylan clearly has on its hands) includes several steps. One step is to address public perceptions. Another is to "always tell the truth." Yet another is to "be accountable for your actions."
What has Mylan done? The company's CEO, Heather Bresch, testified before a House committee in September and wouldn't admit that Mylan had raised the price of its EpiPen to increase revenue. She tried to explain that her company really didn't make that much money from the EpiPen injectors. Bresch told the committee members that Mylan's products had saved the country $180 billion without providing any details to support the statement.
In the company's third-quarter conference call, Bresch said that Mylan wasn't "blaming the system" but seemed to do just that. She stated, "We have acknowledged that the current system, which we didn't create, but which we must compete in, was not built for consumerism ..."Bresch added thatshe wished the company"had better anticipated the magnitude and acceleration of the rising out-of-pocket cost for a growing minority of patients who may have ended up paying full WAC [wholesale acquisition cost] or more when they went to the pharmacy counter."
In contrast, look at what Valeant Pharmaceuticals (NYSE: VRX) did when it came under fire for steep price increases. The drugmaker changed its CEO. It replaced other top executives. When asked to testify before Congress, Valeant's executives showed up. Former CEO Michael Pearson admitted that the company had made a mistake in hiking its drug prices.
Instead of only reducing out-of-pocket costs for patients as Mylan did, Valeant actually lowered the costs of many of its drugs.The company announced sweeping new drug-pricing policiesthat requireany future price increase to be less than the five-year weighted average of increases across the branded biopharmaceutical industry.
The point here isn't that Valeant is an angel among drugmakers and Mylan isn't. However, Valeant appears to be making smart moves to address its public relations problems. That doesn't seem to be true for Mylan.
What's next?
Despite what I think are numerous missteps by Mylan's management team in responding to public scrutiny over its actions, I think the company will get past these problems -- eventually. Mylan's stock is down over 30% in 2016, making it more attractively valued than it's been in a long time.
While all of the attention this year has been about EpiPen, the reality is that the product will probably account for only 6% of Mylan's total sales next year. Although the drugmaker definitely has a black eye in the U.S. right now, Mylan is an international company that makes more money in the rest of the world than it does in North America.
Is Mylan being smart or arrogant in its approach to handling its public relations controversies? I'd say the latter. However, with its low valuation and decent growth prospects, writing off this drug stock probably isn't a smart move either.
10 stocks we like better than Mylan When investing geniuses David and Tom Gardner have a stock tip, it can pay to listen. After all, the newsletter they have run for over a decade, Motley Fool Stock Advisor, has tripled the market.*
David and Tom just revealed what they believe are the 10 best stocks for investors to buy right now... and Mylan wasn't one of them! That's right -- they think these 10 stocks are even better buys.
Click here to learn about these picks!
*Stock Advisor returns as of November 7, 2016
Keith Speights has no position in any stocks mentioned. The Motley Fool owns shares of and recommends Valeant Pharmaceuticals. The Motley Fool recommends Mylan. Try any of our Foolish newsletter services free for 30 days. We Fools may not all hold the same opinions, but we all believe that considering a diverse range of insights makes us better investors. The Motley Fool has a disclosure policy.