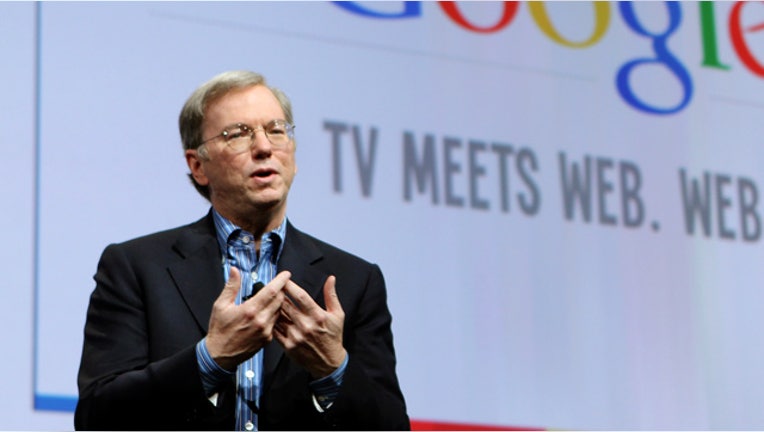 Now that he's finished his nine-year stint babysitting Google's (NASDAQ:GOOG) brilliant founders, some believe billionaire Eric Schmidt is itching to give Washington some much-needed adult supervision.
An outspoken Obama cheerleader, Schmidt would probably jump at a job offer from the White House, so long as it's a job that will give the outgoing Google CEO a chance to have a real impact on Washington and the economy.
"I think that's part of what he's been positioning for," said Rob Enderle, a tech pundit and president of the Enderle Group. "In terms of skills and what he brings to the party and reelection campaign and timing, it's my expectation he will" go to Washington.
Google shocked Silicon Valley and Wall Street last month by announcing a big shakeup in its C-Suite, pushing Schmidt, 55, out of the CEO job and replacing him with co-founder Larry Page, 37. Schmidt will transition to his new role of "executive chairman" in April, but few believe he will stay there long.
"I think this is simply a steppingstone for him to go to Washington. He would love to be Treasury secretary," former GOP presidential candidate Steve Forbes told FOX Business.
While Treasury may be a tough sell given that finance isn't Schmidt's forte, a different Cabinet secretary post could be in the cards.
It's not as if Schmidt would complain about working on a government salary. Google is giving him a $100 million parting gift and Forbes Magazine estimates he's worth more than $5 billion.
Secretary Schmidt?
Schmidt was an early backer of President Barack Obama and according to NewsMeat, has given more than $230,000 in campaign donations to Democrats, compared with less than $20,000 to Republicans.
"There is a political favor to be returned yet," said Roger Kay, president of Endpoint Technologies.
Schmidt's fundraising ability would also be a pro for Team Obama, which is going to need big money to finance the 2012 reelection campaign.
It's clear Schmidt is on the White House's radar as he served on Obama's transition advisory board, joined a science and technology council and was an early candidate for the  administration's newly-created chief technology officer job.
If he lands in Washington the smart money says it will be either as Secretary of Commerce or Energy, though neither job is vacant right now.
Schmidt clearly has the Street cred to lead the Commerce Department, which is a Cabinet department that employs more than 140,000 people and uses its $14 billion budget to promote economic growth.
To entice Schmidt to take the Commerce job, Forbes suggested Obama could put Schmidt in charge of U.S. trade.
The Energy Department, which has an annual budget of $24 billion, wouldn't seem to be an obvious fit for a tech guy, but Schmidt hasn't been shy about his efforts to promote renewable energy. This Cabinet position is currently run by Nobel Prize-winning physicist Steven Chu.
A Schmidt appointment could also build on Obama's outreach efforts to corporate America and Wall Street after a turbulent two years.
"It would be a politically adept choice," said Bill Bartmann, CEO of Bartmann Enterprises and author of Bailout Riches. "President Obama is making a shift to business. I wouldn't call it a hard right turn. [But he's] moving towards the middle."
Not a Good Fit for D.C.?
Others see Schmidt bypassing the notoriously-broken system in Washington, unless, of course, he plans to run for office himself.
"The government avenue doesn't make a lot of sense to me unless he wants to do something like what Meg Whitman wanted to do, just better," said Kay, alluding to the former eBay (NASDAQ:EBAY) CEO's failed run for governor last year in California.
Bartmann said he doesn't believe a Schmidt appointment would resonate with voters or significantly help the White House's struggle to combat high unemployment.
Instead, he suggested someone with more entrepreneurial experience who "gets what it's like for the little guy," pointing to Fred Smith, the founder and CEO of FedEx (NYSE:FDX) and a supporter of John McCain's 2008 presidential bid.
Dana Perino, a White House press secretary under President George W. Bush, agreed with that sentiment, questioning what Schmidt would "bring to the table."
"I don't think a lot of small businesses would relate to him -- and unless he was in the inner circle with lots of ability to affect change, it probably wouldn't do much beyond give [the White House] some good PR for a while," Perino said in an email.
Of course, Schmidt's options are hardly limited to Washington as he could choose to make his services available to another company such as PC maker Dell (NASDAQ:DELL) or Hewlett-Packard (NYSE:HPQ), the largest tech company by revenue. Before joining Google a decade ago, Schmidt served as an exec at computer networking maker Novell (NASDAQ:NOVL) and Sun Microsystems, which is now owned by Oracle (NASDAQ:ORCL).
"My estimate is that Schmidt likes to be in the game. He likes to be a player," said Kay.
It's unlikely Schmidt will retire with his billions, taking up sailing or traveling. Indeed, there's a rumor he's trying to land a gig on cable television.
According to the New York Post, Schmidt is "eyeballing" a career in TV and has been consulting with Liza McGuirk, an executive producer from Time Warner's (NYSE:TWX) CNN.
But before you pencil in Schmidt to replace Regis Philbin at Walt Disney's (NYSE:DIS) ABC, note that a CNN insider told the Post the pilot he filmed with McGuirk was "a complete disaster." Of course, if Schmidt used his billions to buy a network, he wouldn't have any problem getting on-air face time.