Is Microsoft Corporation's Surface Phone Still Alive?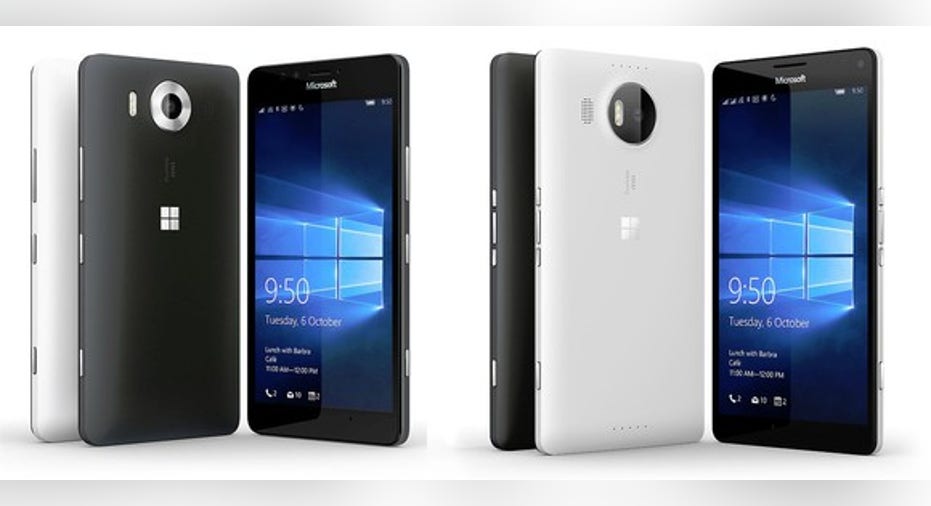 Microsoft has been gradually retreating from the mobile market, but recent rumors suggest that its elusive "Surface Phone" could still arrive next spring. The device will reportedly be powered by Qualcomm 's upcoming Snapdragon 830 processor, which is also expected to arrive in early 2017. The launch should coincide with the "Redstone" update for Windows 10.
Microsoft's Lumia 950 and 950 XL. Image source: Microsoft.
These rumors also suggest that Microsoft will launch three versions of the Surface Phone for the consumer, prosumer, and enterprise markets. The consumer version could be loaded with 4GB of RAM and 64GB of storage, the prosumer version could sport 6GB of RAM and 128GB of storage, and the high-end enterprise version -- dubbed the Surface Phone Pro -- could have 8GB of RAM and 512GB of storage.
Those specs could make Surface Phones the beefiest smartphones on the market, but it's doubtful that they can boost Microsoft's share of the global smartphone market, which recently slipped below 1%, according to Gartner. Launching new higher-end devices also ignores the fact that the cheapest Windows Phones have consistently been more popular than higher-end flagship devices. So is there really any reason at all for Microsoft to launch new Surface Phones next year?
Why Microsoft needs Surface Phones
Microsoft's recent layoffs of nearly 10,000 employees, mostly from Nokia'sformer handset unit in Finland, was a clear sign that Apple and Alphabet's Google had won the mobile war. But CEO Satya Nadella refused to admit defeat, claiming that Microsoft just needed to release fewer devices for the three aforementioned markets.
Nadella likely knew that if Microsoft stopped launching Windows 10 Mobile devices, its dream of creating a "One Windows" ecosystem across mobile devices, PCs, and Xbox consoles would be shattered. Continuum, the feature which turns select phones into dockable PCs, would also be forgotten. Unfortunately, sales of its first two Continuum phones -- theLumia 950 and 950 XL -- were disappointing. The company actually started giving away free Lumia 950s to customers who bought the larger XL from the Microsoft Store in late April.
The PC-docking Continuum feature. Image source: Microsoft.
Last quarter, Microsoft's phone hardware revenue plunged 46% annually in constant currency terms due to the downsizing of the business and market share losses. Meanwhile, Surface device sales rose 61%, thanks to strong demand for the Surface Pro 4 and Surface Book. That's probably why Surface VP Panos Panay's team reportedly inherited the Surface Phone project last year -- launching future mobile devices under the Surface banner instead of the Lumia onemight generate stronger interest among mainstream and enterprise consumers.
Why Surface Phones could be DOA
Microsoft likely hopes that if enough people buy Surface Phones, it can use Continuum to leverage its dominance of PC operating systems to push back against Apple and Google. Since the Surface Pro has proven popular among enterprises which want to replace aging desktops with 2-in-1 devices, companies might consider buying single phones which can do the same thing.
However, Surface Phones powered by Qualcomm's ARM-based processors can't run older apps designed for x86 processors, which limits their appeal among older companies running legacy software. Instead, ARM-powered Surface Phones will likely only run Windows apps developed for its "universal apps" platform.
Image source: Microsoft.
That's why ARM-powered Surface devices like the Surface RT never caught on and were eventually replaced byIntel -powered ones. Earlier reports indicated that Intel would supply the processors for the Surface Phones, presumably to add support for x86 programs. But Intel recently killed off most of its smartphone and mobile chips, which caused the rumor mill to churn back toward Qualcomm.
Waiting until next year to launch the Surface Phone would also give Apple and Google more time to expand their enterprise efforts. Many iOS and Android apps are already tethered to Windows-based applications through the cloud, which reduces demand for a "unified" OS like Windows 10. Relaxed BYOD (bring your own device) restrictions and improved enterprise mobility management solutions also make it easier for companies to allow employees to use their preferred mobile devices -- which likely don't include Windows Phones.
Microsoft's Hail Mary pass
In my opinion, there's no reason to believe that Microsoft's Hail Mary pass with Surface Phones can be completed. The Surface 2-in-1 devices succeeded because they filled a niche productivity market between laptops and tablets. Trying to fill that niche between smartphones and PCs will be much tougher, since mobile apps are now tightly tethered to their desktop counterparts.
Microsoft's tiny share of the mobile market means that Surface Phones, even with their new branding, could be easily overshadowed by the latest iPhone or Android devices. Therefore, I believe that Microsoft should probably abandon this effort and focus on other ecosystem battles that it can win.
The article Is Microsoft Corporation's Surface Phone Still Alive? originally appeared on Fool.com.
Suzanne Frey, an executive at Alphabet, is a member of The Motley Fool's board of directors. Leo Sun owns shares of Qualcomm. The Motley Fool owns shares of and recommends Alphabet (A shares), Alphabet (C shares), Apple, Gartner, and Qualcomm. The Motley Fool owns shares of Microsoft and has the following options: long January 2018 $90 calls on Apple and short January 2018 $95 calls on Apple. The Motley Fool recommends Intel. Try any of our Foolish newsletter services free for 30 days. We Fools may not all hold the same opinions, but we all believe that considering a diverse range of insights makes us better investors. The Motley Fool has a disclosure policy.
Copyright 1995 - 2016 The Motley Fool, LLC. All rights reserved. The Motley Fool has a disclosure policy.