Is McDonald's Corporation's Financial Model Working?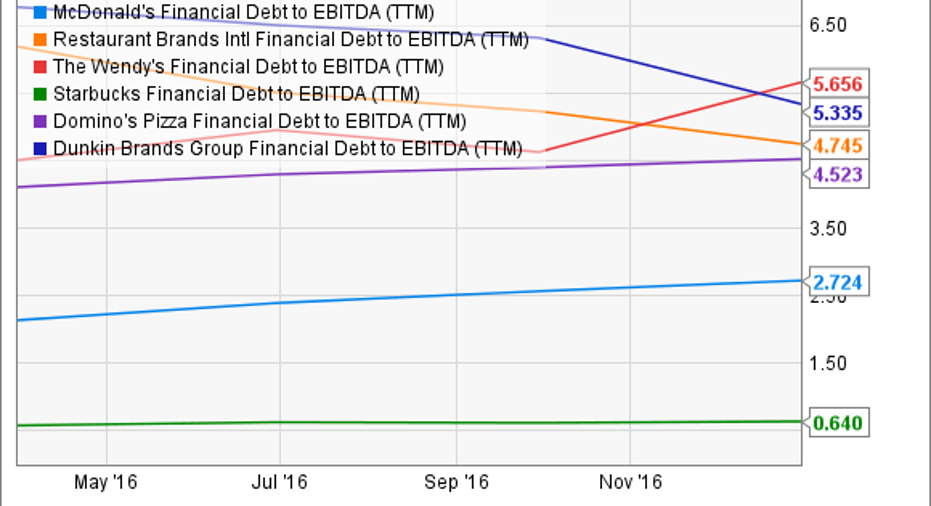 In the first articleof this two-part series, we analyzedMcDonald's Corporation's(NYSE: MCD)plan for "long-term global growth" from a strategic perspective.
Here, we'll look McDonald's current financial model -- how it optimizes profits and how it structures its balance sheet -- to understand how well-equipped the company is to institute its own long-term plans.
A push to create healthier margins
If investors had to name the most irritating constant on McDonald's profit and loss statements over the last three years, the consensus pick would surely be declining revenue. After peaking at $28.1 billion in 2013, the company's top line fell to just $24.6 billion last year. It should be noted, however, that in 2016, part of the revenue drop can be attributed to the refranchising, or sale, of some corporate locations.
Management has focused on profitability to appease shareholders while it tries to solve revenue weakness resulting from the systemic long-term guest count issues we discussed in part one of this series. So far, McDonald's has implemented $200 million in costs savings within a goal to trim $500 million in general and administrative (G&A) annual expense by the end of 2018.
The company has also set aside its expansion-at-all costs mentality, and curbed new store additions, while closing a higher number of underperforming locations. Between 2015 and 2016, McDonald's opened a total of 1,885 restaurants, while shuttering 1,244, for a net addition of 641 units, or just 1.8% of the global store base which existed at the end of 2014.
This profits-conscious expansion of locations has been supplemented by a related exercise to become a nearly 100% franchised operation. In December 2014, a month before Steve Easterbrook took over as CEO, 80% of the company's locations were franchised. As of Dec. 31, 2016, franchised locations have grown to 85%,and the company projects that by year-end 2017, this number will jump to 93%.
The profitability associated with franchising provides the impetus for this trend. Last year, McDonald's enjoyed an operating margin of 81.6% on its franchised locations, versus 17% for company operated units. This disparity makes sense when you consider that McDonald's collects royalty checks from its franchisees without the associated overhead of operating restaurants. Franchised margins made up about 75% of McDonald's total operating margin last year.
Between disposing of a relative handful of non-performing restaurants, exercising G&A discipline, and its gradual refranchising effort, McDonald's will offset the effect of weaker revenue with healthier profits. In fact, operating income margin rose to 31.5% in 2016, versus 21.1% in 2015.In its long-term global growth plan issued earlier this month, McDonald's projects that operating income margin will eventually reach mid-40%. And top-line expansion is still a priority; after all refranchising activities are complete, the company foresees 3% to 5% annual revenue gains.
Proactive leverage on the balance sheet
During its revenue downturn, McDonald's utilized a giant, three-year, $30 billion shareholder return program to bolster its stock price. This combination of dividends and aggressive stock repurchases was completed in 2016, and management has initiated a smaller, but still substantial $22 billion to $24 billion dividend and share repurchase program which will run through the end of 2019.
Besides propping up the ticker, what's the point of these mammoth exercises? To be frank, they tend to stretch resources severely. During the three years which encompassed the first shareholder lovefest, McDonald's only generated $13.1 billion in free cash flow. It funded the other $17 billion of dividends and share buybacks by drawing down cash balances, stretching working capital, and most significantly, adding approximately $13 billion of debt to the balance sheet.
The point is that by leveraging up, McDonald's pre-emptively decreases the ability of an activist shareholder to swoop in and use the company's debt capacity for initiatives management might not endorse. By making itself a less attractive target for corporate activist meddling, McDonald's can theoretically control its own destiny while it continues turnaround activities.
I'm not a huge fan of borrowing to fund shareholder returns, but I must admit that McDonald's has some leverage to give when compared to most of its peers. Here's a chart which compares the ratio of debt to EBITDA among a range of McDonald's informal eating out (IEO) competitors:
MCD Financial Debt to EBITDA (TTM) data by YCharts.
The exceptionally low debt ofStarbucks Corporation aside, you can see that McDonald's isn't nearly as indebted as its peer group. In fact, the burger titan could absorb a debt-to-EBITDA ratio of between 3.0 and 4.0 without worry.And to fund this next round of dividends and buybacks, it will indeed take on more debt: The company has gone back to the bond market just this month with an offering of $2.0 billion in medium-term notes.
McDonald's on the Dutch Caribbean island of Curacao. Image source: McDonald's Corporation.
The model in a nutshell
We can reduce McDonald's model to its most basic form by describing it as lower revenue, higher margins, and higher leverage. It's a franchisee-centric game plan.The lost flexibility of income resulting from fewer corporate-owned stores, along with a leveraged balance sheet, means that the company has placed the ability to influence profits mostly in the hands of its franchisees.
It follows that the best way under the current model to increase profits will be to add more franchised locations, while increasing guest counts day in and day out around the world. McDonald's has a viable financial model, but it depends on CEO Steve Easterbrook's four-word mantra: more customers, more often.
10 stocks we like better than McDonald'sWhen investing geniuses David and Tom Gardner have a stock tip, it can pay to listen. After all, the newsletter they have run for over a decade, Motley Fool Stock Advisor, has tripled the market.*
David and Tom just revealed what they believe are the 10 best stocks for investors to buy right now... and McDonald's wasn't one of them! That's right -- they think these 10 stocks are even better buys.
Click here to learn about these picks!
*Stock Advisor returns as of February 6, 2017
Asit Sharma has no position in any stocks mentioned. The Motley Fool owns shares of and recommends Starbucks. The Motley Fool is short Domino's Pizza and has the following options: short June 2017 $140 puts on Domino's Pizza. The Motley Fool recommends Dunkin' Brands Group. The Motley Fool has a disclosure policy.