Is Match Group Losing Its Tinder Mojo?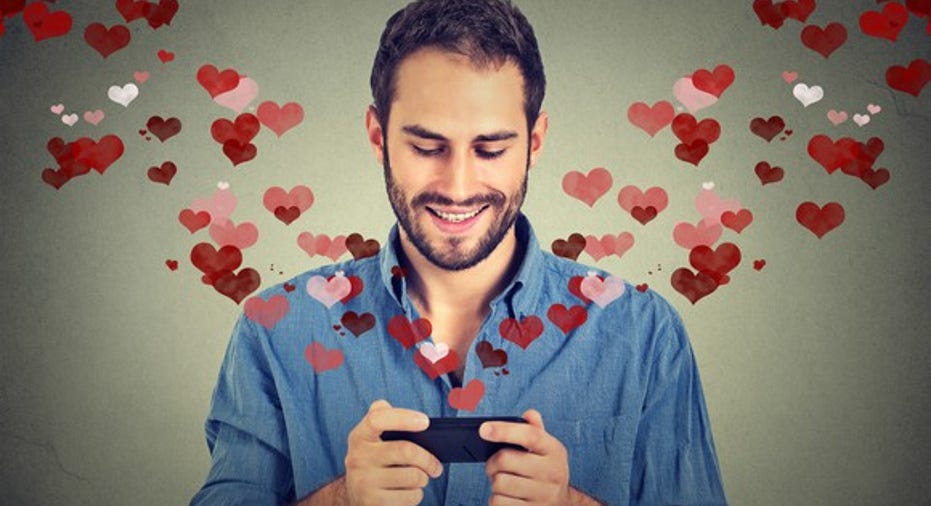 Shares of Match Group (NASDAQ: MTCH) fell as much as 6% on Feb. 1 after the dating products maker reported mixed fourth quarter earnings and soft guidance for the rest of the year. Revenue rose 20% annually to $319.7 million, but missed estimates by about $1 million. Adjusted earnings grew 21% to $0.29 and beat expectations by a nickel. However, Match estimated that its revenue would "only" rise 23%-28% in 2017, compared to analyst estimates for 38% growth.
But over the following few days, Match recovered from its brief swoon and continued its near-90% rally over the past 12 months. Can Match maintain that momentum for the rest of the year? Let's take a closer look at the bull and bear arguments for the stock to decide.
Image source: Getty Images.
The bull case for Match
Match's sales forecast for 2017 missed expectations, but that still represents an acceleration from its 15% growth in 2016. Match owns a broad portfolio of dating apps and sites, but 92% of its fourth quarter revenue came from two properties -- the popular dating app Tinder and its namesake site, Match.com. Tinder has over50 million active users, and is consistently rankedas the top dating app in the United States.
Match generates most of its revenue from membership fees. Tinder is a free app, but its paidusers get unlimited likes, an undo feature called "Rewind," and a "Passport" feature to locate users in other locations. Subscription fees vary by age (it's cheaper if you're under 30), and your home country. Match reported that its PMC (paid member count) rose 23% annually to 5.7 million last quarter -- indicating that its membership-based business model is generating reliable sales growth. Match has also been selling clickable adson its apps and sites, but that business isn't a major pillar of growth yet.
Match also owns test preparation and college-counseling service company The Princeton Review, but it recently announced that it would sell that business -- along with all its other non-dating businesses -- to focus on its core dating properties. That sale is expected to close in the first half of 2017 and reduce Match's annual revenue by 8% -- which makes its forecast for 23%-28% growth this year seem even more impressive.
Operating margin at Match's core Dating business rose nine percentage points annually to 38% last quarter, while its adjusted EBITDA margin rose two percentage points to 43%. That solid bottom line growth boosted Match's operating cash flow by 12% to $234 million in fiscal 2016. Its cash position also nearly tripled annually to $235.7 million last quarter. Analysts expect Match's earnings to grow 11% this year and 21% next year -- so its forward P/E of 17 indicates that the stock isn't that pricey relative to its growth potential.
The bear case against Match
Match's growth figures look robust, but investors should note that its average revenue per paid user (ARPPU) of $0.53 last quarter was actually flat from the prior year quarter. That wasn't surprising, since Match generates most of its revenues from steady paid memberships instead of volatile advertising revenues. But it also indicates that once its membership numbers peak, Match could struggle to generate fresh revenues per user to offset that slowdown.
Match is also heavily dependent on Tinder, so if public interest in the app wanes, its revenues could plummet. Tinder is also highly vulnerable to negative PR regarding dating apps. For example, its smaller rival MeetMewas previously implicated inseveral cases of sexual predators stalking minors. MeetMe was eventually sued by the City of San Francisco over those charges, and the app has arguably struggled to shake off that nasty reputation.
Tinder notably raised its age limit to 18 in response to theMeetMe case, but that doesn't guarantee that it won't be pilloried in the future. If Tinder's growth stalls out, Match will likely try to acquire other popular dating apps to offset that slowdown. However, Match is already shouldering $1.2 billion in debt, and it could accidentally "diworsify" by buying non-profitable apps with limited long-term appeal.
Lastly, Match's insiders don't seem confident in the company's growth prospects. Over the past three months, Match's insiders sold over 1 million shares while only purchasing about 2,800 shares on the open market -- and those shares were all bought by Match's former parent company IAC/InteractiveCorpinstead of top Match executives.
My verdict: A potential growth play, but I'm not interested
Tinder's popularity might lift Match's stock to new highs this year, but I'm concerned about the company's top-heavy business model and concentrated dependence on membership fees. Therefore, another mixed earnings report or an unexpected slowdown in paid membership growth could cause the stock's big rally to finally peter out.
10 stocks we like better than Match GroupWhen investing geniuses David and Tom Gardner have a stock tip, it can pay to listen. After all, the newsletter they have run for over a decade, Motley Fool Stock Advisor, has tripled the market.*
David and Tom just revealed what they believe are the 10 best stocks for investors to buy right now... and Match Group wasn't one of them! That's right -- they think these 10 stocks are even better buys.
Click here to learn about these picks!
*Stock Advisor returns as of February 6, 2017
Leo Sun has no position in any stocks mentioned. The Motley Fool recommends Match Group. The Motley Fool has a disclosure policy.