Is LuluLemons 2020 Sales Goal a Big Stretch?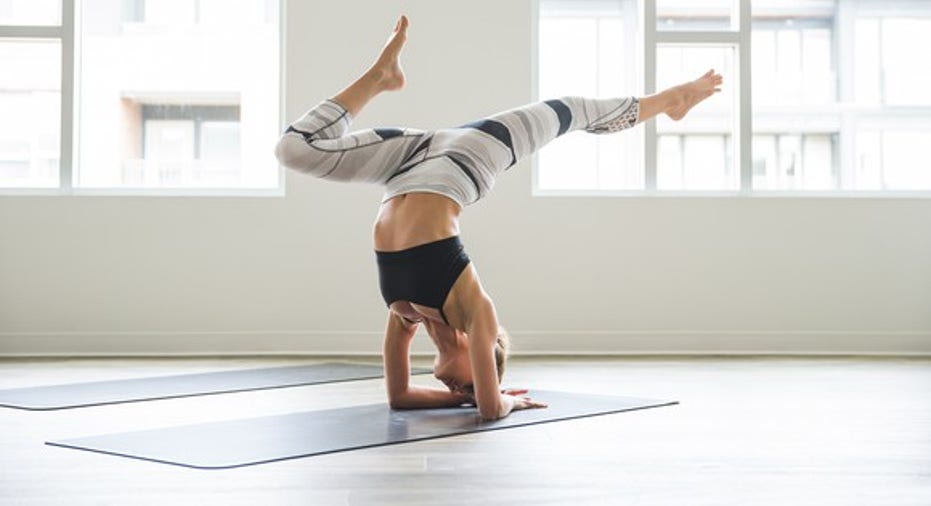 There must have been a competition over the last two years among sportswear companies likelululemon athletica (NASDAQ: LULU), Nike (NYSE: NKE), andUnder Armour(NYSE: UAA)(NYSE: UA) to publicly set aggressive sales goals for the next few years. At this point, both Nike's and Under Armour's targets look out of reach, as sales growth at each has slowed down in recent quarters.
Lululemon, which said it intended to double its 2015 sales to$4 billion by 2020, could be in the same boat. Here's what would need to happen for lululemon to reach that target, and also what might be more important to watch for long-term investors.
Lululemon loses some momentum
Lululemon was on a growth streak in 2016 as the company seemed to be shaking off the troubles of a volatile few years marked by product issues and drama caused by founder and former-CEO Chip Wilson. Last year, the market rewarded the company by sending its stock price up nearly 17%.
Image source: lululemon athletica.
However, when it released its earnings for the fiscal year ending Jan. 29, the stock got a major cut -- even though Lululemon posted sales mostly in line with guidance, up 12% year over year for the fourth quarter (and 14% for the full year). CEO Laurent Potdevinsaid in theearnings release that the company has had a "slow start" to 2017, much of which was due to weak customer demand. The company has blamed a bland color assortment for its tepid sales.
It's not just lululemon
Lululemon isn't the only athletic wear seller that's losing momentum. Under Armour sales growth decelerated markedly in Q4, ending the brand's 26-quarter streak of more than 20% year-over-year sales growth with just 12% growth over Q4 2015. Under Armour management expects about 12% growth in 2017 as well. Nike has faced similar sales growth pressure; its year-over-year gains were down to just 5% in the most recent quarter, mostly due to a sluggish North American market.There has been a tempering of expectations industrywide in the last few quarters, as the growth of sportswear and the athleisure market seems to be slowing, particularly in North America.
| Company (Most Recent Quarter) | Sales Growth (YOY) | Earnings Per Share Growth (YOY) | Year-Ago Period Sales Growth (YOY) |
| --- | --- | --- | --- |
| lululemon athletica (fiscal Q4) | 12% | 17% | 17% |
| Nike (fiscal Q3) | 5% | 24% | 8% |
| Under Armour (Q4) | 12% | -4% | 31% |
Data sources:lululemon athletica,Nike, andUnder Armour's recent earnings releases (using Under Armour's Q4 earnings for comparability to Nike and lululemon's similar winter quarters). YOY = year over year.
Doing the math
On the topic of its recent issues, Potdevin said: "Our teams have been course-correcting issues with early indications reflecting positive impact on performance."Management also said they plan for a decline in same store sales in Q1, but still expect full year sales growth of around 12% over 2016. If lululemon meets that mark for 2017, it would then need toaverage sales growth of around 16% for the next three years to reach its $4 billion 2020 goal.
lululemon menswear. Image source: lululemon athletica.
That's certainly not impossible -- the company has some sales growth opportunities. Lululemon is currently very much a women's wear company by sales, but is working to grow its men's side to a quarter of total sales by 2020, which would go a long way to boost sales. "We are excited to see continuing strong momentum in our men's business, delivering a 20% comp this past quarter," said Potdevin during the earnings call.
The company is creating more and more styles and marketing geared toward men, not only in the yoga and workout space, but increasingly in the office wear space such as the new A.B.C. pants.
Additionally, Lululemon could have plenty of international growthahead of it. As of the most recent quarter, it had a total of 406 stores, and about three-quarters of them are in the U.S.Potdevinsaid in the call that starting in the second quarter, the company will launch a new global campaign with an agency focused on growing the brand internationally.Lululemon also recently announced that former Gap Inc. CEO Glenn Murphy, who brings with him strong international growth experience, will be joining its board of directors as co-chairman.
Regardless of whether or not the company hits its 2020 sales goal, investors should be far more focused on the company's earnings potential; the question is whether the current share price makes it a solid long-term bet, based on that potential. And it looks like it still does.
Lululemon's ability not only to keep its gross margins high, but continually growing, has helped keep earnings growth strong. For fiscal 2016, gross margin grew from48% to to 51% -- considerably higher than Nike, Under Armour, or most of the apparel industry -- a key factor in lululemon's 17% earnings growth that year.
Following the rough report it delivered in late March, Lululemon stock plummeted; it's now down nearly 20% year to date. A company that not long ago commanded a premium earnings multiple because of its expected growth runway is now trading at less than 20 times next year's estimated earnings. That's cheaper than either Nike or Under Armour. For long-term investors who have been looking for an opportunity to pick up shares of Lululemon at a discount, this could be it.
10 stocks we like better than Lululemon AthleticaWhen investing geniuses David and Tom Gardner have a stock tip, it can pay to listen. After all, the newsletter they have run for over a decade, Motley Fool Stock Advisor, has tripled the market.*
David and Tom just revealed what they believe are the 10 best stocks for investors to buy right now... and Lululemon Athletica wasn't one of them! That's right -- they think these 10 stocks are even better buys.
Click here to learn about these picks!
*Stock Advisor returns as of April 3, 2017
Seth McNew owns shares of Nike, Under Armour (A Shares), and Under Armour (C Shares). The Motley Fool owns shares of and recommends Lululemon Athletica, Nike, Under Armour (A Shares), and Under Armour (C Shares). The Motley Fool has a disclosure policy.