Is Las Vegas Sands Corp. Getting Too Cheap To Ignore?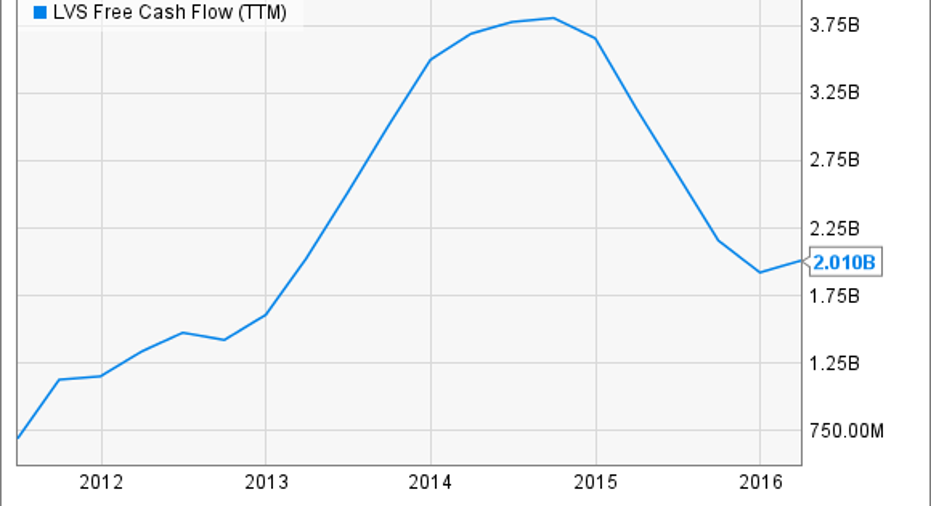 Shares of Las Vegas Sands have fallen more than 15% over the past three months due to ongoing concerns about Macau, its largest market. Tighter regulation of casino and junket operators, an anti-corruption crackdown in China, and a nationwide economic slowdown have all darkened Sands' outlook.
Sands' four Macau properties and Singapore's Marina Sands all posted year-over-year revenue declines last quarter. That weakness caused its total gaming revenue to fall 13% annually. Revenue rose 2% in Las Vegas, but those properties only generated 14% of Sands' sales and couldn't offset its declines in Asia. Total sales fell 10% to $2.72 billion, missing expectations by $160 million. Adjusted net income plunged 33% to $357 million, or $0.45 per share, missing estimates by $0.17.
Sands' upcoming Parisian Macao hotel. Image source: Las Vegas Sands.
But despite those bleak numbers, Las Vegas Sands stock is starting to look fundamentally cheap and its dividend yield is hovering near an all-time high. Should value-seeking income investors take a closer look at this beaten-down stock?
Is Las Vegas Sands cheap?
Las Vegas Sands currently trades at 20 times earnings, which is lower than Wynn's P/E of 33 and the average of 24 for the resorts and casinos industry. Its other main rival, MGM Resorts , failed to generate annual profits for the past four years.
But looking ahead, things look worse for Sands. Analysts expect the company's annual earnings to fall 3.7% per year over the next five years, which givesit a negative 5-year PEG ratio. Wynn's earnings are expected to bounce back 21% per year, which gives it a fairly reasonable PEG ratio of 1.3. MGM's earnings are expected to rebound 26% per year, which gives it a PEG ratio of 1.3. Investors should take these forecasts with a grain of salt, but the Street clearly remains more bearish on Sands than its peers because it has the heaviest exposure to Macau.
Las Vegas Sands pays a forward annual yield of 6.5%, which is much higher than its yield of around 2% when the dividend was first introduced in 2013. Wynn pays a forward yield of 2%, while MGM doesn't pay a dividend at all. However, Sands' hefty dividend yield is arguably unsustainable, since the company spent 137% of its free cash flow over the past 12 months on dividends.
Image source:YCharts
Sands' free cash flow position might improve after the opening of the Parisian boosts its room count by 31% in the second half of the year. However, Sands plans to build two more properties on the Cotai Strip and is considering opening new resorts in Japan and South Korea -- which will all cause FCF levels to drop. Therefore, I wouldn't be surprisedif Sands followed Wynn's lead and slashed its dividend.
Plenty of headwinds, not enough tailwinds
Macau Chief Executive Fernando Chui estimates that total casino revenues in the region will fall to $25 billion in 2016, itslowest level since 2010. But as that market shrinks, rivals like Wynn, MGM, Melco Crown, and Galaxy are all opening new properties. With more companies fighting over a smaller market, Sands' top and bottom lines will inevitably decline.
Nomura Securities analyst Richard Huang recently warned that soccer fans staying home to watch Euro 2016 could cause June gaming revenue to tumble to a 5-year low. Arecent Morgan Stanley survey of 1,000 Chinese gamblers also found that 30% might visit Macau less after Disney'sShanghai Disney opens. The same survey found that 26% of respondents would gamble more in Macau just because they wanted to visit the new Wynn Palace -- which could pull traffic away from Sands' Parisian. But on the bright side, Morgan's poll found that Sands' Venetian remains the most popular casino in Macau, with 46% of respondents planning to visit.
The verdict: Ignore Las Vegas Sands
Las Vegas Sands might catch the eye of investors looking for stocks trading with below-industry average multiples and high dividend yields, but the headwinds facing the casino operator won't dissipate anytime soon. Therefore, Sands might look cheap, but investors are probably better off ignoring it for now.
The article Is Las Vegas Sands Corp. Getting Too Cheap To Ignore? originally appeared on Fool.com.
Leo Sun owns shares of Walt Disney. The Motley Fool owns shares of and recommends Walt Disney. Try any of our Foolish newsletter services free for 30 days. We Fools may not all hold the same opinions, but we all believe that considering a diverse range of insights makes us better investors. The Motley Fool has a disclosure policy.
Copyright 1995 - 2016 The Motley Fool, LLC. All rights reserved. The Motley Fool has a disclosure policy.