Is Korea's New Fighter Jet Lockheed Martin's Best Hope?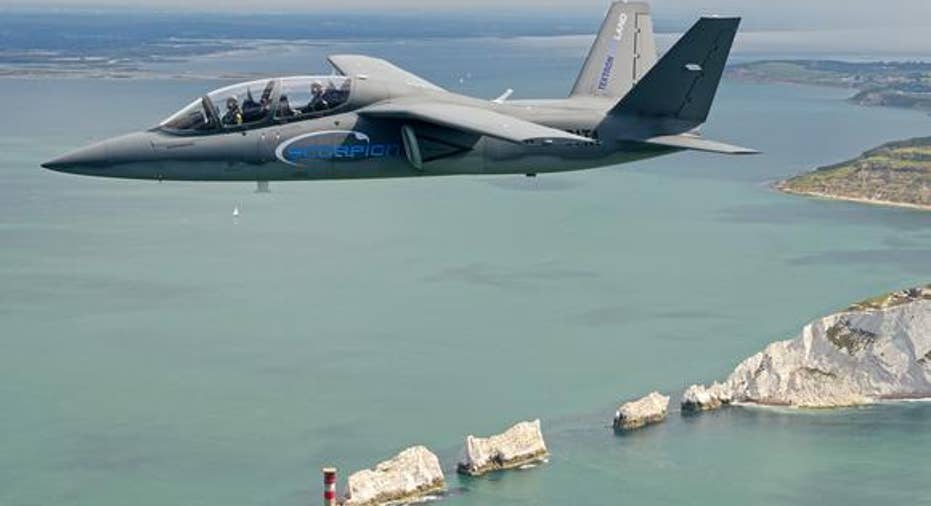 Korea and Lockheed Martin have teamed up to offer the T-50 trainer to the U.S. Air Force. Image source: Lockheed Martin.
2015 brought a lot of disappointment to Lockheed Martin shareholders.
In quick succession, Lockheed lost a potential umpteen-billion-dollar opportunity to build the Army's next Humvee (to Oshkosh). One month later, the Air Force awarded the even bigger Long Range Strike Bomber contract to rival Northrop Grumman . Most recently, even Lockheed Martin's marquee program to build F-35 stealth fighter jets for the U.S. Air Force and Navy has come into question, as both services begin walking back expectations about the number of aircraft each will buy.
All of which is to say: The award for the new T-X trainer jet competition can't come soon enough for Lockheed.
What exactly is T-X?As we outlined earlier this year, T-X is the U.S. Air Force's program to develop and build a new aircraft to replace the venerable Northrop T-38 Talon training jet.
The T-38 has served the U.S. military faithfully for more than 50 years, and helped to train literal generations of fighter pilots. But in the age of fifth-generation stealth technology, it's starting to look like something of a dinosaur. In planning to replace it, the Air Force is looking for a new training jet that more closely approximates the flying characteristics of a typical fifth-generation stealth fighter jet.
And here's a clue to who's favored to win T-X: Currently, the only company in the U.S. fielding operational fifth-gen fighter jets is... Lockheed Martin.
Meet the competitionThat's not to say Lockheed Martin has no competition in this race. Everyone from Boeingto Textronto BAE Systems -- to Northrop Grumman itself, builder of the incumbent T-38 -- is angling to win T-X. Textron, BAE, and Northrop are all saidto be going it alone in this competition. Textron will offer its self-funded Scorpion jet in the role of next-gen trainer. BAE will offer up its Hawk trainer. Northrop, which had been expected to pair up, will instead offer a totally new "clean sheet" design.
Boeing is teaming with Saab, possiblyoffering a variant of the latter's JAS 39 Gripen as the next T-X.General Dynamics, initially paired with Italy's Alenia Aermacchi, has dropped out. But Alenia is forging ahead and offering a variant of its M-346 Master aircraft.
For its part, Lockheed is joining forces with its longtime partner, Korea Aerospace Industries (KAI), and offering a variant of their jointly developed T-50 Golden Eagle training jet.
Meet the T-X demonstratorLast month, Lockheed and partner KAI offered investors a glimpse at their entry. As expected, the so-called "T-X demonstrator aircraft" is an adaptation of the companies' jointly developed T-50. If there's anything surprising about the new aircraft, though, it's that it doesn't play as closely to Lockheed's strengths as one might expect from the builder of the F-35 stealth fighter jet.
For example, the companies saythey've designed T-50 T-X to meet the Air Force's "requirement for compatibility" with the F-35. To this end, the proffered trainer boasts featuressuch as integrated training systems, a digital flight controls, and equipment for in-flight refueling.
As far as we know, however, the T-50 does not include any obvious "stealth" characteristics. Nor does it incorporate an ability to vertically take off and land, as does the Marine variant of Lockheed's F-35, for example. It doesn't even closely mimic the shapes of the F-35 or the more advanced stealth F-22 Raptor, inasmuch as the T-50 features only one vertical stabilizer, versus two on each of the fifth-gen jets.
Indeed, it almost looks like Lockheed is abdicating the advantage it holds as the manufacturer of the airplane that the T-50 is supposed to train pilots to fly -- by doing very little indeed to try to "twin" the two aircraft.
What it means to investorsThe initial valuationon this contract is said to be about $8.4 billion for 350 T-X aircraft. But ultimately, experts estimate as many as 1,000 T-X trainerswill be sold,and maintenance and upgrades will grow the value even more over time. (As high as $50 billion? Perhaps).
Whatever the ultimate cost, this is obviously a valuable contract, and not one Lockheed should assume is its for the taking. After all, at an estimated cost of $26 million, analysts predict Lockheed's offering will be one of the most expensive -- if not the most expensive -- T-X candidates. BAE's Hawk, in contrast, is expected to come in as much as 20% cheaper. And Textron's Scorpion is aiming to be cheapest of them all, with a sticker price below $20 million.
Based on those numbers, I'm not 100% confident of going out on a limb and predicting Lockheed will lose this third major contract to a rival. But would I be surprised to see Lockheed blow it, and lose out to a lower-priced rival?
No, I would not be.
With its two vertical stabilizers, TEXTRON'S SCORPION jet arguably looks more like an F-35 than Lockheed Martin's own T-50 does -- and Scorpion is cheaper to boot. Image source:TEXTRON.
The article Is Korea's New Fighter Jet Lockheed Martin's Best Hope? originally appeared on Fool.com.
Rich Smithdoes not own shares of, nor is he short, any company named above. You can find him onMotley Fool CAPS, publicly pontificating under the handleTMFDitty, where he's currently ranked No. 308 out of more than 75,000 rated members.The Motley Fool has no position in any of the stocks mentioned. Try any of our Foolish newsletter servicesfree for 30 days. We Fools may not all hold the same opinions, but we all believe thatconsidering a diverse range of insightsmakes us better investors. The Motley Fool has adisclosure policy.
Copyright 1995 - 2015 The Motley Fool, LLC. All rights reserved. The Motley Fool has a disclosure policy.