Is JPMorgan Chase Stock a Buy?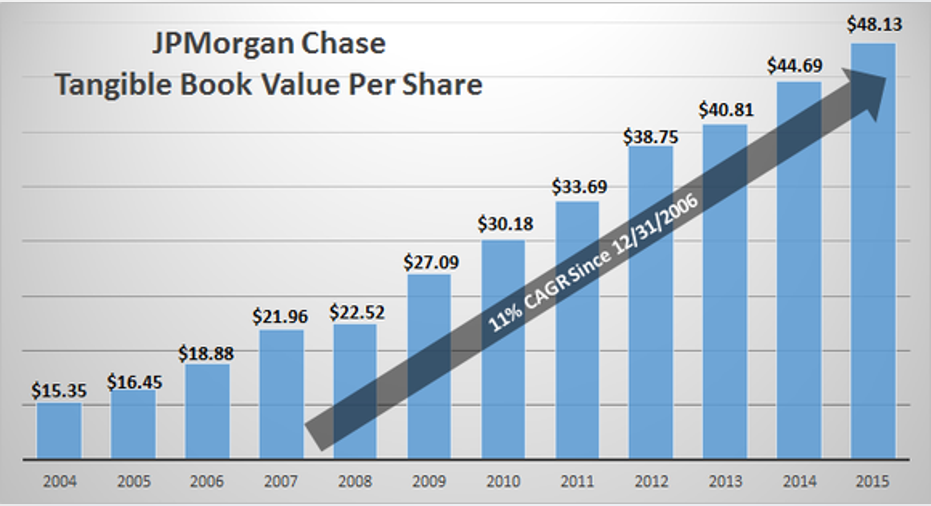 On April 13, JPMorgan Chase will release its results for the first quarter of 2016. Analysts expect both the bank's revenues and earnings to be down year over year. Those expectations have pushed JPMorgan stock down just over 2% over the past month alone, compared to a 3% rise in the S&P 500.
For investors, does the stock's recent fall represent a cause for concern, or is this an opportunity to buy? Let's find out.
First, is JPMorgan Chase actually cheap right now? Conventional wisdom holds that a bank stock is cheap if it trades for less than its book value, and it's expensive if it trades for more than two times its book value. In today's market, only a few banks trade above two times their book value, while many more trade for less than book value. JPMorgan falls into the latter category, at 0.97 times its book value.
Compared with other large banks, JPMorgan's current valuation falls toward the middle of the pack. Wells Fargo , with its more traditional business model, trades at 1.4 times its book value. Goldman Sachs , a reasonable comparison for JPMorgan's investment banking business, trades at 0.87 times book. Bank of America , the second largest U.S. bank by total assets, trades at a paltry 0.59 times book value.
Why is the market valuing JPMorgan Chase below book value? Generally speaking, a bank stock will trade below its book value for one of two reasons. First, its price-to-book ratio will fall if the market thinks there are hidden losses waiting to emerge from the bank's balance sheet. Those losses could be from problem loans or, as Bank of America investors can attest, large legal liabilities. This reason was the driver behind low bank valuations across the board during and after the financial crisis.
Second, and more pertinent in today's environment, a bank can trade below book value if the market doubts the bank's ability to generate sufficient returns, generally measured by return on equity.
Consider this chart:
| Bank | Return on Equity (TTM) | Price to Book Value (As of 4/6/2016) |
| --- | --- | --- |
| JPMorgan Chase | 11.28% | 0.97 |
| Wells Fargo | 13.61% | 1.43 |
| Goldman Sachs | 8.05% | 0.87 |
| Bank of America | 6.91% | 0.59 |
Source: YCharts.
It's no coincidence that the banks with the higher return on equity also tend to have the higher market values. If the bank gives investors more bang for their buck, investors will pay more for it. It's perfectly logical.
What does this all mean for JPMorgan's stock going forward? So far, we've learned that JPMorgan's stock is on the cheap end of the value spectrum from a historical perspective but is somewhere toward the middle of the road compared with its peers in today's market. That fact is a logical result of its return on equity, which is slightly better than industry averages, but still trails the top-performing banks such as Wells Fargo. We also know that analysts are expecting the bank to post a decline in returns and revenues for the first quarter, worsening the bank's valuation (at least in the short term).
Over the long term, then, JPMorgan's stock will perform well if the bank is able to increase its return on equity over time. Based on the bank's past performance, I think this is highly likely.
For long-term investors, I think a great place to see the bank's fundamental performance is in its tangible book value per share from before, during, and since the financial crisis. This number is a good proxy for the ability to generate returns and increase return on equity without the noise from short-term market forces. This chart shows JPMorgan's tangible book value per share each year from 2004 to 2015.
Source: JPMorgan investor day presentation FY2014, Slide 4. Fourth-quarter 2015 earnings supplement.
Over this period there was the real estate bubble and financial crisis. There was the implementation of Dodd-Frank and the myriad new regulatory costs, burdens, and requirements that came with it. There was the $6.2 billion London Whale trading loss in 2012. There was the 2013 settlement with the Justice Department for $13 billion more. There was the rollout of higher capital requirements from the Basel III accords and the even higher requirements as one of the global systemically important financial institutions.
In spite of all this, JPMorgan has consistently delivered more and more book value per share. Over the full 11-year span in the preceding chart, tangible book value per share grew 11% on a compounded annual basis. Its compounded annual growth rate is also 11% since the end of 2006, the high-water mark before the financial crisis began. No matter what is thrown at JPMorgan Chase, the bank continues to produce very impressive results.
Over the short term, the market can lose sight of this. I think that is exactly what is happening today. Is JPMorgan a buy over the short term? I have no idea. However, over the long term, I'm quite confident in what this bank stock can do. Its stock is attractively priced, short-term pressures are currently making the value even more attractive, and there's no fundamental evidence that the bank won't continue to produce consistent growth in tangible book value per share and, as a result, returns on equity.
The article Is JPMorgan Chase Stock a Buy? originally appeared on Fool.com.
Jay Jenkins has no position in any stocks mentioned. The Motley Fool owns shares of and recommends Wells Fargo. The Motley Fool has the following options: short May 2016 $52 puts on Wells Fargo. The Motley Fool recommends Bank of America. Try any of our Foolish newsletter services free for 30 days. We Fools may not all hold the same opinions, but we all believe that considering a diverse range of insights makes us better investors. The Motley Fool has a disclosure policy.
Copyright 1995 - 2016 The Motley Fool, LLC. All rights reserved. The Motley Fool has a disclosure policy.