Is Jack Daniel's Tennessee Fire About to Cool Off?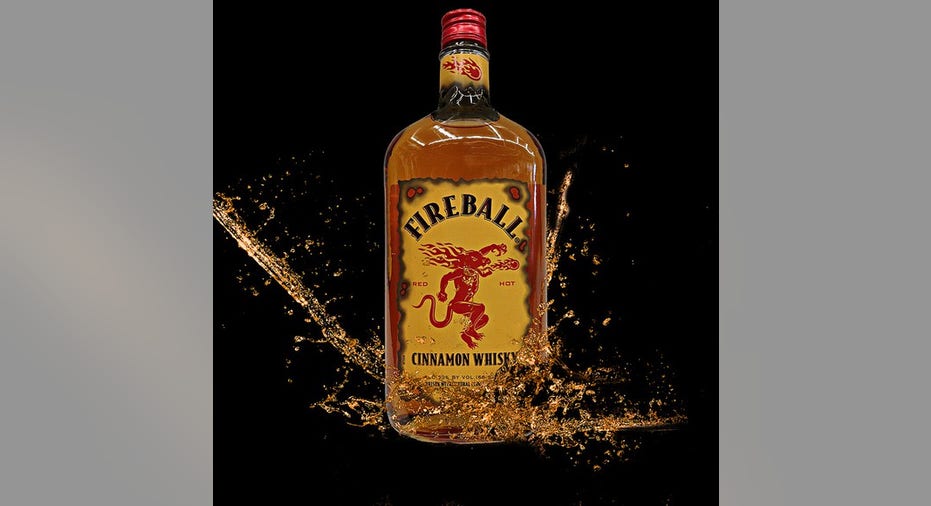 Jack Daniel's maker Brown-Forman may start seeing red if the red-hot sales of its cinnamon-flavored Tennessee Fire brand cool down. Image source: Jack Daniel's.
Flavored whiskey sales remain on fire, rising 28% in 2015, driven higher by a seemingly unquenchable thirst for cinnamon-flavored brands. Yet while demand for spiced whiskey remains hot, there are signs the segment is cooling down and that could cause Jack Daniel's maker Brown-Forman Corp. to stumble.
There's no brand of cinnamon-flavored whiskey bigger than the Sazerac Company's Fireball. Sazerac introduced the spirit in 2007 (actually,reintroduced it), and has seen it grow into a billion-dollar brand selling almost 4.4 million cases a year.
The privately held distiller's success attracted other brands to the market, such as Bird Dog, Heaven Hill, and Jeremiah Weed, but it wasn't until Beam Suntory introduced Kentucky Fire and Jack Daniel'sunleashedTennessee Fire that the industry got really, well,fired. Yet despite phenomenal growth, with Tennessee Fire increasing the number of cases sold fivefoldlast year, it is still in distant second place with just 406,000 cases sold. Fireball is orders of magnitude larger.
Yet Sazerac's cinnamon whiskey sales are hitting a cold patch, with the National Alcohol Beverage Control Association reporting Fireball sales were up just 6.5% through April in control states -- a group of 17 states, as well as jurisdictions in Alaska, Maryland, Minnesota, and South Dakota, where the government serves as your liquor store. (That follows an 11% gain in 2015.) And as industry website Shanken News Daily reports, analysts at IRI indicate it hasn't been much different everywhere else through mid-May. While Tennessee Fire and Kentucky Fire sales weren't similarly broken out in the report, this could indicate a broader industry slowdown, rather than Fireball losing much market share.
Sazerac's Fireball cinnamon-flavored whiskey is still the top-selling brand by far, but the flavored whiskey niche may see its fire quenched as it matures. Image source: Flickr userShea Huening.
In its fourth-quarter earnings conference call in early June, Brown-Forman admitted it was now entering a more difficult period because it was lapping the introduction of the cinnamon whiskey brand, and did not believe it could maintain the sort of trajectory it had been on.While it saw 10% growth in underlying net sales during its fiscal fourth quarter last year, due to the introduction of Tennessee Fire, this year it saw just a 4% increase.
Brown-Forman has invested heavily in distilling the heck out of the flavored whiskey category. Its other big seller is Tennessee Honey, a honey-flavored whiskey that saw 679,000 cases sold in 2015, bringing the two flavored whiskeys to more than 1 million cases. Yet Tennessee Honey, which has been a strong seller since its introduction, was up just 1.3% last year.
It would appear the industry is being diluted with flavor. Diageo , for example, sold 850,000 cases of its Crown Royal Regal Apple Whisky in 2015, up from 100,000 cases a year before, making it the second-largest flavored whiskey behind Fireball. The niche may be growing and expanding, but the individual brands may not be able to leave as much of an indelible mark on it as they once did.
Brown-Forman seems to admit as much, saying it doesn't expect Tennessee Fire to have the same kind of growth trajectory as Tennessee Honey. The honey-flavored whiskey took about four years to reach about 80 markets globally, and though Brown-Forman expects to introduce Tennessee Fire into foreign markets this year, it's not going to ramp up the same way Honey did.
One reason is how the two whiskeys are drunk, with Honey being more versatile in mixed drinks and Fire as a straight shot. Also, Brown-Formansays Fire doesn't translate as well with straight whiskey drinkers.
Brown-Forman's Jack Daniel's brand still dominates the whiskey market, and with this year its 150th, it can get some mileage out of the anniversarypromotion. Also, its premium labels like Woodford Reserve and Old Forester remain strong sellers. But the distiller has been carried along on a whiskey river for the past few years by its flavored offerings, and though they're still growing, the hottest category seems to be cooling -- which may douse some of the fire exhibited by Tennessee Fire.
The article Is Jack Daniel's Tennessee Fire About to Cool Off? originally appeared on Fool.com.
Rich Duprey has no position in any stocks mentioned. The Motley Fool recommends Diageo. Try any of our Foolish newsletter services free for 30 days. We Fools may not all hold the same opinions, but we all believe that considering a diverse range of insights makes us better investors. The Motley Fool has a disclosure policy.
Copyright 1995 - 2016 The Motley Fool, LLC. All rights reserved. The Motley Fool has a disclosure policy.