Is It Time to Sell Disney Stock and Buy Time Warner?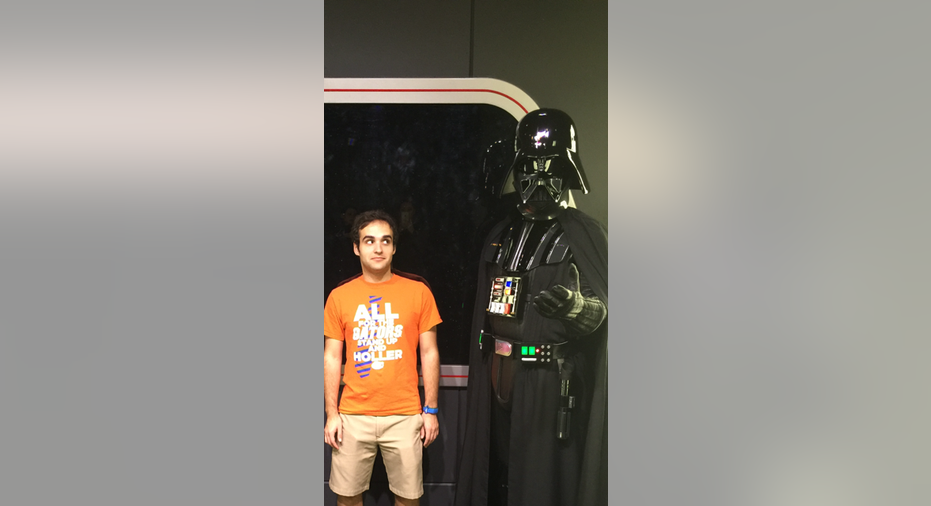 Image source: author.
RBC Capital Markets initiated coverage of several media giants on Thursday. With so much uncertainty swirling when it comes to cable networks and broadcasters trying to keep growing in an era of cord-cutting millennials, it's surprising to see RBC issue mostly bullish outlooks.
Only one of the nine stocks -- Viacom -- was tagged with a bearish underperform rating. Viacom is the parent company of Nickelodeon, MTV, Comedy Central, and other meandering cable properties, and revenue has dipped slightly in each of the past four fiscal years. Viacom hasn't been as successful as its peers in taking advantage of digital delivery to offset the gradual demise in conventional TV-based viewership, and RBC's price target of $34 suggests another 11% of downside from here.
RBC went with a bullish outperform rating on six of the nine media moguls, and that includes an upbeat rating on Time Warner . Its price target of $92 on Time Warner stock gives it 25% of upside from there.
That leaves the two remaining stocks with neutral market perform calls, and one of those just happens to be Disney . RBC set its price target at $103, just 7% higher than where the shares currently rest.
Obviously 25% of room before hitting the ceiling is preferable than 7%, and naturally an outperform analyst call is superior to a market perform rating. That would imply that Disney investors would benefit financially by swapping out their stock for Time Warner shares. Unfortunately things are never as easy as they seem at first.
It's true that Disney is feeling surprisingly vulnerable these days. Even though Star Wars: The Force Awakens shattered box office records, and in spit of the well-received Rogue One trailer that delighted viewers a couple of days ago, there's a disturbance in the force. Disney's cable properties are under attack as subscription tallies for ESPN, Disney Channel, and its other networks continue to contract. Its world-class theme parks seem to be growing at a healthy clip, but the strong dollar could pinch international visitor counts.
It also doesn't help that Mr. Market is now worried about what will happen to Disney come 2018, when CEO Bob Iger is expected to retire. The surprising resignation of COO and heir apparent Tom Staggs finds Disney pressed on its succession strategy, and that's the kind of distraction that can lead to losing focus.
Time Warner isn't exactly in a perfect place, either.Batman v. Superman: Dawn of Justiceis a critical dud despite generating healthy initial ticket sales, something that could weigh on Time Warner's hopes of breathing new life into its DC Comics business the way Disney has with Marvel. It's also in the same gradually sinking boat as Disney, with its basic-cable strongholds including CNN, TBS, and TNT.
Disney is growing considerably faster than Time Warner, and it's also armed with far juicier catalysts for continued growth in the future. The rub is that Time Warner offers a more compelling valuation than Disney. Time Warner is trading at a reasonable 14 times this year's profit forecast. Disney clocks in at a slightly higher 16.5, and the Mickey Mouse company also commands a higher price-to-sales multiple and dividend yield.
However, it's hard to not to feel better about Disney's prospects. Star Wars will breathe new life into its theme parks and studio entertainment operations for the next few years. It's also easier to get excited about what Disney's doing with Marvel than banking on the success of Wonder Woman or Justice League Part 1 next year. Disney is worth the market premium. Time Warner may have a lower multiple to justify, but it has a lot more to prove.
The article Is It Time to Sell Disney Stock and Buy Time Warner? originally appeared on Fool.com.
Rick Munarriz owns shares of Walt Disney. The Motley Fool owns shares of and recommends Walt Disney. The Motley Fool recommends Time Warner. Try any of our Foolish newsletter services free for 30 days. We Fools may not all hold the same opinions, but we all believe that considering a diverse range of insights makes us better investors. The Motley Fool has a disclosure policy.
Copyright 1995 - 2016 The Motley Fool, LLC. All rights reserved. The Motley Fool has a disclosure policy.