Is It Time for Boston Beer Co. to Be Taken Private?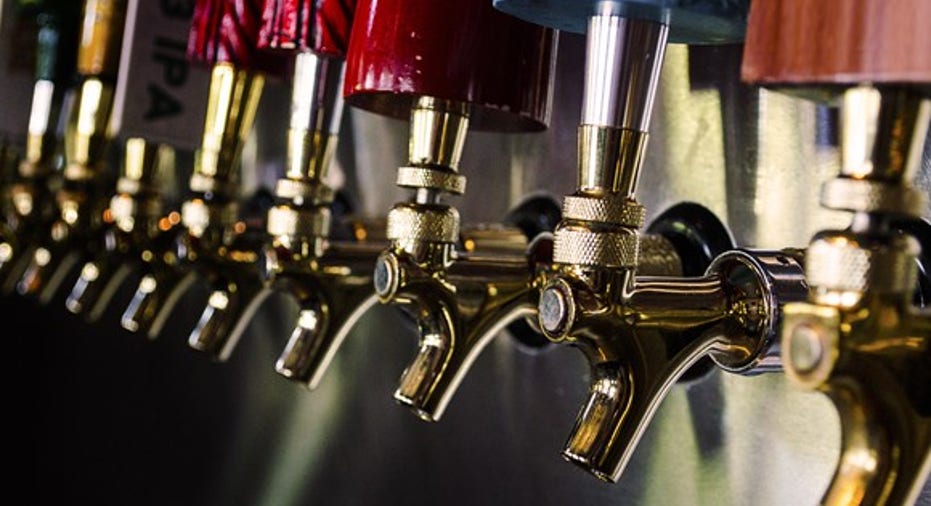 Boston Beer needs to focus on its beer to restore growth, and that might mean doing so out of the public spotlight. Image source: Boston Beer.
Boston Beer (NYSE: SAM) has gotten too big for its own good. It's no longer really a craft brewery, as it produces more beer in a month than the average craft brewer does in a year, but it's still too small to effectively challenge the megabrewers. Like an adolescent entering their teen years, the maker of Samuel Adams, Angry Orchard, and Twisted Tea is at an awkward stage of its life, and it may be time for chairman and co-founder Jim Koch to take it private.
The brewer has arguably been the face of the craft beer industry for years, and Koch is still seen as an effective spokesman for small-time brewers who want more people to taste their beer, but his own brewery is no longer on the same growth trajectory as it once was; indeed, its flagship Samuel Adams brand is declining. And because Wall Street has an insatiable appetite for beat-and-raise earnings, Boston Beer finds itselfconstantly looking for the new new thing to juice growth.
A dime a dozen
According to the Brewers Association, there are more craft breweries in existence now than at any time before in history, pumping out almost 13% of all the beer produced in the U.S. and commanding 12% of the market.
Boston Beer and Koch have been integral in nurturing that growth, but now the presence of so many competitors is impacting its own results. The brewer says over the first six months of 2016 depletions -- sales from distributors to retailers, a reliable industry proxy for consumer demand -- have fallen 5% as Samuel Adams, Angry Orchard, and Traveler all slide.
Moreover, as its flagship brand has struggled to keep pace with all the regional craft beers crowding it out on store shelves, Boston Beer has strayed further from its craft-beer roots, launching hard ciders, teas, andsodas, and most recently water. It's become a victim of its own success.
Going flat
Revenues fell 3% in the second quarter as the number of barrels sold slid 4% to under 1.1 million. Over the first half of 2016, barrels sold are down 5%. Extrapolating for the full year, that puts sales below 4 million barrels, down from the 4.3 million barrels Boston Beer sold last year. That means it still fits neatly into the Brewers Association's definition of a craft brewer, but maybe not so much anymore in the minds of beer drinkers.
According to the trade group, a craft brewer is:
Small: annual production of 6 million barrels of beer or fewer.
Independent: less than 25% of the craft brewery is owned or controlled by mass brewers.
Traditional: derives its flavor from the use of traditional or innovative ingredients and their fermentation.
But that first goalpost has been adjusted to accommodate Boston Beer's growth over the years (it used to be 2 million barrels). The majority of craft breweries havedramatically less output. According to the Brewers Association, 57% of all craft breweries produce less than 15,000 barrels annually, while regional breweries, or those with capacity between 15,000 and 6 million barrels, account for 4% of the total. They might produce most of the beer, but they're operating more like Anheuser-Busch InBev (NYSE: BUD) and SABMiller, which, when they complete their merger, will account for 30% of all beer produced globally.
There's so much competition now in craft beer that Boston Beer, which helped foster that growth, now finds its own performance diluted. Image source: Getty Images.
Since Boston Beer sits at one extreme of the spectrum, it's beyond the norm of what a true craft beer is. It could follow the lead of A-B InBev and start buying up other craft beers -- over the past few years, the macrobrewer has acquired nearly a dozen craft breweries -- but Boston Beer doesn't have the financial wherewithal to do that. At the end of the last quarter it had just $27.6 million in cash to its name, hardly enough to be making acquisitions, certainly not when a big brewer like Constellation Brands (NYSE: STZ) is dropping $1 billion to buy Ballast Point Brewing. Although Boston Beer has negligible debt on its balance sheet, it's unlikely to be willing to take on so much to make a deal.
The brewer's solution to its woes has simply been to branch out into new niches and gimmicky trends like nitro beer. While it's not necessarily neglecting its beer roots -- after all, it does put out a lot of different flavors andseasonals -- trying to find the next growth nichestill must be a distraction.
In a class by itself
A better bet might be going private. Boston Beer has two classes of stock, and Koch owns 100% of the B shares that have all the voting rights. He lets class A shareholders have a say on some things, but he has final say on the direction the brewer takes. By buying out common shareholders he'd be able to concentrate his efforts on what he loves and does best, which is brewing great-tasting beer, without having to worry about the market's demands for ever-better quarterly numbers. D.G. Yuengling & Son, the biggest craft brewer of all, has done well for itself outside the public market's spotlight and all it does is brew beer.
Boston Beer needs to pay more attention to its beer, to refresh its Samuel Adams brand, and to extend its own name in ways that hew closer to its roots. That doesn't seem possible as a publicly traded company. It might be time for Boston Beer to go private.
A secret billion-dollar stock opportunity The world's biggest tech company forgot to show you something, but a few Wall Street analysts and the Fool didn't miss a beat: There's a small company that's powering their brand-new gadgets and the coming revolution in technology. And we think its stock price has nearly unlimited room to run for early in-the-know investors! To be one of them, just click here.
Rich Duprey has no position in any stocks mentioned. The Motley Fool owns shares of and recommends Boston Beer. The Motley Fool recommends Anheuser-Busch InBev NV. Try any of our Foolish newsletter services free for 30 days. We Fools may not all hold the same opinions, but we all believe that considering a diverse range of insights makes us better investors. The Motley Fool has a disclosure policy.