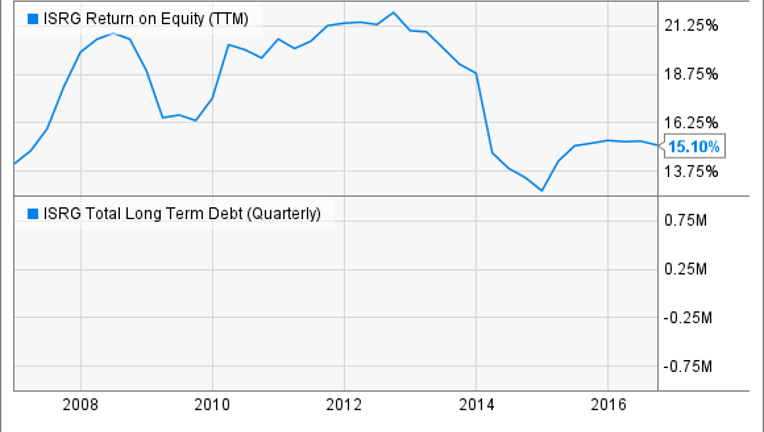 Warren Buffett likes to keep Berkshire Hathaway's (NYSE: BRK-A)(NYSE: BRK-B) balance sheet packed with cash so he is capable of acting fast when an opportunity presents itself. Berkshire's cash balance currently exceeded $68 billion, so you can bet that he is already on the hunt for his next elephant. Knowing that, what stocks could be on Buffett's radar right now?
Image by DonkeyHotey via Flickr Creative Commons
While it is impossible to know that answer, Buffett does lay out his acquisition criteria in Berkshire's annual report:
Large purchases (defined as at least $75 million in pre-tax earnings)
Consistent earnings power, not just future potential
Strong return on equity, with little or no debt
Management in place
A simple business
An offering price
Since Buffett tends to swallow companies whole, it is impossible for us to gauge what kind of offering price he might be presented with. And, as retail investors, we don't need to worry about whether a given stock has an offering price at all -- fortunately for us, all publicly traded stocks have clear prices! So we can take this criterion off the list and look at the other five metrics to get a sense to what stocks might be on Buffett's radar. Let's see how the robotic surgery heavyweight Intuitive Surgical (NASDAQ: ISRG) stacks up against his checklist.
1. At least $75 million in pre-tax earnings
Pass
This criterion is important to Buffett because he wants to invest in large, stable, and profitable companies. Forunately, Intuitive Surgical passes this first metric with ease. The company's revenue and profits have soared over the past decade thanks to the huge popularity of its da Vinci robotic surgical system. The company's razor-and-razor-blade business model racked up more than $2.3 billion in total sales last year, which allowed the company toproduce $758.5 million earnings before taxes.
2. Consistent earnings power, not just future potential
Pass
Buffett likes to own companies that can crank out profits through all economic conditions. That's why he demands that potential candidates show how they have performed when the economy has cooled off.
While Intuitive's top and bottom lines took a significant step back in 2014, both metrics have steadily marched in the right direction over time.
ISRG Revenue (TTM) data by YCharts
Intuitive's revenue has grown in recent years thanks to the combination of new product launches, geographic expansion, and innovating new uses for the company's machines. Since all of those trends are likely to continue, this company's future looks bright.
3. Strong return on equity, with little or no debt
Pass
Great companies can generate strong returns on equity without overloading their balance sheet with debt. Here's how Intuitive performs up on both of these metrics:
ISRG Return on Equity (TTM) data by YCharts
While Intuitive's return on equity has been erratic, it has generally held steady at a rate north of 15%.Better yet, Intuitive has been able to crank out those strong returns without the need to take out any debt. There's no doubt that both of these figures would causeBuffett to smile.
4. Management in place
Pass
Intuitive has long benefited from a strong leadership team tracing back to the company's founding in the mid-1990s. The company's current CEO Dr. Gary Guthart has been at Intuitive for more than two decades, having joined the company only a year after it was founded. Dr. Guthartquickly rose through the ranks and he became a part of the executive team in 2006, serving as Chief Commercial Officer. He was later promoted to President in 2007 and CEO in 2010.
In addition, Intuitive's former CEO Lonnie Smith is still quite active in shaping the company's future. Smith joined Intuitive in 1997 as CEO and held the position until Dr. Guthart took over in 2010. He currently holds the title of Chairman of the Board.
Investors have long benefited from having these two leaders at the helm, so this is another test that Intuitive passes with ease.
5.A simple business
Fail
Buffett likes to own companies that he can easily understand, which is why Berkshire has a history of buying newspapers, home builders, insurers, candy makers, and other simple businesses. Since Intuitive lives on the cutting-edge of healthcare and technology, I have a hard time believing that the business would pass this test.
Intuitive makes money in three primary ways: selling its da Vinci systems, selling disposables that are used during surgery, and servicing its machines. With a worldwide installed base of 3,803 da Vinci systems, it isactually the latter two categories that make up the bulk of revenue. Last year roughly 70% of the company's sales were recurring, which is a big reason why itsfinancials have become so predictable.
Image source: Intuitive Surgical
While that's an easy enough concept to understand, my hunch is that Buffett wouldn't consider robotic surgery to fall within his "circle of competence." In addition, this company has become so big and profitable that there are plenty of rivals that are chomping at the bit to peel away market share. This includes the likes of upstarts such asTransEnterix topotentially more potent competitors like Johnson & Johnson.
Given that thismarket is rapidly evolving and its future is uncertain, my hunch is that Buffett would put this company in his "too complex" pile and move on.
Is Intuitive on Buffett's buy list?
Add it all up and Intuitive scores a strong four out of five on this checklist. That's an encouraging result, but since it would likely cost tens of billions of dollars for him to buy the company outright, I can't imagine that he would ever seriously consider making the purchase.
Of course, that doesn't mean you have to take a pass as well. After all, Intuitive remains the top-dog in a rapidly growing industry and there are plenty of ways for this company to grow in the years ahead. It is also cash rich, debt-free, and benefits from a recurring revenue business model. Those are highly attractive business qualities, which are all reasons why I've allowedIntuitiveto become one of my largest personal holdings. Perhaps you too could one day make room for the robotic surgery leader in your portfolio.
Forget the 2016 Election: 10 stocks we like better than Intuitive Surgical Donald Trump was just elected president, and volatility is up. But here's why you should ignore the election:
Investing geniuses Tom and David Gardner have spent a long time beating the market no matter who's in the White House. In fact, the newsletter they have run for over a decade, Motley Fool Stock Advisor, has tripled the market.*
David and Tom just revealed what they believe are the ten best stocks for investors to buy right now... and Intuitive Surgical wasn't one of them! That's right -- they think these 10 stocks are even better buys.
Click here to learn about these picks!
*Stock Advisor returns as of November 7, 2016
Brian Feroldi owns shares of Intuitive Surgical.Like this article? Follow him onTwitter where he goes by the handle@Longtermmindsetor connect with him on LinkedIn to see more articles like this.
The Motley Fool owns shares of and recommends Berkshire Hathaway (B shares) and Intuitive Surgical. The Motley Fool recommends Johnson and Johnson. Try any of our Foolish newsletter services free for 30 days. We Fools may not all hold the same opinions, but we all believe that considering a diverse range of insights makes us better investors. The Motley Fool has a disclosure policy.