Is InterDigital Inc a Buy?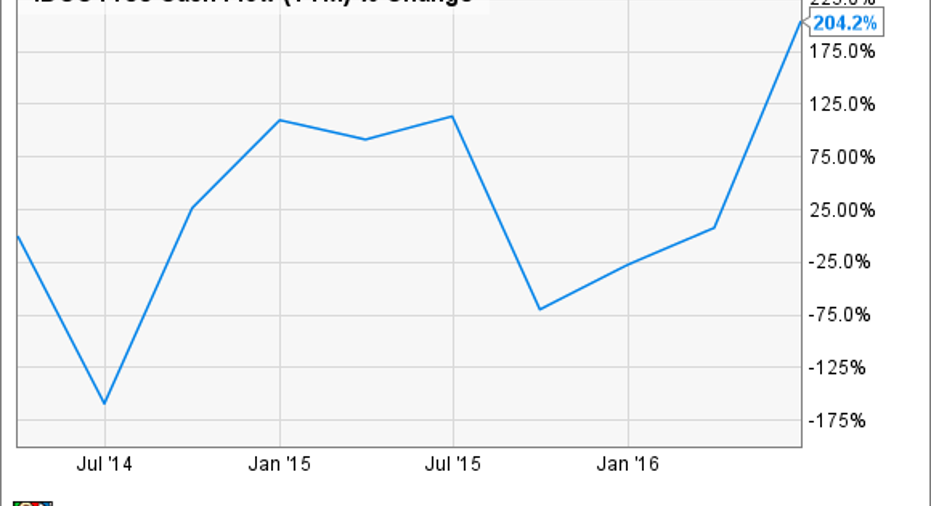 Image source: InterDigital.
InterDigital (NASDAQ: IDCC) recently showed up on my radar for companies to watch. In the two months since the last quarterly report, the company has continued its relentless rise and is up about 60% year to date. The company operates in the burgeoning Internet of Things field, but it's also a well-established player in the technology industry and is simultaneouslyworking to increase profitability.
Engineering the future of the internet
InterDigital is in the business of engineering and designing mobile technology solutions and systems. The company makes money off of patent royalties and fees from the systems it designs for its various clients. Simply put, developing technology we will use years down the road is the name of the game, here.
Developing thesystems that now govern the advancement of IoT helped get InterDigital where it is today. During the last earnings call, though, developing the next-generation 5G wireless service was presented as a newopportunity for the company. Discussion surrounded what the company is doing to make 5G eventually pay off for itself and for the other companies that will employ the next-generation network.
Three areas of technological focus for the company's engineers were called out: enhanced broadband capabilities, massive machine-type communications, and ultra-reliable mission-critical communications.
With enhanced broadband connectivity speed, InterDigital is trying to build 5G solutions that increase network reliability and enable things like ultra-high-definition HD video streaming. The new-and-improved network would also spawn new device sales compatible with the new service.
Massive machine communications is a fancy way of talking about the Internet of Things. The company would take IoT one step further, though, incorporating all connected devices into the new 5G network. As one of the architects of the standards currently governing connected things, management feels they are in good position to write the new standards based on new networks as well.
Over seven years ago, InterDigital launched its eM2M platform, a standardized system to help efficiently connect potentially billions of data sending and receiving devices. As a result of that platform, the company now holds patents on many of the software and designs that will be used in connected devices going forward and provides predictable revenue streams through patent and royalty fees. The company hopes to repeat that process with 5G.
Ultra-reliable mission-critical communications, the third outlined area of focus within the new 5G opportunity, would support new technology like autonomous cars and remote healthcare service. Ultra-high speed paired with reliability of data is key if such applications are to run efficiently, safely, and securely. This area was mentioned as the most difficult for company's engineers to solve, but the company is trying to get a leg up in the space by investing and developing these ultra-reliable systems long before things like self-driving cars and remote doctor visits are the norm.
Leaning up and paying out
In addition to its work on new wireless technology, InterDigital has also been working to boost the bottom line. While revenue has been mostly flat in the last year, due in large part to an expected drop from seasonal factors during the last reported quarter, profits have been on the rise.
The second quarter highlighted significant steps the company has taken to lower its tax burden and drive higher profitability. A $23.1 milliondiscrete net tax benefit was realized related to refund claims regarding production in prior tax years. Intellectual property enforcement expenses were also reduced 47% from the prior year's period.
Additionally, consulting services, commercial initiatives, and personnel-related costs collectively decreased $5.7 million, partially offset by a $2.9 million increase in performance-based compensation and depreciation and amortization. All factors combined to drive profit 23% higher year over year even though revenue fell 36% during the quarter.
The extra cash on hand has translated into an increased dividend. Just last week, the company announced it was upping its quarterly rate to $0.30 from $0.20, a whopping 50% increase in pay for shareholders.
What investors should do
It has been a great year so far for Interdigital investors. After a sharp run-up in prices like the 60% this stock has seen this year, though,I usually turn cautious. Investor optimism can sometimes turn into over-exuberance and drive share prices beyond fair value. The price-to-earnings ratio based on the last 12 months of profit now sits at nearly 22.
While this might indicate shares are on the rich side, investor over-exuberance may not be the case, here. Free cash flow, or cash left over after business operations and expansion efforts are all paid for, is on the rise. The company also has ample cash: nearly $814 million, or about 30% of the company's $2.7 billion value as measured by market capitalization.
Data by YCharts.
With InterDigital sitting on solid financial footing headed into what the company believes will be another round of technological advancement with continuedIoT growthand the 5G network, I think the company is a solid bet even after this year's strong turnout.
A secret billion-dollar stock opportunity The world's biggest tech company forgot to show you something, but a few Wall Street analysts and the Fool didn't miss a beat: There's a small company that's powering their brand-new gadgets and the coming revolution in technology. And we think its stock price has nearly unlimited room to run for early, in-the-know investors! To be one of them, just click here.
Nicholas Rossolillo has no position in any stocks mentioned. The Motley Fool has no position in any of the stocks mentioned. Try any of our Foolish newsletter services free for 30 days. We Fools may not all hold the same opinions, but we all believe that considering a diverse range of insights makes us better investors. The Motley Fool has a disclosure policy.