Is Ingersoll-Rand a Buy for 2016?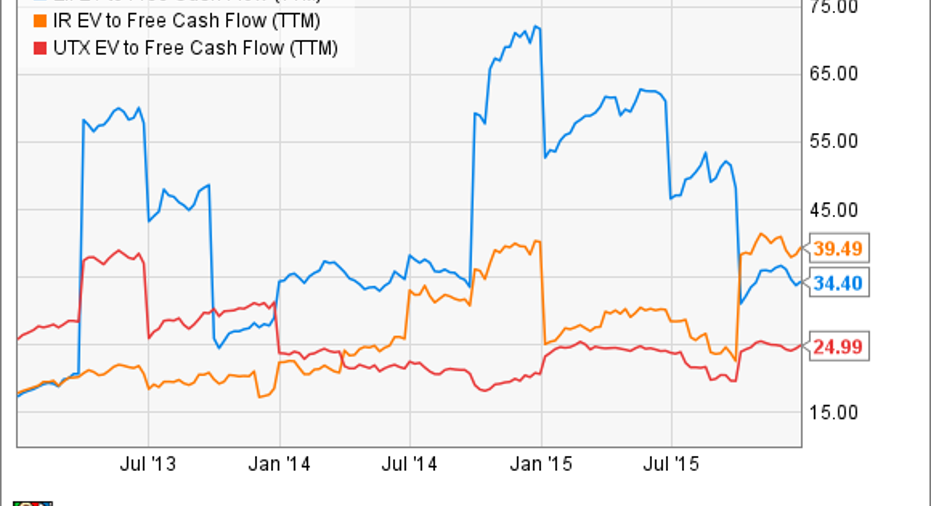 The coming year is likely to be a difficult one for the industrial sector. U.S. industrial production is in a pronounced slowdown, and uncertainties surround China's outlook. That said, there are pockets of strength in the sector, and U.S. nonresidential construction is one of them. Here's a look at stocks in the heating, ventilation and air conditioning (HVAC) market and, in particular, at why Ingersoll-Rand Plc and Lennox International are well placed to benefit.
Ingersoll-Rand's favorable exposureIngersoll-Rand hasn't given guidance for 2016 yet, but you can piece together what its main HVAC competitorshave been saying about next year.North American HVAC matters because the company generates 63% of its revenue from the region, and 76% of total company revenue from its climate segment. In turn, around 80% of its climate revenue comes from HVAC.
As CEO Mike Lamach said on the company's recent third-quarter earnings call, "Of that, really 60% of the company is HVAC and more than 60% of that is in North America. So you have got, really, 40% of the company with pretty strong growth dynamics going into 2016."
Competitors includeUnited Technologies ,Johnson Controls , and Lennox International. Below is a breakdown of each company's market share in terms of AC.
Chart by author. Data source: BSRIA.
Ingersoll-Rand (Trane) generates more than 70% of revenue from its nonresidential sales. You can think of it as being the leading nonresidential U.S. HVAC play. Johnson Controls' building efficiency segment also has a heavy nonresidential exposure, but its joint venture with Hitachi is moving it more into the light commercial/residential area. Meanwhile, United Technologies (Carrier plus its joint venture with Toshiba) is more balanced, and Lennox International (88% of revenue from Americas) generates 54% of its total company revenue from residential heating and cooling.
In short,favor Ingersoll-Rand if you want U.S. nonresidential exposure, and Lennox International for U.S. residential. United Technologies and Johnson Controls have significant other operations that dilute HVAC's importance to their earnings.
Peer group outlooksThe following guidance all pertains to 2016.
From United Technologies' climate, controls and security segment:
Americas residential HVAC revenue to be up mid-single digits.
Americas commercial HVAC revenue to be up mid-single digits, EMEA up low single digits, Asia slightly.
Johnson Controls:
9%-11% sales growth for building efficiency (mainly HVAC) segment excluding its Hitachi joint venture.
Organic growth in North America.
Asia volumes concerning.
Finally, Lennox International:
North America residential market up mid single-digits in terms of units.
North American commercial unitary market up low single-digits in terms of units.
Company revenue up 4% to 8%.
As noted earlier, Ingersoll-Rand's Lamach didn't give explicit guidance for 2016 -- that will come in February -- but he did say this on the third-quarter earnings call:
However, China HVAC revenue is expected to be down "low single-digits" in the fourth quarter of 2015.
In summary, all four companies are predicting good growth in nonresidential HVAC in North America, and two predictedNorth America residential mid-single-digit growth.
Is Ingersoll-Rand a buy?Turning to valuation matters, a rough measure to use is enterprise value (market cap plus net debt) over free cash flow. It's useful because you can compare companies with different debt levels and look at how much cash shareholders can theoretically pull out for dividends and buybacks. As you can see below, none of those stocks looks particularly cheap right now.
LII EV to Free Cash Flow (TTM) data by YCharts.
However, their EV/FCF multiples are set to drop substantially in future.
Data source: Company presentations. FCF is in millions of U.S. dollars. Ingersoll Rand's free cash flow figure is adjusted for IRS agreement and restructuring. EPS estimates are analyst consensus.
Lennox International is attractive for its U.S. residential HVAC exposure, and it has good growth prospects, but the stock isn't cheap and appears to be buoyed by speculation that Johnson Controls could be interested in a bid.
Ingersoll-Rand is relatively well placed in the industrialsector, but itlooks fairly valued at around $56. Nevertheless, if it dips in a general market sell-off, the stock will be well worth picking up.
The article Is Ingersoll-Rand a Buy for 2016? originally appeared on Fool.com.
Lee Samaha has no position in any stocks mentioned. The Motley Fool owns shares of Johnson Controls. Try any of our Foolish newsletter services free for 30 days. We Fools may not all hold the same opinions, but we all believe that considering a diverse range of insights makes us better investors. The Motley Fool has a disclosure policy.
Copyright 1995 - 2016 The Motley Fool, LLC. All rights reserved. The Motley Fool has a disclosure policy.