Is HP Inc the Cheapest Stock in Tech?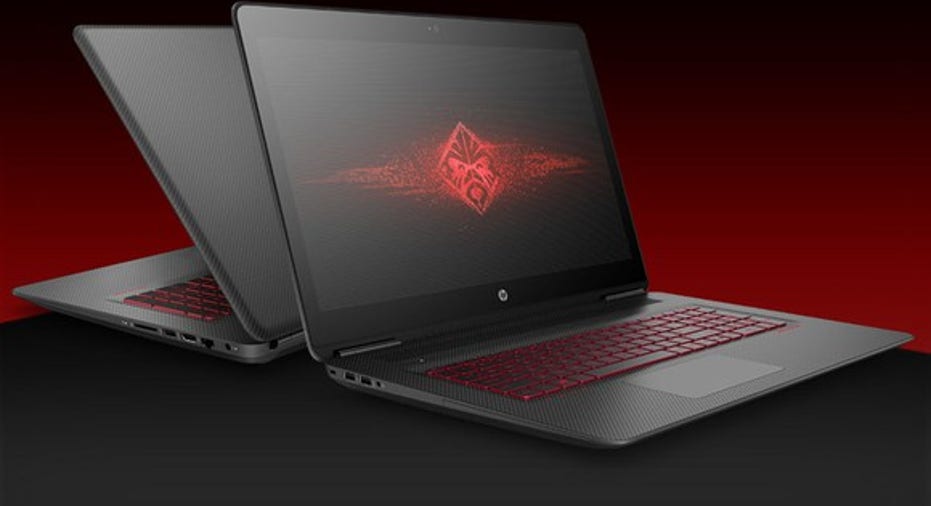 The negative PC and print market sentiment has been bandied about for a couple of years. Unfortunately for manufacturers including HP (NYSE: HPQ) and sometimes-rival, sometimes strategic partner Canon (NYSE: CAJ), investors can't seem to shake the underlying angst related to all things PC. That's the bad news.
The good news is that in HP's case, with every drop in share price -- its stock is down 6% since announcingits fiscal 2016 Q4 and annual earnings on Nov. 22 -- it becomes an even better value. The valuation disparity as measured by trailing earnings among HP's peers is a head-scratcher given the strong end to its fiscal year and the positive momentum heading into 2017. And that's exactly why value investors looking for a sound, yet cheap, stock should move HP to the top of their "buy" list.
Image source: HP.
How cheap is cheap?
HP and Canon have partnered in the development of new print technologies for over 30 years, and the former's acquisition of Samsung's (NASDAQOTH: SSNLF) printing-copier business for $1.05 billion will be a boon for both. HP and Canon are targeting the global laser-printing market, and Samsung's suite of more than 6,500 printing patents and strength in multifunction printing (MFP) is ideal for the strategic partnership.
The two differ in several ways, too, including HP's strong, and still growing, PC unit. But from a valuation perspective, the difference between HP and Canon is even more glaring. Today Canon stock is trading at 20 times trailing earnings, which is hardly unreasonable. HP? The recent sell-off has left its price-earnings (P/E) ratio at a meager 10.
Looking ahead, the disparity is even larger. HP is valuedat just nine times future earnings, while Canon is trading at 25 times. If HP were coming off successive quarters of dire sales and earnings per share (EPS), the bearishness would make sense. However, as HP demonstrated last quarter, not only is it hitting on all cylinders in the "dying" PC market, it's also making headway in printing.
What's not to like?
Thanks to strong PC sales, HP's $12.5 billion in total revenue in its fourth quarter was a 2% improvement over a year ago. After accounting for one-time items, a realistic metric given the costs associated with its split from HP Enterprise, EPS soared 20% to $0.36.
ThoughHP's total revenue was a surprise to industry pundits after nearly two years of declines, the 20% jump in EPS was a bit below estimates, which was likely the cause of HP's recent drop in share price. The thing is, there was nothing surprising about HP's stellar quarter, including its printing unit gaining traction.
Naysayers often point to HP's printing results for why it warrants so much negativity. But like its PC unit, the writing is on the wall: CEO Dion Weisler's strategic efforts to kick-start printing sales by targeting niche markets and boosting supply sales are paying dividends. Last quarter was a perfect example.
Combined print revenue of $4.56 billion was an 8% drop from last year, led by a 12% decline in revenue to $2.82 billion from supply sales, HP's largest printing division segment. But before HP bears start celebrating, there's more to its printing story. Commercial print hardwarerevenue climbed 2% to $1.4 billion, and even though consumer hardware sales sunk 9% to $328 million -- that equates to just 7% of print revenue. And there's more.
Just a quarter ago, HP's printing division as whole generated $4.42 billion, supply sales nosedived 18%, and both commercial as well as consumer hardware results declined, 3% and 22%, respectively, and worse across the board sequentially. HP took a giant step forward, and its positive momentum shows no signs of slowing.
With the Samsung deal in the works -- which also includes supplies -- commercial 3D printing offerings ready for market, and a growingPC unit that could become the world's largest by year-end, HP is on a roll. Toss in a 3.5% dividend yield and a dirt-cheap valuation, and HP is one of, if not the cheapest stock in tech.
10 stocks we like better than HP When investing geniuses David and Tom Gardner have a stock tip, it can pay to listen. After all, the newsletter they have run for over a decade, Motley Fool Stock Advisor, has tripled the market.*
David and Tom just revealed what they believe are the 10 best stocks for investors to buy right now...and HP wasn't one of them! That's right -- they think these 10 stocks are even better buys.
Click here to learn about these picks!
*Stock Advisor returns as of November 7, 2016.
Tim Brugger has no position in any stocks mentioned. The Motley Fool has no position in any of the stocks mentioned. Try any of our Foolish newsletter services free for 30 days. We Fools may not all hold the same opinions, but we all believe that considering a diverse range of insights makes us better investors. The Motley Fool has a disclosure policy.