Is Himax Technologies Doomed?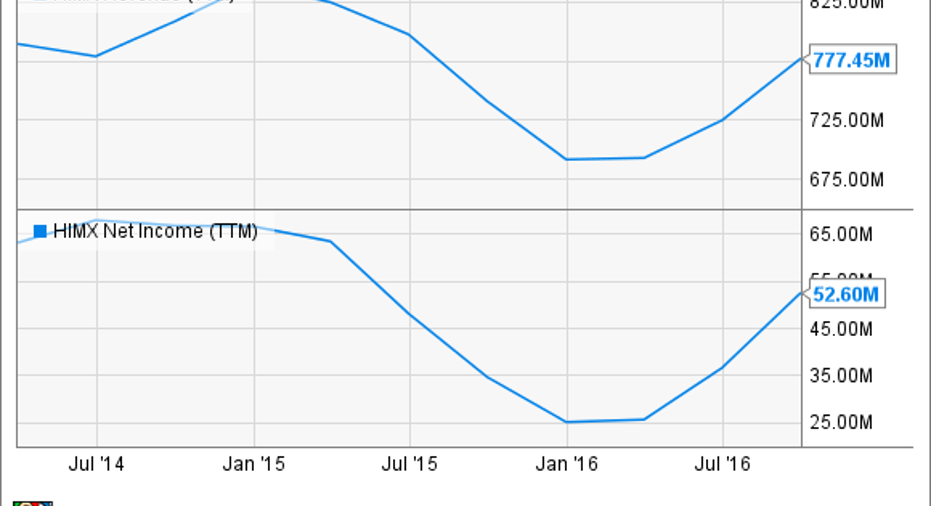 Himax Technologies (NASDAQ: HIMX) stock has been in steady decline since the fall and continues to hit fresh lows. The culprit has basically been growth expectations drying up in the near term as augmented reality and virtual reality projects keep getting pushed back. However, after 50% declines, shares are starting to look like a value.
Data by YCharts.
What the numbers say
During the third quarter, reported Nov. 10, the most recently reported quarter, Himax's total revenue increased 8.5% from the second quarter and 31.7% from the same period the previous year. The strong gains were attributed to ongoing strength across the board. An initial report on the fourth quarter has revenue at $203.4 million, in-line with previous guidance. Himax is scheduled to report earnings Feb. 16.
The panel driver business has been strong, especially from Himax's Chinese clients. 4K TV demand has been picking up, as has been new smartphone demand in Asia. Small-display driver sales were helped by the auto industry and continue to be avibrant area of growth.
Chart by author. Data source: Himax Technologies 2016 third-quarter earnings report.
These types of business results arenot congruous with the stock chart shown earlier. So what happened?
Part of the problem has been that profits backtracked progress made throughout the year, coming in at $13.6 million versus $19.8 million in the previous quarter. Management chalked most of that up to a $9.2 million bonus that is paid to employees every year in the third quarter. Adding that back in, the bottom line expanded 15% sequentially and is a far cry from the net loss the same time last year.
Management also just announced that margins decreased again during the fourth quarter and that investors should expect a 19.1% figure when the full report comes out rather than "slightly down" from the third quarter's 25.6%, as had previously been expected. The drop was due to a loss taken on inventory. If excluded, gross margin would have come in at 25%, according to the company.
Investors have apparently opted to ignore business results and instead focus on the near-termoutlook for the business, despite the long-term positives Himax has going for it.
The revised outlook going forward
Himax is facing some near-term headwinds to business after strong gains over the last few quarters. Revenue and gross marginsfor the fourth quarter were reported to havefallen sequentially, but on a year-over-year basis things are still looking up.
Data by YCharts.
As a result, profit as measured by earnings per share is nowanticipated coming in at $0.026 per share. While this is below the $0.036 from the fourth quarter last year, it would still bring full-year profitability up to $0.296 versus $0.146 for 2015.
The primary cause for share prices dropping seems to be Himax's augmented and virtual reality business, which falls under the non-driver business segment. After multiple quarters of double-digit growth, Himax sees that area declining 20% sequentially during the first quarter of 2017 and remaining soft for possibly a few more quarters into the new fiscal year.
Himax's leading customer for augmented reality (read Microsoft with its HoloLens project) asked to reduce shipments for the tech powering the device to a minimum. The new focus is on developing new tech for the next-gen device. So while the project hasn't been axed, investors shouldn't expect much from the emerging non-driver segment as a transition period is now underway.
Image source: Microsoft.
The good news is that Himax is reporting having more clients than ever in the AR/VR department. While these projects are not yet yielding much in the way of results, management feels that it is paving the way for growth down the road.
Another plus is that the company remains a leader in the smartphone and tablet display industry, as well as in displays for 4K TVs. Orders are already being received in Korea for the new 8K TV drivers the company has developed, providing video quality another four times better than the still-new 4K TVs.
Things to consider
It's possible that political concerns have also taken a toll on the stock, as uncertainty over the Trump administration's new policies wear on the Taiwan-based chipmaker. Even facing business and political headwinds, though, Himax remains on track to significantly beat last year's performance and is poised to enjoy further growth from its lineup of emerging chip technology.
The pullback in share price over the last few months is way overdone. Rather than facing cataclysmic issues as stock performance would indicate, Himax remains an exciting technology company and is worth a look after the unfair treatment it has received.
10 stocks we like better than Himax Technologies When investing geniuses David and Tom Gardner have a stock tip, it can pay to listen. After all, the newsletter they have run for over a decade, Motley Fool Stock Advisor, has tripled the market.*
David and Tom just revealed what they believe are the 10 best stocks for investors to buy right now... and Himax Technologies wasn't one of them! That's right -- they think these 10 stocks are even better buys.
Click here to learn about these picks!
*Stock Advisor returns as of January 4, 2017
Nicholas Rossolillo has no position in any stocks mentioned. The Motley Fool has no position in any of the stocks mentioned. The Motley Fool has a disclosure policy.