Is Heron Therapeutics' Stock Now a Buy?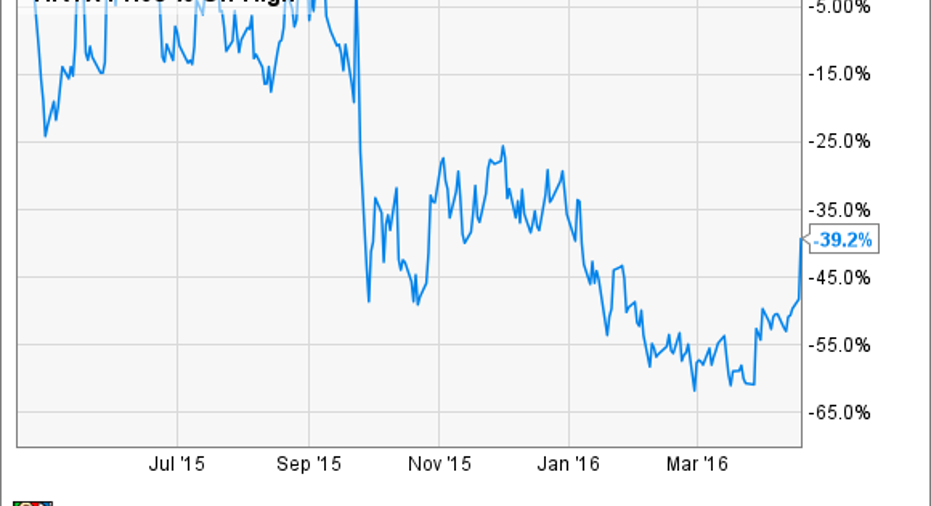 Image source: Pixabay.
What: Shares of Heron Therapeutics gained over 18% in pre-market trading today on heavy volume after the company announced that there are no remaining substantive deficiencies in the New Drug Application for Sustol, and that labeling discussions have begun with the U.S. Food and Drug Administration, or FDA. Sustol is an experimental treatment foracute and delayedchemotherapy-induced nausea and vomiting, or CINV.
So what: The FDA has repeatedly extended Sustol's regulatory review this year, causing concern among investors that the drug was headed for its third rejection from the agency. As a result, Heron's shares have shed nearly 40% of their value from their former 52-week highs, according to data provided by S&P Global Market Intelligence:
Today's news seems to indicate that an approval is indeed forthcoming, implying that Heron's stock could be setting up for a substantial rally.
Now what: The final piece of the puzzle at this stage appears to be Sustol's exact label, which will obviously have a major impact on its commercial potential going forward. Given that the FDA saw fit to delay Sustol's target review date twice, though, I wouldn't be surprised if the drug gets a more restrictive label than the company -- and its shareholders -- were hoping for at the onset of this regulatory filing.
According to some analysts covering this stock, Sustol's peak sales potential stands at around $400 million -- assuming it gets a fairly unencumbered label allowing it to displace older and less effective CINV drugs. Moreover, the drug's penetration rate was never expected to be particularly high because of the underlying market dynamics for CINV, meaning that a less-than-favorable label could drag out Sustol's value proposition even further. That's why I won't be picking up any shares in Heron until Sustol safely clears this last regulatory hurdle.
The article Is Heron Therapeutics' Stock Now a Buy? originally appeared on Fool.com.
George Budwell has no position in any stocks mentioned. The Motley Fool has no position in any of the stocks mentioned. Try any of our Foolish newsletter services free for 30 days. We Fools may not all hold the same opinions, but we all believe that considering a diverse range of insights makes us better investors. The Motley Fool has a disclosure policy.
Copyright 1995 - 2016 The Motley Fool, LLC. All rights reserved. The Motley Fool has a disclosure policy.