Is GoPro an Acquisition Target for Apple?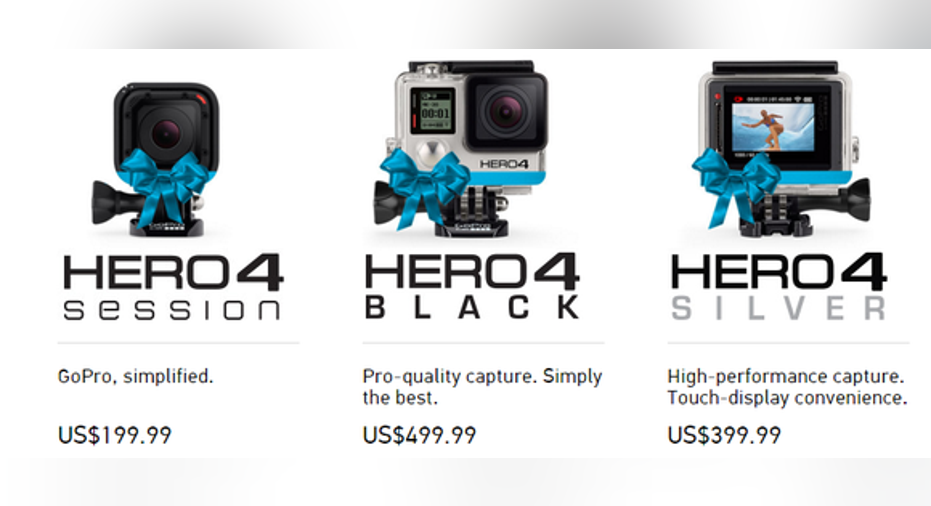 A recent price cut of GoPro's Hero Session unit to $199 has spooked investors. Source: GoPro
On Thursday, shares of GoPro took a brief respite from the rather poor year the company has had, as the stock posted intraday highs of 15% above Wednesday's closing price on acquisition speculation. For 2015, however, shares of the company have dropped 70% as concerns about its total addressable market and future sales growth have continued to scare investors.
GoPro's long been rumored as a takeover candidate for major tech companies looking to quickly move into the action-camera market. Most notably, many have speculated on its syngergies with Apple (NASDAQ: AAPL) as an acquirer. In fact, on Thursday, FBR analyst Daniel Ives reignited speculation by stating its purchase of GoPro "would make sense."
Apple's recently been open to larger acquisitionsThis large, finished-product acquisition is unlike the Apple of yesteryear. In years past, the company generally reserved its acquisitions for semi-finished goods manufacturers, mostly to get their hands on next-gen technologies and features that made their way into iPhones, iPads, and other devices.
More recently, however, current CEO Tim Cook has shown a willingness to change Apple's modus operandi and complete finished-product acquisitions when it made business sense. Most notably was last year's acquisition of Beats, in which Apple paid a total of $3 billion for the highly popular line of headphones, a now-defunct streaming-music service, and underlying technologies.
And the acquisition would be small for Apple's tremendous cash pileIt isn't as if Apple doesn't have the cash either. Right now the company has more than $200 billion in cash and cash equivalents, a figure that would make its purchase of GoPro -- now valued at $2.6 billion -- a minor use of cash, even with a considerable acquisition premium. As a result of the recent stock drop, even while the company is performing well on fundamentals, GoPro is now valued relatively cheaply for fast-growing device manufacturers.
In addition, there's an argument to be made that GoPro's recent execution could be improved. The company has struggled to correctly price its new Hero Session product, and has had to reduce the price twice in the last five months -- taking the unit's price down from $399 to $199 in the process. Apple's known for its legendary execution, and could perhaps tighten up any shortcomings GoPro has with product launches and pricing strategies. Should you buy GoPro on this news?For investors, this is a positive development, but not really actionable advice. Rumors of GoPro as an acquisition candidate have persisted, and this appears to be only the newest version of this speculation. In addition, event investing if fraught with risks, as it is a binary construct, and shares could fall once the potential acquirer denies being interested in the potential target.
For long-term investors, its best to focus on GoPro's current camera line and its new product -- its Karma line of drones, which are expected to arrive in early 2016, as sources of future returns. Is Apple interested in GoPro or not? At this point, it's too early to know definitively, but this newest round of acquisition speculation does signify that GoPro is becoming too cheap to ignore.
The article Is GoPro an Acquisition Target for Apple? originally appeared on Fool.com.
Jamal Carnette owns shares of Apple. The Motley Fool owns shares of and recommends Apple and GoPro. Try any of our Foolish newsletter services free for 30 days. We Fools may not all hold the same opinions, but we all believe that considering a diverse range of insights makes us better investors. The Motley Fool has a disclosure policy.
Copyright 1995 - 2015 The Motley Fool, LLC. All rights reserved. The Motley Fool has a disclosure policy.