Is GlaxoSmithKline's Stock a Bargain After Dropping 4.8% in 2016?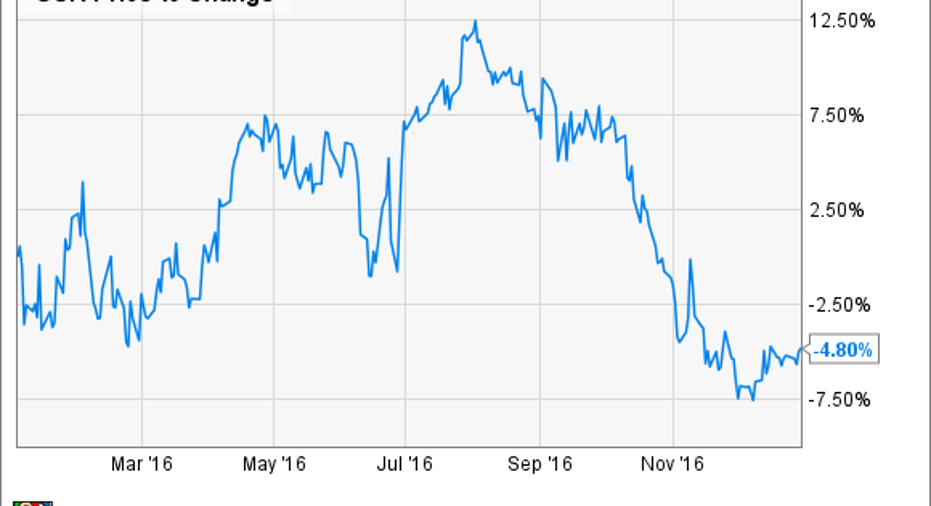 Image source: Getty Images.
What happened
According to data fromS&P Global Market Intelligence, shares of the British pharma giant GlaxoSmithKline (NYSE: GSK) slid by 4.8% in 2016.
The drugmaker's woes can be traced directly to the headwinds facing its top-selling asthma medicine Seretide/Advair. In a nutshell, the drug's revenue fell by 13% during the first nine months of 2016, compared to the same period a year ago, due to a mixture of declining sales volume and anew lower price that was part of Glaxo's campaign to appease payers.
So what
Glaxo's run of bad luck on the clinical front over the past few years, combined with its pivot toward less profitable products like vaccines and consumer healthcare products, also played key roles in the pharma giant's less-than-stellar 2016.Basically, the company was counting on the launch of new blockbuster pharma products to overcomeSeretide/Advair's declining market share.
When that plan imploded, management cut a deal with Novartisin 2015 to exchange Glaxo's high-margin oncology business for a host of less profitable vaccines, and the two companies also formed a joint venture for consumer healthcare products. The goal was to produce sustainable, albeit more modest, levels of growth.
Now what
Glaxo is an intriguing position relative to its healthcare peers as a result of its decision to rely less on specialty medicines to drive growth moving forward. After all, it's no secret that President-elect Donald Trump's populist rhetoric is wreaking havoc on the pharma industry right now due to the widespread notion that drug companies are basically gouging U.S. consumers.
Whether Trump's stinging rhetoric will be enough to overcome the industry's ginormous lobbying presence in D.C. isn't clear. But it does put a premium on companies like Glaxo that are striving for better operational efficiency and higher sales volumes to create value for shareholders -- instead of regular price hikes for legacy products.
The bottom line is that this brave deal with Novartis, which brought new star products like the meningitis vaccines Bexsero and Menveo into the fold, is starting to pay dividends from both a political and growth standpoint. So with a top line that's starting to rebound and is based on a sustainable growth model, Glaxo could be one of the better-performing pharma stocks this year.
10 stocks we like better than GlaxoSmithKline When investing geniuses David and Tom Gardner have a stock tip, it can pay to listen. After all, the newsletter they have run for over a decade, Motley Fool Stock Advisor, has tripled the market.*
David and Tom just revealed what they believe are the 10 best stocks for investors to buy right now... and GlaxoSmithKline wasn't one of them! That's right -- they think these 10 stocks are even better buys.
Click here to learn about these picks!
*Stock Advisor returns as of January 4, 2017
George Budwell has no position in any stocks mentioned. The Motley Fool has no position in any of the stocks mentioned. The Motley Fool has a disclosure policy.