Is Gameroom Facebook's Next Big Product?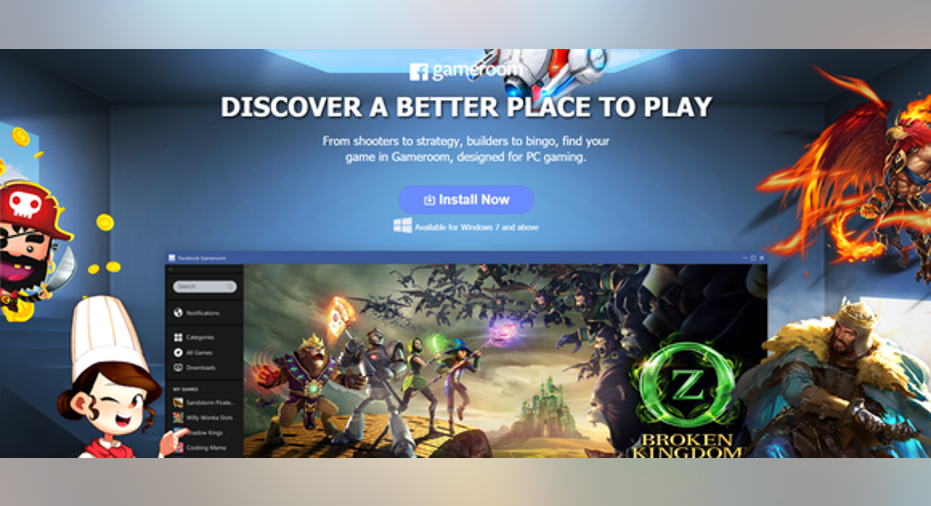 Image source: Facebook.
Before Facebook (NASDAQ: FB) had so many advertisers that it literally ran out of room to put all the ads, it made a significant percentage of its revenue from games. In 2012 -- i.e., peak Farmville -- Facebook's payments segment accounted for 16% of the company's revenue.
With casual gamers spending more time on mobile devices versus desktops, Facebook's payment business has declined for seven straight quarters. Last quarter, payments accounted for less than 3% of revenue.
Now, Facebook is making a play to once again grow its gaming-derived revenue with a product it calls Gameroom, a dedicated PC app that allows users to play web, ported mobile, and native Gameroom games without distraction. It's similar to Valve's Steam platform.
Reinvigorating the payments business
The primary way Facebook plans to monetize Gameroom is by taking a cut of in-game purchases similar to Apple (NASDAQ: AAPL) or Alphabet's (NASDAQ: GOOG) (NASDAQ: GOOGL) Google.
Last year, Apple generated around $6 billion in revenue from the App Store. That's around one-fourth of Facebook's total revenue over the past four quarters. Google -- whose Android platform appeals to a broader but less affluent market -- generated around $3.4 billion in revenue last year from app sales.
Perhaps the best comparable for the potential of Gameroom is Steam. The gaming platform counts 125 million active users, and it generated around $3.5 billion in gross revenue last year.
Of course, Steam doesn't keep all that revenue. But if Facebook could grow Gameroom to a similar level, keeping 30% of game sales, its payments segment would top $1 billion in revenue for the first time ever.
Side benefits of growing a gaming platform
Just as important as the direct monetization of Gameroom are the indirect benefits Facebook could see if it grows popular enough. It can use gameplay content for its live-streaming product, it can easily reach more developers for app-install ads, and requiring users to login through Facebook will make its core product stickier, allowing its user count to continue climbing.
Facebook has made a big bet on live-streaming video. CEO Mark Zuckerberg sees live video as a medium entirely different from pre-recorded video, because it allows for a much more social interaction between the person behind the camera and the audience. To that end, Facebook has made an effort to get more users to "go live," and it recently said the number of users live broadcasting at any given moment has increased fourfold over the past six months.
Live game streaming is some of the most popular content on the internet. It led Amazon.com (NASDAQ: AMZN) to buy Twitch -- the leader in the space -- for nearly $1 billion two years ago.
In addition to live content via Gameroom, Facebook could create a pipeline of new developers looking to promote their games with app-install ads. While Facebook is one of the leaders in app-install ads, both Google and Apple are growing their businesses. Even Amazon has a small app-install business built around its Fire TV and tablet devices. There's more competition for developers' ad dollars today than when Facebook first started app-install advertising, and Gameroom could help support the ad format's continued growth.
Finally, the use of the Facebook identity layer in Gameroom will make it practically impossible for users to ditch the social network. Not that Facebook is hurting for user growth -- it added 80 million users last quarter -- but retaining users is just as important as attracting new ones, if not more so.
There's a lot of potential in Gameroom. With Facebook facing the potential for slower revenue growth in 2017 as its flagship platform saturates its ad load, Gameroom provides a way to breathe new life into its secondary revenue segment. It certainly could be a dud like a lot of other Facebook apps, but the downside is extremely limited while the upside is huge.
10 stocks we like better than Facebook When investing geniuses David and Tom Gardner have a stock tip, it can pay to listen. After all, the newsletter they have run for over a decade, Motley Fool Stock Advisor, has tripled the market.*
David and Tom just revealed what they believe are the ten best stocks for investors to buy right now and Facebook wasn't one of them! That's right -- they think these 10 stocks are even better buys.
Click here to learn about these picks!
*Stock Advisor returns as of November 7, 2016
Suzanne Frey, an executive at Alphabet, is a member of The Motley Fool's board of directors. Adam Levy owns shares of Amazon.com and Apple. The Motley Fool owns shares of and recommends Alphabet (A shares), Alphabet (C shares), Amazon.com, Apple, and Facebook. The Motley Fool has the following options: long January 2018 $90 calls on Apple and short January 2018 $95 calls on Apple. Try any of our Foolish newsletter services free for 30 days. We Fools may not all hold the same opinions, but we all believe that considering a diverse range of insights makes us better investors. The Motley Fool has a disclosure policy.