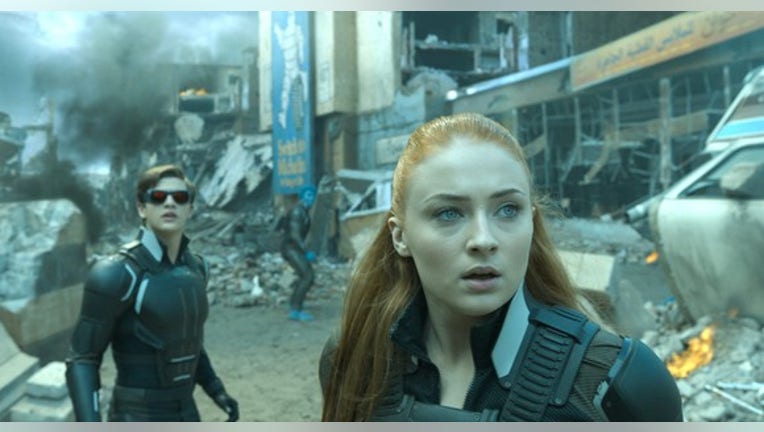 Image source: Fox.
Twenty-First Century Fox's superhero pictureX-Men: Apocalypseis putting up strong numbers in China, but solid international performance will not be enough to offset the film's under-powered domestic showing. Apocalypseis falling short of the performance of its 2014 predecessor,X-Men: Days of Future Past, suggesting an uncertain future for one of the company's most important movie properties.
Hot on the heels of what looks like a mediocre performance for one of Fox's most important 2016 movies, rumors are also circulating that the planned star of X-Menfranchise spinoffGambit, Channing Tatum, could leave the project for a role inTime Warner's DC Extended Universe (DCEU) franchise.With some of the X-Men series' biggest stars indicating that they are unlikely to suit up for future entries, and reports of production troubles that could weaken the broader franchise, Fox could have a superhero problem on its hands that reshapes the balance of power in the superhero competition with Warner and Disney.
What doesApocalypsemean for Fox's X-Men?
Boosted by its recent $59 million opening weekend in China,Apocalypsehas crossed $400 million in global ticket sales, and could now wind up with a box office run somewhere in the $550 million range. The newX-Menfilm is actually tracking ahead of its prequel in China, with its opening figures representing a roughly 50% increase overFuture Past's $39 million opening in the country, but the picture looks to be under-performing in other key markets.
ComparingApocalypse's $116 million in domestic ticket sales across its first 10 days todomestic sales of $162 million for X-Men: Days of Future Pastafter a similar stretch shows a roughly 28% decline in box office draw.Future Pastwas a very successful franchise entry for Fox, generating nearly $750 million in ticket sales and garnering the approval of 91% of Rotten Tomatoes critics. The favorable reception for the 2014 X-Menfilm set up the potential for franchise growth withApocalypse, but it's clear that not all of the previous film's appeal transferred to the most recent entry.
With a reported production budget of $178 million, Apocalypse was less expensive to produce thanFuture Past ($200 million), but a declining budget might point to one of the broader challenges facing the series.An absence of some of the X-Men franchise's biggest starsis one likely reason for Apocalypse'scheaper production cost and soft performance: Hugh Jackman's Wolverine has only a brief role in the film, and other fan favorites including Patrick Stewart and Ian McKellen do not feature in the pic.
Jackman has been center stage for all the most successful X-Menfilms, but the actor's stated plan to end his involvement in the franchise after a finalWolverinesequel in 2017 leaves Fox'sX-Menin a talent quandary. Jennifer Lawrence, whose Mystique character features prominently inApocalypse,would likely be an asset to future sequels, but she has also expressed a desire to move away from the series -- potentially leaving the franchise without two of its main draws going forward.
If rumors of Channing Tatum leaving Gambit for a DCEU film prove true, the change could cause a significant shakeup in Fox'sX-Menplans. The recent bout of speculation that the actor will jump ship for a role in Warner's superhero universe comes after The Flash directorRick Famuyiwa followed the actor, as well as DCEU heavy hitters, on Twitter. While the social media activity should probably not be taken as indicative, the suggestion that Tatum is interested in leaving Fox's Gambit is a rumor that has surfaced repeatedly, and the fact that the picture has undergone release date swaps and director changes does suggest some difficulties with the project.
As Disney's reported willingness to pay Robert Downey Jr. a $200 million dollar salary for his role in Disney's upcoming two-partAvengers: Infinity Warproject suggests, top-of-the-line acting talent has been key to the success of superhero films. Fox'sX-Menseries is heading into uncharted territory without many of its biggest stars and this brings with it a certain degree of danger.
Fox and Warner fight for second place in the superhero race
After big successes withDays of Future Past andDeadpool, X-Men:Apocalypsehas to be counted as a setback for Fox. The disappointment puts the company in a similar boat as Time Warner, which is grappling with how to handle its superhero movie universe after a disappointing run forBatman v Superman. Meanwhile, Disney's slow-burn, planned out approach to the Marvel Cinematic Universe continues to be validated by both consistency of output and commercial performance.
Fox's X-Men franchise coordinator, Simon Kinberg, has indicated that series plans and personnel would be somewhat up in the air afterApocalypse, sothe company is now tasked with deciding whether to implement some manner of reboot for the property. ADeadpoolsequel is in the works and the character's explosive popularity makes him a likely feature of future X-projects regardless of other change-ups.New Mutants andX-Forcefilms set in the X-Men universe are also in development, but it's no longer clear that the mainline series is a strong foundation to build on if much of the core talent is departing.
While Fox can look to introduce new heroes and stars for the franchise, and potentially save on budget by using less prominent actors, that strategy might not result in films that stand out among the increasingly crowded superhero genre and could limit Fox's ability to deliver hit X-Menfilms orbuild out successful tie-ins for its Fantastic Four characters within the same movie universe.
Both Fox's and Time Warner's respective superhero universes are facing questions of identity going forward, and the threat that audiences could become increasingly selective with their superhero outings sets up a competition to see which franchise finds its footing fastest. While Fox has other big film franchises includingAvatar,Ice Age, andIndependence Day, the company has fewer blockbuster properties to work with than Time Warner or Disney, and poor performance for futureX-Menentries could have an outsized impact on the company's film segment.
The article Is Fox's X-Men Movie Franchise in Trouble? originally appeared on Fool.com.
Keith Noonan has no position in any stocks mentioned. The Motley Fool owns shares of and recommends Time Warner, Twitter, and Walt Disney. Try any of our Foolish newsletter services free for 30 days. We Fools may not all hold the same opinions, but we all believe that considering a diverse range of insights makes us better investors. The Motley Fool has a disclosure policy.
Copyright 1995 - 2016 The Motley Fool, LLC. All rights reserved. The Motley Fool has a disclosure policy.