Is Fitbit Inc CEO James Park Right About the Apple Watch?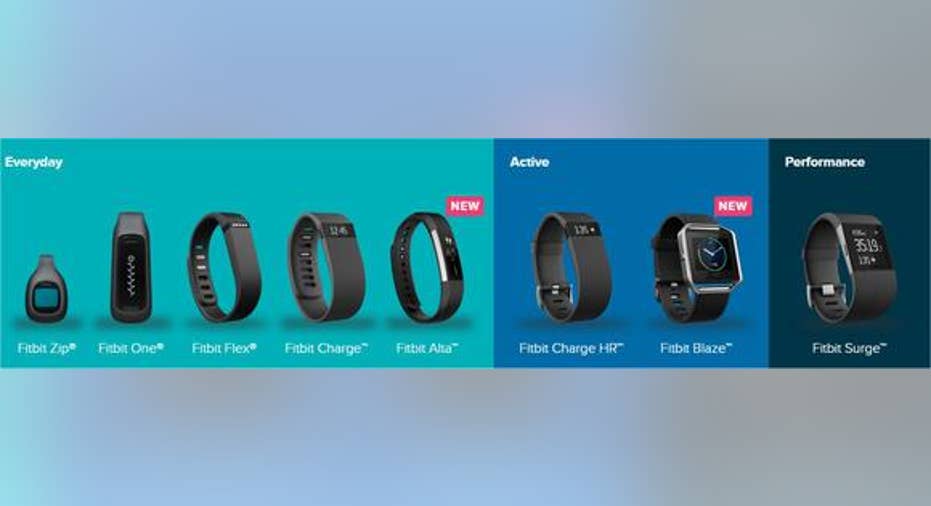 Shares of Fitbit have been cut in half over the past year due to concerns about rising competition in the wearables market, particularly from the Apple Watch. IDC reports that between the fourth quarters of 2014 and 2015, Fitbit's share of the global wearables market fell from 43.9% to 29.5%, while Apple's share jumped from nothing to 15%.
Image source: Fitbit.
To many investors, those figures indicated that Apple was growing its market share at Fitbit's expense. However, Fitbit CEO James Park addressed those concerns in a recent Telegraph interview, stating that the Apple Watch is a "great" device, but "a product that probably does too much." Park also stated that Fitbit's own research showed "that people who search for (and have) an interest in the Apple Watch do not overlap with people who search for and are interested in Fitbit."
Park said the biggest problem with the wearables market was that smartwatches "do so many things, and it hasn't been really clearly communicated to people why they should need one of these devices." Is Park right about Fitbit's devices appealing to different customers than the Apple Watch? Or is it only a matter of time before full-featured smartwatches render "simpler" devices irrelevant, as smartphones did to feature phones?
The three categories of wearablesLast year, Generator Research split the wearables market into three categories: low-end fitness trackers, mid-range sports performance devices, and high-end smartwatches. The firm predicted that between 2015 and 2020, annual sales of fitness trackers would plummet 77% to $527 million, sales of sports performance devices would rise 32% to $2.9 billion, and sales of smartwatches would surge 795% to $154 billion.
The reasoning was that low-end fitness trackers would be rendered obsolete by sports performance devices and smartwatches. Hardcore athletes would still likely prefer more durable sports performance wearables, while mainstream consumers would probably favor devices that looked more like traditional watches. Fitbit already targets these segments by selling three categories of everyday, active, and performance devices.
Yet Fitbit's recent launch of the Blaze -- which features a touchscreen, notifications, and interchangeable bands like the Apple Watch -- seemingly contradicts Park's claim that the two markets do not overlap. However, the $200 Blaze lacks full-fledged apps and should be considered a "performance" device instead of an actual smartwatch.
Another new Fitbit device, the $130 Alta, adds a digital display and Apple Watch-like reminders to move, but resembles a more fashionable version of the Flex than a smartwatch. These designs indicate that Park wants Fitbit to carve out a niche market of stylish devices with lower price tags and streamlined features. Fitbit claims that this strategy is paying off. Sales of the Blaze reportedly hit 1 million within the first month, while sales of the Alta reached that milestone in just three weeks.
Fitbit Alta (L) and Fitbit Blaze (R). Image source: Fitbit.
Comparing Apple and Fitbit's numbersBy comparison, research firm Canalys claims that Apple sold around12 million Apple Watches in 2015, whileKGI Securities pegs that figure at 10.6 million. Last September, research firm Wristly estimated that the average selling price of the device was $529. This means that the Apple Watch probably generated between $5.6 billion and $6.3 billion in sales within the eight months after its launch last April.
Last year, Fitbit sold 21.4 million connected health and fitness devices. Fitbit's revenue rose 149% annually in 2015 to $1.9 billion, which came in lower than Apple's estimated wearable sales due to lower price tags. Fitbit's priciest device, the Surge, only costs $250. Fitbit expects its revenue to rise 30% to 35% this year.
Looking ahead, analysts have mixed opinions about the Apple Watch. KGI analyst Ming Chi-Kuo expects Apple to only sell 7.5 million Apple Watches this year, due to a lack of killer apps, limited battery life, and its dependence on the iPhone. However, Pacific Crest analyst Andy Hargreaves believes Apple will sell 21 million watches. In other words, no one seems sure how many watches Apple can sell this year.
But Apple isn't Fitbit's only problemIt's unclear if Apple is a direct threat to Fitbit, but there are plenty of other challengers that could derail Fitbit's growth. Xiaomi, which sells a heart rate-tracking fitness tracker for $15, could kill demand for the $99 Flex. Other mid-range challengers, like Samsung, Fossil, and Garmin, could hurt sales of the Charge, Charge HR, and Surge -- which generated 79% ofits sales last quarter.
Park might be right about Fitbit and Apple serving different markets, and consumers and enterprise customers might prefer cheaper and simpler devices. However, Fitbit still faces plenty of headwinds, with pricey media promotions and higher manufacturing costs continuing to weighing down its margins. Therefore, investors should see how Fitbit fares in the increasingly crowded wearables market to see if it will sink or swim this year.
The article Is Fitbit Inc CEO James Park Right About the Apple Watch? originally appeared on Fool.com.
Leo Sun has no position in any stocks mentioned. The Motley Fool owns shares of and recommends Apple. The Motley Fool recommends Fossil. Try any of our Foolish newsletter services free for 30 days. We Fools may not all hold the same opinions, but we all believe that considering a diverse range of insights makes us better investors. The Motley Fool has a disclosure policy.
Copyright 1995 - 2016 The Motley Fool, LLC. All rights reserved. The Motley Fool has a disclosure policy.