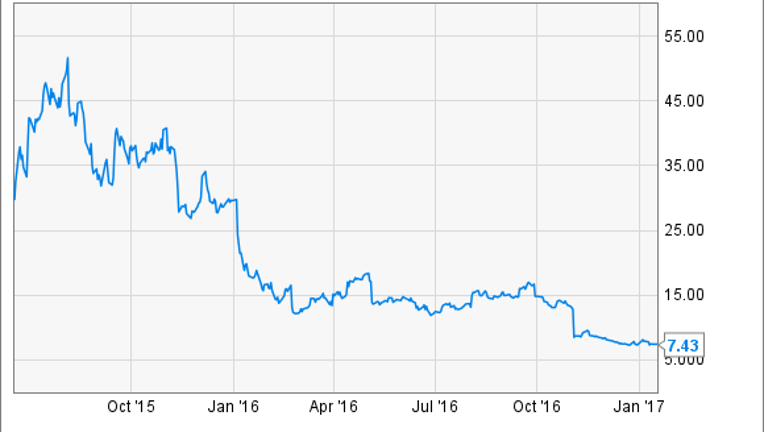 Image source: Fitbit.
Fitbit (NYSE: FIT) began its publicly traded life as a high-flying growth stock, soaring in the days following its IPO. The fitness wearables company was worth nearly $11 billion at its peak in late 2015, with investors betting that its popular and inexpensive fitness bands would drive growth for years to come.
That growth story fell apart in 2016. The company ramped up its spending dramatically, more than doubling its research and development headcount in a drive to bring new products to market quickly. This spending knocked down profits, but it led to multiple new products that appeared to position Fitbit well for the holiday season. Unfortunately for investors, Fitbit guided for just 2%-5% revenue growth for the fourth quarter despite these new products, and evidence is piling up suggesting that things are even worse than they seem.
The stock was hammered throughout 2016, losing about 75% of its value. Fitbit's market capitalization now sits at just $1.7 billion, significantly less than the company's expected sales in 2016. If Fitbit's holiday quarter turns out worse than expected, or if management guides for a sales decline in 2017, the stock could fall even further.
Fitbit the value stock?
Despite all of this, Fitbit certainly has some value. Its products are popular: The company sold 15.8 million devices through the first nine months of 2016. During the third quarter, Fitbit grew its share of the wearable-device market to 23%, up from 21.4% in the prior-year period and well ahead of Apple, which has been billed as an existential threat to the company.
The big problem for Fitbit: the market for wearables is growing slowly, which means that the company will need to convince its install base to upgrade in order to sustain its sales. IDC put the global wearable-device growth rate at just 3.1% during the third quarter. Unlike smartphones, wearables have yet to become a must-have gadget for the vast majority of consumers.
Anything -- from a significant decline in sales, a la GoPro, to a modest increase in sales -- is possible in 2017. Reports of excessive channel inventory and halted production don't inspire much confidence. Given this information, my best guess is that Fitbit will suffer from a sales decline this year.
I've argued that Fitbit's unending need to come up with innovative products is a good reason to avoid the stock altogether. I'm not at all interested in Fitbit at the current stock price for that reason. But if the stock continues to sink, Fitbit will eventually enter value territory, where anything better than the worst-case scenario can lead to gains for investors.
Fitbit isn't quite there yet. The company's earnings peaked at $0.75 per share in 2015; earnings this year will be substantially lower due to escalating costs. The stock trades for around 10 times peak earnings, suggesting that the market, while not optimistic about Fitbit's growth prospects, still believes that the company's profitability will recover.
Fitbit now trades for just 1.5 times book value, down from more than 12 soon after its IPO. That's well below the S&P 500, which sports a price-to-book ratio of nearly three, but it's not yet at a point low enough to justify buying the stock.
Fitbit's balance sheet is cash-rich, which makes investing in the company less risky. At the end of the third quarter, Fitbit had $672 million in cash and no debt. This gives Fitbit the ability to make investments to drive future growth, and to absorb losses if sales take a dive this year. Backing out the cash and using analyst estimates for 2016 earnings, Fitbit trades at a cash-adjusted P/E ratio of about 7.25. That's pessimistic, but I'm not sure it's pessimistic enough given the potential for earnings to decline further.
I wouldn't call Fitbit a value stock just yet. While the stock looks cheap based on current earnings, a significant decline in sales and earnings is possible, perhaps likely, this year. Fitbit is on my watch list, though, and I'll reevaluate after the company reports its fourth-quarter results in February.
10 stocks we like better than Fitbit When investing geniuses David and Tom Gardner have a stock tip, it can pay to listen. After all, the newsletter they have run for over a decade, Motley Fool Stock Advisor, has tripled the market.*
David and Tom just revealed what they believe are the 10 best stocks for investors to buy right now... and Fitbit wasn't one of them! That's right -- they think these 10 stocks are even better buys.
Click here to learn about these picks!
*Stock Advisor returns as of January 4, 2017
Timothy Green has no position in any stocks mentioned. The Motley Fool owns shares of and recommends Apple, Fitbit, and GoPro. The Motley Fool has the following options: long January 2018 $90 calls on Apple, short January 2018 $95 calls on Apple, short January 2019 $12 calls on GoPro, and long January 2019 $12 puts on GoPro. The Motley Fool has a disclosure policy.