Is Fiat Chrysler Automobiles About to Have Its Own Costly Diesel Scandal?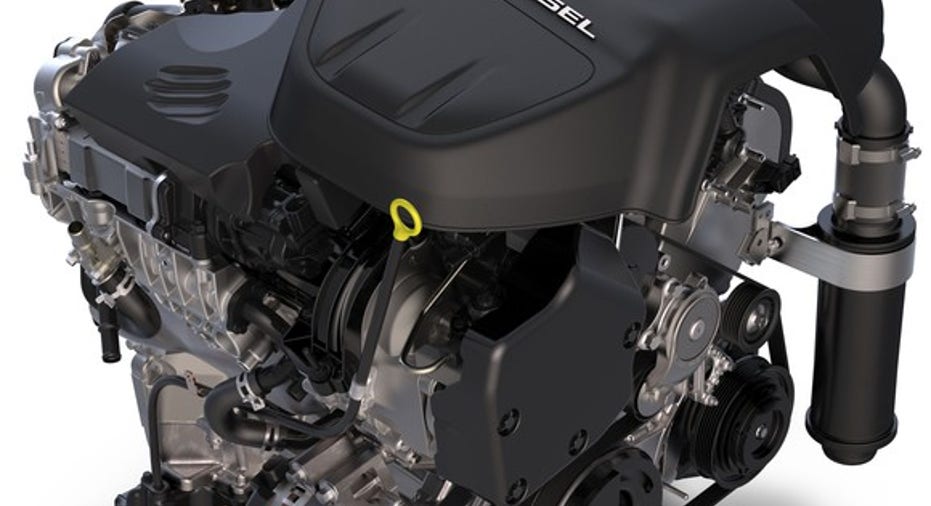 Was Fiat Chrysler Automobiles (NYSE: FCAU) programming its diesel-powered vehicles to cheat on emissions tests?
That's the question that investors are asking after allegations made by the U.S. Environmental Protection Agency (EPA) and the California Air Resources Board (CARB) on Thursday morning (January 12). The EPA and CARB have issued Notices of Violation to FCA's U.S. arm alleging that it used engine-management software that allowed increased emissions in roughly 104,000 diesel-powered vehicles.
To be clear, the regulators aren't alleging overt cheating, at least not yet. But the investigation is ongoing.
FCA's shares fell over 15% after the news was announced.
The 3.0 liter "EcoDiesel" V6 engine at the center of the EPA's allegations. Image source: Fiat Chrysler Automobiles.
What the EPA and CARB said
The specific allegation is that that FCA failed to disclose some of the engine-management software it installed in vehicles powered by its 3.0-liter diesel engine and that the software allowed increased emissions of nitrogen oxides from the vehicles. (Nitrogen oxides are pollutants that cause smog.)
Those are civil violations of the Clean Air Act and of similar California state laws. They're not crimes, but they're still serious: FCA could face fines of up to $37,500 per vehicle or (in theory, at least) as much as $3.9 billion.
The EPA said that it's in the process of investigating whether the software constituted a "defeat device," a term defined by the Clean Air Act to mean a system that bypasses some emissions controls during normal driving (but not during government emissions tests.) If so, that would be a more serious charge. As of right now, though, there are no allegations that suggest that FCAdeliberately cheated.
How did the regulators find this software?
After the investigation that led to the initial charges against Volkswagen AG (NASDAQOTH: VLKAY) in September 2015, the EPA instituted an expanded testing program that specifically screens for software that acts like a defeat device. That testing program revealed that these FCA vehicles "produced increased NOx emissions under conditions that would be encountered in normal operation and use," the EPA said in a statement.
Investigators subsequently found "at least eight undisclosed pieces of software that can alter how a vehicle emits air pollution," the agency said.
The vehicles affected are some of FCA's most profitable products
The 3.0-liter V6 diesel engine in question was offered in Jeep Grand Cherokees and Ram 1500 pickups made during 2014, 2015, and 2016.
FCA calls the 3.0-liter engine the "EcoDiesel" (a name that might turn out to be an unfortunate choice), and it was the source of considerable bragging rights: The EcoDiesel-powered Ram 1500 had an EPA combined fuel-economy rating of 23 miles per gallon, best among full-size pickups.
Significantly, it was (slightly) better than the most fuel-efficient iterations of the much-touted aluminum-bodied F-150 pickup introduced by Ford (NYSE: F) for the 2015 model year.There was more to brag about: While some fuel-sipping pickups skimp on power, those diesel Ram 1500s came with a hefty 9,200-pound towing capacity.
EcoDiesel-powered Ram 1500s have been touted for their high towing capacity and best-in-classfuel economy. Image source: Fiat Chrysler Automobiles.
But there haven't been 2017-model-year versions of the EcoDiesel Ram and Jeep, because the EPA had stalled on certifying them for sale in the United States. Now we know why.
What FCA said in response
FCA said in a statement that it's "disappointed" with the EPA's decision to issue a notice of violation. It said it "intends to work with the incoming administration to present its case and resolve this matter fairly and equitably and to assure the EPA and FCA US customers that the company's diesel-powered vehicles meet all applicable regulatory requirements."
The company said that it had provided extensive information to the EPA over several months in an effort to explain exactly what its technology was doing.
For investors: Is this another Volkswagen mess?
Not yet.As I write this on Thursday, it looks as though the EPA and FCA simply have a difference of opinion around whether some of FCA's engine management software did things that violated the technical requirements of the Clean Air Act.
Automakers tendto lose such battles with regulators. But if that's really all there is to it, then the result of the case may turn out to be no big deal: FCA modifies its software, maybe pays a modest fine, and resumes selling the EcoDiesel-powered Rams and Jeeps. If that's how it turns out, then FCA's stock will recover in time.
But if FCA is hiding something -- if it turns out that its software was created to cheat emissions testing -- then this case could get a lot more serious in a hurry. That possibility is obviously in the forefront of many investors' minds given the extremely steep cost of VW's experience. For FCA, such a scandal would be devastating.
Right now, it seems unlikely that the case will go in that direction. But VW's experience has shown us that we can't rule out the possibility, at least not yet.
10 stocks we like better than Fiat Chrysler Automobiles When investing geniuses David and Tom Gardner have a stock tip, it can pay to listen. After all, the newsletter they have run for over a decade, Motley Fool Stock Advisor, has tripled the market.*
David and Tom just revealed what they believe are the 10 best stocks for investors to buy right now... and Fiat Chrysler Automobiles wasn't one of them! That's right -- they think these 10 stocks are even better buys.
Click here to learn about these picks!
*Stock Advisor returns as of January 4, 2017
John Rosevear owns shares of Ford. The Motley Fool owns shares of and recommends Ford. The Motley Fool has a disclosure policy.