Is Electronic Arts Sending One of Its Biggest 2016 Games Out to Die?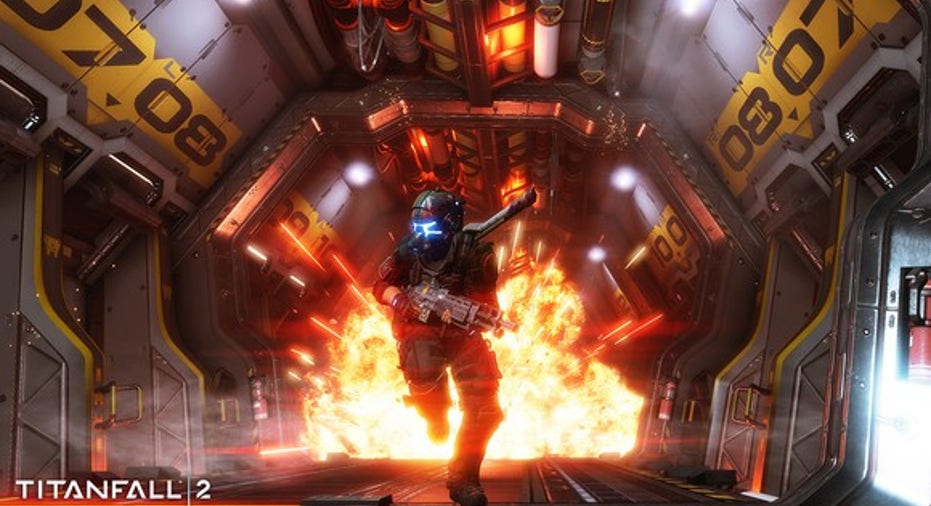 Image source: Electronic Arts
Release timing can have a big impact on a video games' sales, andTitanfall 2from Electronic Arts(NASDAQ: EA) looks like it could be heading for trouble because of tough competition. The game will launch Oct. 28, one week after EA's own Battlefield 1and one week before Activision Blizzard's (NASDAQ: ATVI)Call of Duty: Infinite Warfare -- the two biggest 2016 releases in the shooter genre.
IsTitanfall 2in danger of getting lost in the shuffle of more high-profile releases? If so, what would disappointing sales for the game mean for Electronic Arts?
Background onTitanfalland expectations for the sequel
The originalTitanfall was released exclusively for Xbox consoles and PC, and EA and Microsoft touted it as a potentially ground-breaking title. Respawn, a studio that former leads on Activision's Call of Dutyseries founded, was responsible for developing the game, withMicrosoft handling advertising duties in exchange for keeping the game exclusive to the company's gaming platforms. While the game rolled out to solid reviews,Titanfall didn't make the lasting impact on the first-person-shooter genre or the console race between the Xbox One and Sony's PlayStation 4 that many had anticipated.
In June, EA announced that the game had sold 7 million copies, a seemingly impressive figure. However, the game had been largely discounted and bundled with hardware following its March 2014 release, and the 7 million sales figure might also include downloads through the EA Access service. With EA and Microsoft opting not to make any exclusivity deals for the sequel,Titanfall 2will launch for Xbox One, PlayStation 4, and PC.EA is targeting between 9 million and 10 million copies sold for the game and anticipates that sales growth will be spurred by greater installed bases for current-generation consoles and launching the series on Sony's latest platform.
Quality will be key to standing out
IfTitanfall 2 proves to be a high-quality product and delivers welcomed improvements over its predecessor, the significance of a crowded release window should be lessened and the title could steal some thunder from Activision'sCall of Duty: Infinite Warfare. On the other hand,Titanfall 2's ability to thrive amid bigger releases will be seriously diminished if the game fails to deliver a top-notch experience. This type of scenario has already played out in the first-person-shooter genre this year, with Activision Blizzard'sOverwatchheavily overshadowingBattlebornfrom Take-Two Interactive.OverwatchandBattlebornshared aesthetic and mechanical similarities; however, the former received a bigger marketing and press push and was ultimately regarded as a much better product, contributing to poor sales for Take-Two's genre release.
Unfortunately for EA, early feedback on Titanfall 2 from a demo trial suggests that the sequel's gameplay might not be resonating with players. One common complaint is thatthe gamehas been made to play more like an entry from theCall of Dutyseries.
WithBattlefield 1taking place in a World War I setting,Titanfall 2's futuristic theme places it closer in line withCall of Duty: Infinite Warfare. According to EA, the logic behind releasingBattlefield 1andTitanfall 2in such quick succession is to cover a broader segment of the shooter market during the year's key sales period and to strengthen the company's standing in the category in years to come. Activision'sInfinite Warfarehas received a mixed response from fans in the lead-up to its release, and EA is counting on winning sales away from Call of Dutyby delivering two high-profile releases in the genre during the year's biggest sales window.
What would a disappointingTitanfall 2mean for EA?
Based on pre-release buzz and the caliber of its competition, Titanfall 2is in real danger of getting lost among bigger releases in the Battlefield andCall of Dutyseries and struggling to meet its sales target. Releases in Activision's and EA's biggest FPS series routinely receive marketing budgets between $50 million and $100 million, and Titanfall 2doesn't appear to have a comparable push behind it. The importance of multiplayer in the genre also means that established series enjoy a network effect, and the original Titanfallreleased over two years ago and hasn't maintained an active player base.
With big franchises including Battlefield,FIFA,Madden, andStar Warsunder its wing,Titanfallisn't one of EA's most important properties, so disappointing sales for the upcoming series release probably won't have a major effect on the company's long-term trajectory. However, shouldTitanfall2 fail to improve on the sales of its predecessor, there's a good chance that EA will choose to shutter the series or experiment with taking it free-to-play.
Depending on the extent of possible under performance, Titanfall 2 could potentially negatively impact earnings in the company's most important quarter. However, weak games sales would probably be more indicative of the type of missed opportunity that's common in the games industry rather than a sign of more holistic issues at EA.
A secret billion-dollar stock opportunity The world's biggest tech company forgot to show you something, but a few Wall Street analysts and the Fool didn't miss a beat: There's a small company that's powering their brand-new gadgets and the coming revolution in technology. And we think its stock price has nearly unlimited room to run for early in-the-know investors! To be one of them, just click here.
Keith Noonan owns shares of Activision Blizzard and Take-Two Interactive. The Motley Fool owns shares of and recommends Activision Blizzard and Take-Two Interactive. The Motley Fool owns shares of Microsoft. The Motley Fool recommends Electronic Arts. Try any of our Foolish newsletter services free for 30 days. We Fools may not all hold the same opinions, but we all believe that considering a diverse range of insights makes us better investors. The Motley Fool has a disclosure policy.