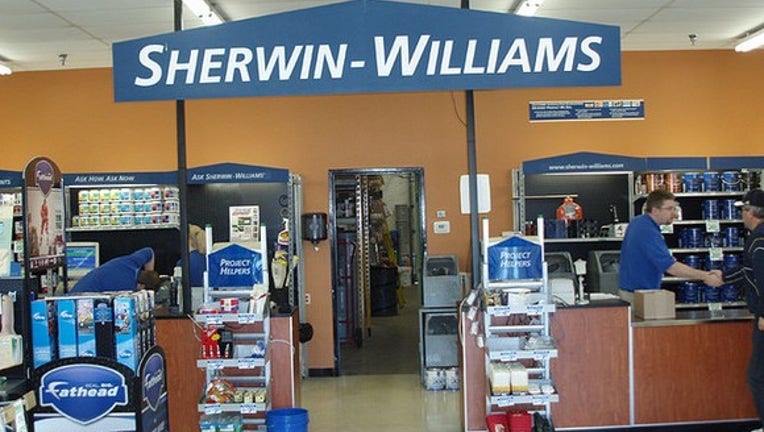 When coatings giant Sherwin-Williams (NYSE: SHW) wanted to buy Mexican paint retailer Comex a few years ago, antitrust regulators south of the border feared that the vast size and reach of the combined company would dwarf all competition, and theykilled the merger. Now Sherwin-Williams' newest attempt at buying a rival is also said to be criticized by regulators, but this time, they're apparently waiting to see what big-box do-it-yourself retailer Lowe's (NYSE: LOW) thinks about the acquisition.
Sherwin-Williams is the leading pro paint specialist, which is looking to have a greater global presence by buying industry rival Valspar. Image source: Getty Images.
Cover the world
The paint specialist announced back in March that it wanted to buy rival Valspar (NYSE: VAL) in a deal valued at $11 billion, including debt, in a bid to expand its geographic reach. Where Sherwin-Williams generates some 84% of its revenues from domestic markets, Valspar derived 46% of its $4.4 billion in annual revenues last year from international markets.
That was also part of the rationale behind the Comex bid, but then Sherwin-Williams was already the biggest paint retailer in Mexico, with 3,900 stores while Comex had 3,600 locations. Together, they would have been 10 times larger than the next biggest company.
The Valspar deal won't create the same type of market dominance, but there are still some antitrust hurdles to overcome. First, Sherwin-Williams sells most of its paint through its branded retail stores, and then mostly to professionals, but in a deal with HGTV two years ago, it began selling paint in Lowe's DIY centers, which gave it greater access to the consumer markets.
That came just as Valspar began losing sales at Lowe's, and in its fiscal 2016 third quarter that ended July 31, it said that $39 million, or 40% of the $96 million drop in sales it has experienced year to date, has come from adjusting its product line at the DIY center, a reset that's been going on for well over a year now.
The problem for Valspar's merger with Sherwin-Williams, then, is that it will combine Lowe's two paint sellers into one, and according to the New York Post late last month, the Federal Trade Commission has not yet heard from the retailer how it feels about the deal.
Image source: Getty Images.
A narrow paletteto choose from
Although about 60% of all paint purchased in the U.S. is bought by professionals, Lowe's and rival Home Depot (NYSE: HD) are among the biggest retailers to the consumer market, along with mass merchandisers like Wal-Mart, an outlet Sherwin-Williams lost in 2010 when Akzo Nobel, which made Dutch Boy brand paints, beat out the coatings specialist, a loss of about $250 million worth of revenue at the time.
PPG Industries (NYSE: PPG) ended up buying Akzo's North American coatings business in 2013, and that put its Glidden brand in place at Wal-Mart, but also at Home Depot, and the Akzo acquisition gave it access to the home center's professional paint business, too.
There are a lot of moving parts in the coatings industry, and as is apparent, there has been a bit of consolidation under way. Both Sherwin-Williams and Valspar did expect there would be some resistance from regulators to their merger as the deal between them said they'd be willing to divest assets worth up to $650 million of Valspar's 2015 revenue.
Image source: Flickr via Scott Lewis.
However, the deal also said that if Sherwin-Williams was required to divest assets that accounted for more than that, the offer price would fall from $113 per share to $105 per share. Further, if divestitures of more than $1.5 billion were required, Sherwin-Williams would have the right to back out of the deal completely.
A closer look
Back in May, the FTC extended its review of the merger and wanted more information, sending a second request for information, a not unheard-of circumstance and one that's by no means a deal-killer. Last year, for example, Anheuser-Busch InBev (NYSE: BUD) was asked for more information regarding its merger with Miller that was ultimately approved, albeit with more asset sales demanded and greater restrictions imposed. That could happen here as well, which may change the color of the agreement between Sherwin-Williams and Valspar.
What they may not have counted on, though, was Lowe's being the linchpin to the deal, as the Post story says if the retailer objects to the merger because they would gain too much pricing power, it might cause antitrust regulators to spike the union. While Sherwin-Williams and Valspar say there's nothing to the story,you can bet they'd see red if the FTC blacks out the merger.
Forget the 2016 Election: 10 stocks we like better than Sherwin-Williams Donald Trump was just elected president, and volatility is up. But here's why you should ignore the election:
Investing geniuses Tom and David Gardner have spent a long time beating the market no matter who's in the White House. In fact, the newsletter they have run for over a decade, Motley Fool Stock Advisor, has tripled the market.*
David and Tom just revealed what they believe are the ten best stocks for investors to buy right now...and Sherwin-Williams wasn't one of them! That's right -- they think these 10 stocks are even better buys.
Click here to learn about these picks!
*Stock Advisor returns as of November 7, 2016.
Rich Duprey has no position in any stocks mentioned. The Motley Fool owns shares of and recommends Anheuser-Busch InBev NV. The Motley Fool recommends Home Depot and Sherwin-Williams. Try any of our Foolish newsletter services free for 30 days. We Fools may not all hold the same opinions, but we all believe that considering a diverse range of insights makes us better investors. The Motley Fool has a disclosure policy.