Is Discovery Communications Stock a Good Value for 2017?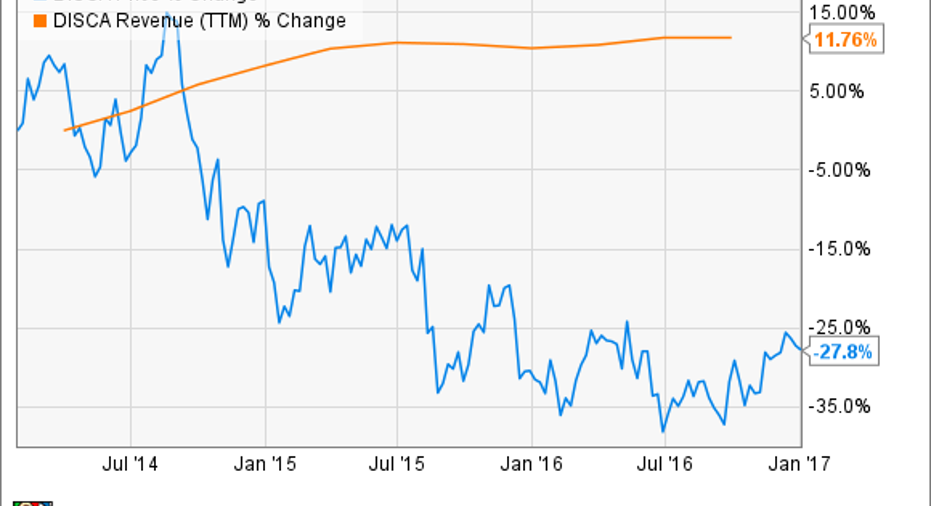 Discovery Communications (NASDAQ: DISCA) didn't have a great 2016. The company's stock rose just shy of 3% compared to the S&P 500's nearly 9.5% gain. Yet CEO David Zaslavrecently said in an interview that 2016 was the company's "best year ever." Is there a disconnect between the market and what is really going with the business? If that's the case, the stock could be worth considering for the new year.
The year in review
Discovery, which includes stations like its eponymous television network, TLC, and Animal Planet, has carved out a niche for itself as a provider of non-fiction television content. Zaslav's description of 2016 being the best year ever for the conglomeration of channelswas correct from a top-line point of view.
Data by YCharts.
Yet the stock is well off of its all-time highs from a few years ago. Investor confidence has dried up as Discovery has struggled to move the needle higher against a backdrop of waning interest in cable and satellite TV subscriptions in the U.S. and consumer preference changing to one that looks for digital streaming content first.
The company has been working hard to develop its lineup of channels as well as change its format to appeal to the modern audience. The Oprah Winfrey Network, a joint venture Discovery is in on, continues to be a focus, and the male audience hasn't been ignored, with the development of the car-centric station Velocity.
Discovery Channel's Shark Week has been a popular showcase in recent years. Image source: Discovery Communications.
The investments over the last couple of years have not had much of an impact on the bottom line, but Discovery's management feels that the moves will soon begin to pay off as 2017 gets underway.
Discovery TV for the 21stcentury
Last year, the company started allowing cableand satellite subscribers to watch content online from the Discovery GO app. A year ago, management reported that only 20% of U.S. subscribers had access to the platform from their TV provider. At last report, that figure had bumped up to 70%.
More offerings outside of traditional paid-TV subscription services were needed, though. To that end, Discovery recently announced it was launching a joint venture to accelerate the move of its Eurosport channel to an online format.
Eurosport is the largest sports program distributor on the continent and is often described by CEO Zaslav as the ESPN of Europe. The company sees the new investment as an opportunity to create a direct-to-consumer Netflix-like service for sports in Europe.
In a similar deal, Discovery also recently launched another joint venture to create a new digital-only media holding company called Group 9. The new digital content and social media video provider will have an estimated 3.5 billion monthly video views at inception. Discovery will have 39% ownership with the option to purchase the whole entity outright.
A value for 2017?
The company's recent moves have contributed to stagnant profits over the last few years. A stronger U.S. dollar has also hurt the network's international revenue, and lower advertising income has taken a bite out of revenue lately.
Through the first nine months of the year, though, Discovery's earnings per share were up 16% compared to the same nine-month period the previous year. Free cash flow, or money left over after basic expenses are paid, is also back on the rise. That's a sign that recent initiatives are starting to yield returns.
Data by YCharts.
With Discovery investing to stay relevant in an online streaming world and shares down steeply from all-time highs, the stock is worth a look. Shares currently have a trailing-12-month price-to-earnings ratio of 15.8 and a forward-12-month ratio of only 12.7. It looks to melike 2017 could hold better times as Discovery rounds out its digital transformation.
10 stocks we like better than Discovery Communications When investing geniuses David and Tom Gardner have a stock tip, it can pay to listen. After all, the newsletter they have run for over a decade, Motley Fool Stock Advisor, has tripled the market.*
David and Tom just revealed what they believe are the 10 best stocks for investors to buy right now... and Discovery Communications wasn't one of them! That's right -- they think these 10 stocks are even better buys.
Click here to learn about these picks!
*Stock Advisor returns as of Nov. 7, 2016
Nicholas Rossolillo has no position in any stocks mentioned. The Motley Fool has no position in any of the stocks mentioned. The Motley Fool has a disclosure policy.